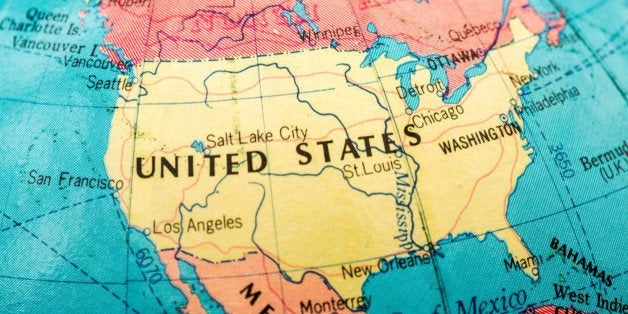 Until a few weeks ago I'd never been to Connecticut. I couldn't even spell Connecticut. I find this is odd (or at least sad) since I live nearby in New York City.
When it comes to traveling, I spend most of my time visiting places outside of the United States, which is a shame because as it turns out, there are so many great places to see inside of it.
This past month I was lucky enough to go on book tour for my first book, "My Holiday in North Korea: The Funniest/Worst Place on Earth," which meant the chance to spend two weeks crisscrossing America. And though I only had a day or two in each city I visited, most of which I spent preparing for and speaking with local media or doing book readings, I did my best to squeeze in as much fun, and good food, as humanly possible.
Here are a few highlights:
Yale University, New Haven, Connecticut
So... while I'm sure the education here is top notch, there is no doubt the campus is A++. The pervasive smell of sweet emanates from perfectly manicured English gardens, which weave their way through endless buildings that either are, or look exactly like, castles. The dorms have turrets. Turrets. My freshman year of college, I lived in a dorm that was a converted motel that looked out onto a parking lot. A parking lot. Stroll around here at sundown and pretend you're the Queen of England.
Gateway Arch, St. Louis, Missouri
I stood under the Arch, walked all the way around the Arch, rode the little, miniature tram-thingy up the Arch, and stood inside the top of the Arch, and I still can't believe it's physically possible for the tram to even exist or people to ride inside of it. The Arch is simply the greatest engineering feat of all time. Or at least a super-impressive optical illusion. And it's really pretty too. I don't care if it's touristy, and that it took over an hour of waiting in various lines to reach the top, where we stood for about 45 seconds before deciding we'd seen enough and started our descent back down. Totally worth it.
Death in the Afternoon, St. Louis, Missouri
I found this place by googling "cool places to have lunch in St. Louis," and immediately fell in love with its name (whoever named this restaurant should be a writer). Luckily the physical space and food are equally praiseworthy. Basically it's a glass cube surrounded by greenery at the edge of a sculpture-filled park in the middle of downtown, with a southern-fried, Middle Eastern-cum-Asian-y-Latino menu . They serve dinner too, but I'd go in the afternoon when you can appreciate all the natural light and surroundings.

Villa Vizcaya (Vizcaya Museum and Gardens), Miami, Florida
Perched on Biscayne Bay, the Italian Renaissance-inspired villa and surrounding gardens - the former home of business tycoon James Deering - are in a word, spectacular. It's like Versailles, only smaller, more tasteful, and in Florida. Take the self-guided audio tour of the villa's interior. It's full of interesting tidbits, bite-sized for ADD-addled folks like me, and historical information. Leave plenty of time to stroll the gardens.
Wynwood Art District, Miami, Florida
When your mom turns to you and says, "Let's go to that new, hip, happening neighborhood with all the graffiti on the walls," there's reason to be dubious. Even more so (or, perhaps, less so) when you arrive at said neighborhood and all the surrounding streets are barricaded by police cars and officers in riot gear.
But mom nailed it on this one. Artists from all over the world apparently traveled to the area to graffiti the walls, which in turn led other artists to infiltrate the area, which increased interest in the area, which led to the opening of a handful of restaurants, cafes, shops, and art galleries. Walking up and down the main drag and side streets, marveling at the vast amounts of artwork that adorn both the outsides and insides of buildings, is a great way to while away an afternoon.
Coyo Taco Place, Wynwood, Miami, Florida
If Wynwood is the new center of cool in Miami, Coyo is its bullseye. Like a mobile home that is permanently parked and its owners have added awnings and lawn chairs, Coyo looks like a taco truck/stand that became a building. The crowd couldn't be better looking, or the staff any nicer, and the food - which is all farmed ethically - is super fresh, made to order, and delicious. There's only one communal table inside and picnic tables outside, so fancy this place is not. But fun it is, and with a great vibe. It's the perfect spot for some respite from the sun when you're tired from tooling around the neighborhood. Fair warning... the line at lunchtime snaked out the door, but moved quickly.
The Shed Café, Healdsburg, California
If you've seen any movie made by Nancy Meyers (but specifically Something's Gotta Give), you've been to The Shed. Not literally, but pretty much. Housed in a modern industrial-style space, and perfectly decorated down to the last nail, The Shed is a restaurant, market, and gardening store that's an Instragrammer's dream come true, and I would like to live inside of it. I don't own a pot or pan, or even have the gas in my kitchen turned on, and yet I was so taken by the place, I nearly bought cooking stuff, until the wise friend I was dining with reminded me I don't cook. The café itself is open and light-filled, with friendly staff who care as much about food as I care about TV - that is to say, a lot. The food is the definition of farm-to-table fresh and delicious. Here I learned eggs come in other colors besides white and brown. Who knew?
Golden Gate Bridge, San Francisco, California
Yes, it's in every movie. Yes, it's all over Instagram and the Internet. Yes, I've even (been) driven over it a dozen times (and I don't drive). But it's also still uh-maaayzing. What a bridge! It's the kind of bridge people fall in love with, and move to cities to be close to. It's the kind of bridge people fall in love on, or just while looking at. Walking or driving over it is nice, but it's the seeing it just up ahead - particularly with a wee bit of famous San Francisco fog hovering above - that showcases this breathtaking bridge at its very best. Rent a car with a friend and take turns driving back and forth over it so the person not driving can really soak it in.
Have a favorite local spot to share? Comment below or find/follow me on Facebook.
To find out more about my work and latest news, please visit wendysimmons.com and while you're there, sign up for my newsletter so you won't miss a thing.
Related