I stalked a photographer once. I'm sure I'm not alone. Most goal-driven New Yorkers have stalked someone they wanted to work with, right?
Phil Toledano's work is fun, quirky, and inspiring to say the least. His latest project and my newest obsession is "America The Gift Shop." If American foreign policy had a gift shop, what would it sell? The project wraps up the last several years of American history into neatly presented novelty gifts. Phil created and photographed pieces that have enough range to jump into the mix at an All-American truck stop or the MOMA design store. They carry a complacency blended with quirky humor that makes you laugh, then settle and think, oh, wow, that's real, that's what our government has been up to. Let's think about these things before the next election.
His photos have a strange similarity to the oversized Barney's catalogue. None of the items in either collection are necessary to sustain life. But they make you feel like you've just got to have it almost to the degree of obsession. The objects in Toledano's photos aren't even for sale as far as I know. If they are then I must have the Cheney Shredding Secret Documents Snow Globe! I feel the same way about collecting the most obnoxious coffee mug from every country I visit. My current favorite is of the Leaning Tower of Pisa. The cup actually leans. It's a bit off-putting, especially for that first cup in the morning.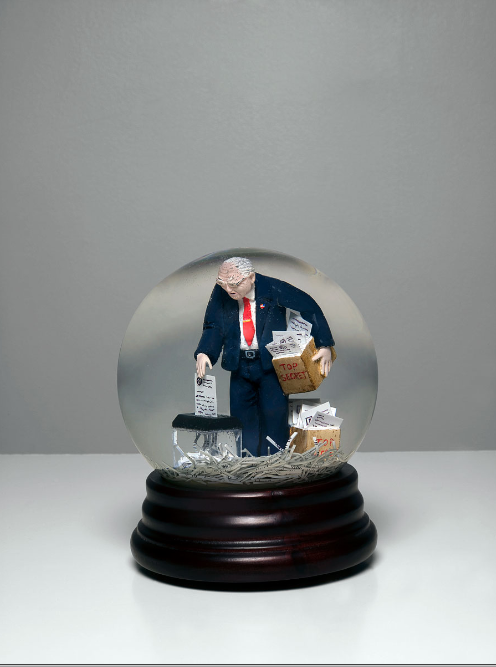 The photos scream and chuckle off the page as hauntingly as Heath Ledger's performance as the Joker. "Why so Serious?" Insert sleepy grocery store background music for the complete sedated shopping experience.
Phil and I had an innocent meeting. I showed up on a regular appointment set by my agency. This was a couple years ago when I did all sorts of modeling work, before I started focusing more on yoga and health-related assignments. I walked into his photo studio and sitting casually in the entryway was a wearable suit made of machine guns pointing out in every direction. I couldn't decide if I wanted to put the thing on or jump up and down and clap! A bit further in, a life-sized stuffed space suit sat in the most comfortable looking chair, as if it was about to ask me if I wanted a cup of tea. I knew this wasn't a typical fashion photographer's studio. This was a Madman!
Phil Toledano had me at creative hello. He didn't have the creepy vibe that a lot of fashion photographers exude. He seemed cool without trying too hard. He wore the fashion photographer uniform, an original-looking bright colored t-shirt, jeans, sneakers. Most photographers take hours to select the perfect combination. I would bet photographers on average have more sneakers than a Vogue girl has heels, and they probably take more time picking out the perfect pair each morning. We just don't poke fun at photographers as much, particularly when they're pointing the camera at us.
Phil was cool. His studio and work seemed to mirror exactly what was going on in his creative brain and personality. I immediately admired him, which rarely happens on a regular model agency appointment. He was like Charlie and the Chocolate Factory gone photographer and I wanted to play the role of muse. I think it's very special when an artist finds their exact stride. It was something I had been trying to crank out of myself, and am now digging into on my work with health issues and yoga. There's a fire around someone has who has found the exact tangible way of expressing their specific talent. I think we all strive to reach our specific potential, to give and show others what makes us unique, whether we're an artist, a singer, a parent, an engineer, or an entrepreneur.
I didn't get that shoot for CITY magazine. But because of my relentless email stalking, and googling his work and sheer luck of running into him at a photo exhibition several months later, we planned to do a fashion story that ended up on the cover. I tease that it was a lot better then the story I had met him for in the first place. Phil used my flexibility in crazy yoga poses, blended in his bizarre story telling abilities, and came up with a wacky high fashion story: a day in the life of a very bendy girl. Phil took ordinary activities and we made them bizarre, my moves and his photography. I did a back bend in a gold body suit while reading upside down. One picture was a leopard print outfit, holding my leg straight up and talking on the phone. The sleeping shot was a contorted backbend. There was a knitting photo, perched on one leg. The eating shot is a crowd favorite. I'm balanced on my forearms, feet in 5-inch heels tipping toward a silver candle and plate with a few green peas.
The issue was a big hit and Phil and I keep in touch. He continues to crank out innovative and bizarre creative work. I send him my clippings and latest updates to make him proud of me, just like Owen Wilson does to Mrs. Tenenbaum in one of my favorite Wes Anderson flicks.
Phil sends me his latest projects too. Probably because he knows I'm always praising his work. His book, Bankrupt, is photos of abandoned offices and the things people left behind. He wanted to document the human cost of a vertiginous economic collapse. Eerie images include a limp "happy birthday" balloon on the floor, a drawer stuffed with take-out menus, and lonely coat hangers. Another book, Phone Sex, is an intimate feature of various phone sex operators taken in their homes, often in the rooms where they worked, with text matching their stories and experiences. Days with My Father, Phil's most recent title, features portraits of his father who is living with Alzheimer's. It lets people into intimate moments of his father's life, varying in tones of humor, sadness, loss, and confusion. Considering his current run, I wouldn't be surprised if America the Gift Shop turns into Toledano's fourth book. In Phil's words, "America the Gift Shop is an installation project that reflects the current foreign policy in the fun-house mirror of American commerce.
My palette is the vernacular of retail. The more familiar it is, the better host it becomes for the idea. Once the sugar coating of the ordinary dissolves, we are left with the hard and uncomfortable truth about where we've been as a nation. We buy souvenirs at the end of a trip, to remind ourselves of the experience. What do we have to remind us of the events of the last eight years?"
Still can't find the perfect gift for that special someone who already has everything? Choose an Abu Ghraib bobble-head, or an Inflatable Guantanamo Bay bouncy prison cell, or maybe an I-heart Pre-emptive Strikes t-shirt, and of course, much more!