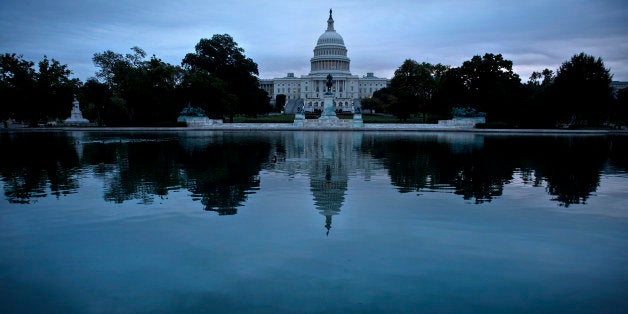 WASHINGTON -- One of the nation's leading progressive advocacy groups, America Votes, will have a new leader for the first time in five years this fall.
Joan Fitz-Gerald will retire as America Votes' president on Nov. 25 and be replaced by Greg Speed, the group's current executive director. The board's choice of Speed shows a desire to continue devoting resources to state politics. Speed has managed the group's day-to-day operations for the past six years and been an active presence in the progressive community at large.
In an interview with The Huffington Post, Speed made clear that his vision going forward was to align national organizations with local political causes, on issues ranging from protecting voting rights and modernizing elections to laying the groundwork for the next round of redistricting in 2020.
"There is no question that the focus on states is only going to grow in terms of our organization and our coalition," said Speed. "It is where the most impactful policy decisions will be made. Continuing to build that capacity is going to be a huge piece of the future of America Votes. And looking specifically at 2014, it will be a significant amount of work and effort to mobilize voters in key gubernatorial and state legislative races and building off that for 2016 and beyond."
America Votes was launched in 2003 by a number of leading Democratic operatives to focus on expanding ballot access and issue advocacy. It came to prominence when it helped coordinate efforts among different groups involved in the 2004 presidential election.
The group has adjusted its focus over time, shying away from national fights to more specific, localized issues. In 2011, it was one of the major progressive groups operating in Wisconsin during the attempted recall of Gov. Scott Walker (R), spending $1.8 million on political and lobbying activity, according to their 990 form.
"There are huge consequences to elections not just at the state level, but the local level, in terms of their impact on creating policy," said Speed. "Our ability to mobilize the progressive community and voters can be that much more impactful in influencing an election and moving an agenda after that when it starts locally."
America Votes currently has a 20-state network involving 30 national and 300 state-based groups. But its reach within the broader progressive community has waned over time, as other Democratic-leaning groups -- feeling less encumbered by campaign finance laws -- have chosen to run their own election efforts.
Speed has served on the board of several of those groups -- Priorities USA, America's Families First and ProgressNow –- and he has worked for the Democratic Congressional Campaign Committee, making him well-suited toward maintaining a productive relationship between America Votes and the broader progressive community. Friends and associates predict that he will work to keep that community focused not just on national politics, but on state and local campaigns as well.
"We are seeing a lot more emphasis and interest from all groups in what is happening in state legislatures around the country, even in city council races. AV has been great in stepping into that space," said Denise Cardinal, the Executive Director of ProgressNow. "Greg understands that there is sometimes a tension but that we also need to have a connection point between larger national entities and state based entities. He has lived it on both sides and seen it himself."
REAL LIFE. REAL NEWS. REAL VOICES.
Help us tell more of the stories that matter from voices that too often remain unheard.
BEFORE YOU GO
PHOTO GALLERY
U.S. State Capitol Buildings