We have a problem, and we can't keep pretending like it doesn't exist.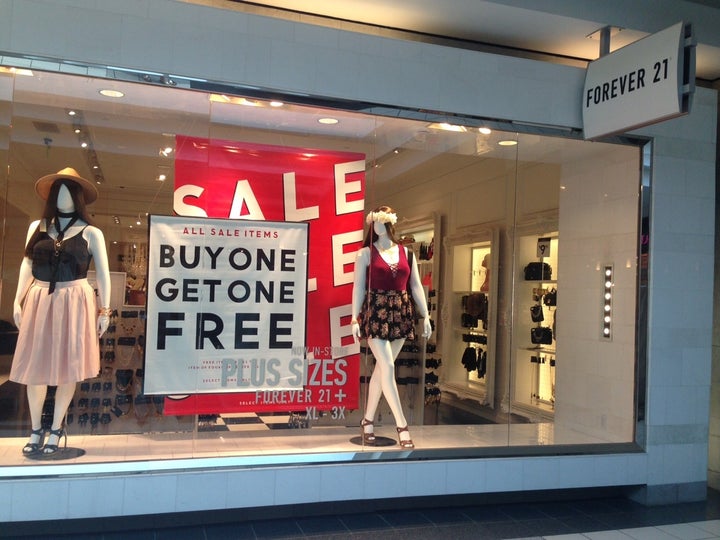 Sure, we might make the occasional fair trade purchase. But we don't do it on a regular basis. And if you want proof of that, just look at our malls.
The World Trade Center's mall reopened Tuesday as a global shopping destination, and among its headlining retailers are H&M and Forever 21―two of the largest brands that represent everything that's wrong with the fashion industry right now. Cheap labor. Quick inventory turnover. Toxic waste. You name it.
But what's surprising to me is how little we talk about this epic problem.
In the past several years, the US has made huge strides on sustainable shopping when it comes to food.
We've debated genetically modified crops, read about soil erosion and talked about wasteful product packaging. We've started shopping at farmers markets and buying organic food, and national statistics reflect our willingness to prioritize sustainability over sheer convenience.
But when it comes to fashion, we are less considerate.
An Associated Press–GFK poll this year found that the majority of Americans still prefer cheap prices to clothes made in our own country with more sustainable practices.
We don't value sustainable fashion enough to change our lifestyles for it yet, and maybe we never will. Maybe it will take the fashion industry finding a way to make sustainable clothes just as convenient for us as the cheap stuff we buy now.
But one of the major differences I see between sustainable food and sustainable fashion is that we talk about the food industry more than we talk about the fashion industry—even though fashion is technically a bigger problem.
For being a leading voice in a lot of global issues, the US is surprisingly silent about what we wear.
When I decided to start blogging about fast fashion about a month ago, that was one of the first things I realized.
With the exception of The True Cost, Americans aren't the ones leading conversations about how stores like Forever 21 are making clothing disposable or how heaps of rotting clothes are polluting water supplies.
Most of the people starting movements and blogging about these issues live in the UK or other countries overseas. Sustainable clothing is priced in pounds, not dollars, and the focal point of efforts to change the industry feel out of reach.
For being a leading voice in a lot of global issues, the US is surprisingly silent about what we wear.
To be fair, we did a lot of anti-sweatshop advocacy in the 90s, and maybe we feel like we've paid our dues. After all, advocacy only does so much anyway, and Western markets don't matter as much as they used to. We're not even the main ones causing problems in the fashion industry anymore.
As humanitarian Michael Hobbs points out, "From 2008 to 2013, the fastest-growing demand for apparel was in China, Eastern Europe, India, Turkey and Brazil. Garment exports from Bangladesh to other poor countries have grown by as much as 50 percent per year."
So we can't necessarily save the fashion industry by shopping more sustainably in the US. To some extent, it is out of our control. But we can influence change, and as global trendsetters, Americans should take note of that.
What we wear has power, and if there's one part of America that has the most power over pop culture, it's probably Hollywood.
Let's face it. We're the Kardashians of modern culture (with all of the positive and negative stereotypes that implies). What we wear has power, and if there's one part of America that has the most power over pop culture, it's probably Hollywood. Which brings me to why I am writing to you today.
Benita Robledo, an actress from Teen Wolf and Gossip Girl, is hosting a new YouTube series about how to be an ethical shopper. It's called Compassion Fashion, and it's the latest feature on YouTube sensation Michelle Phan's ICON Network, which has about a half-million subscribers.
In the first episode of Compassion Fashion, which airs Saturday at 1 p.m. ET, Robledo talks about some of her favorite sustainable brands, and tells you what they are doing to improve the fashion industry, one cause at a time.
You can get a sneak peek here with this exclusive link.
While the presentation is cutesy and lighthearted, don't get your inspirational quote panties in a wad.
At this point, any conversation about sustainable shopping is a sign of progress, and if more of us start talking about the fashion industry's problems, maybe the world will listen.