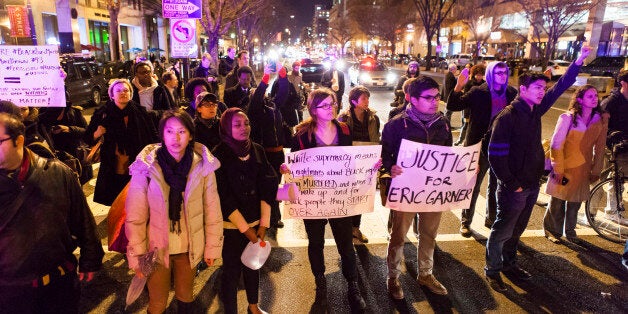 I was in Ferguson Wednesday when it happened: In a morally stunning decision, a Staten Island grand jury announced it would not bring criminal charges against a white police officer who choked a black man to death during a brutal incident last July. Stopped for allegedly selling some loose and therefore untaxed cigarettes, officer Daniel Pantaleo put a "chokehold" on Eric Garner, despite the fact that the move is against NYPD rules. Video of the incident shows Garner uttering his last words, "I can't breathe." New York's medical examiner officially called this a "homicide," but the grand jury said no charges will be made.
Of course, this comes just 10 days after the Ferguson grand jury decision not to indict another white police officer, Darren Wilson, for fatally shooting an unarmed black teenager named Michael Brown on Aug. 9. Sojourners had convened a retreat in Ferguson for both national faith leaders and local pastors to look deeply at the historical and theological foundations of the Ferguson events and reflect upon how the church must respond. Emotional calls from pastors in New York City came with the horrible news, and people just began to weep -- one young man wailing, "This time it was all on video .... and it still didn't matter! How can I as a black man bring a black son into this world?" Lament and prayers followed with a resolve from an extraordinary two days on the ground in Ferguson -- to act.
Local experts in St. Louis County helped us understand the damage done to their local communities for decades that led to the response that erupted after the killing of Michael Brown. We walked silently and prayerfully alongside the memorial to the slain teenager on West Canfield Avenue with black parents imagining their own sons lying there, and white parents realizing this would never happen to our kids. We kept looking at the street where this bloody incident had taken place, feeling more and more doubt about the narratives the county prosecutor had used to exonerate and excuse the white police officer from any responsibility -- or at least a trial to publically sort out "conflicting testimonies."
We met in a church with seven young leaders of the Ferguson protest movement. In just 116 days, these young people had become self-educated and extraordinary leaders, and we listened to a compelling analysis of their urgent situation and how they were trying to apply the history of social movements to change their oppressive circumstances. Their chilling stories of police harassment and brutality, preceded by a narrative of the educational and economic brutality that black young people like them experience daily were transforming words for those of us who listened, spellbound. As I listened, I realized America would be converted by these young people's honest and earnest conversation -- they would win the national debate about our criminal justice system's response to young people of color. And that is why they have been deliberately marginalized and painted with the brush of false narratives that polarize our responses to them, a polarization so painfully and starkly now along racial lines.
Some of these young people had just returned from Washington, D.C., where they met in the Oval Office with the president. Later I joined them for a small meeting at the White House where the president convened faith leaders, law enforcement officials, legal scholars, the vice president, and some of his cabinet secretaries to discuss a new task force and national commission to deal with what he called "a real problem" in our law enforcement system between too many police departments and their communities of color.
You could tell these young people made a profound impression on Barack Obama, and they were powerfully articulate in our meeting, calling Ferguson a historical moment and asking us all how we were going to respond to it. What happened in Ferguson was no anomaly of course, and there are Fergusons all over the nation. But Ferguson has become a historically revealing moment about what has been true for decades across this country in the ways that young black men and women are treated profoundly differently than young white men and women. It's a truth everyone in the African-American community understands, but many white Americans are still mostly unaware of or in deep denial about.
The faith leaders retreat resulted in new and determined commitments to change --beginning with the churches themselves and extending to a criminal justice system whose racial bias is beyond dispute. That commitment will go beyond our racial and political differences and could hopefully provide a most needed multiracial and non-partisan political force for fundamental change. Conservative white Southern Baptist leader Russell Moore said this about Ferguson:
"In the public arena, we ought to recognize that it is empirically true that African-American men are more likely, by virtually every measure, to be arrested, sentenced, executed, or murdered than their white peers. We cannot shrug that off with apathy. Working toward justice in this arena will mean consciences that are sensitive to the problem. But how can we get there when white people do not face the same experiences as do black people?"
Wednesday, in response to the Staten Island decision, he added:
"... a government that can choke a man to death on video for selling cigarettes is not a government living up to a biblical definition of justice or any recognizable definition of justice. ... It's time for us in Christian churches to not just talk about the gospel but live out the gospel by tearing down these dividing walls not only by learning and listening to one another but also by standing up and speaking out for one another."
Amen brother Russell. Amen.
When the decision about Eric Garner was announced, the young people we had met the night before called and asked us to join them in the protest they had just organized at a U.S. Courthouse in downtown St. Louis -- and we did. Faith leaders and pastors stood alongside black and white young people who chanted "I can't breathe" in front of a line of police.
America, we have a problem. It's past time to fix it, and the church must stand alongside a new generation of young leaders and help the nation find the way forward.
Calling all HuffPost superfans!
Sign up for membership to become a founding member and help shape HuffPost's next chapter