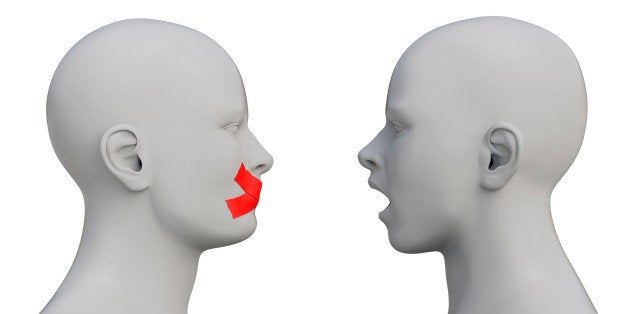 Freedom of speech is a very precious and increasingly fragile foundation of American democracy. And it is very worrying that the latest attacks - attacks that have been full frontal - are coming from people who are running for the highest office in the land.
Physically attacking another American because you disagree with their point of view is completely unacceptable. Yet it happened again just yesterday at a presidential rally and when it was brought up during the republican debate last night, not one of the candidates even vaguely suggested it was inappropriate or unacceptable. Their silence was deafening. Donald Trump defended the crowd for their behavior at this and other events he has held where violence has broken out, and simply passed it off as a show of strong emotions. This morning at a press conference, he actually said he thought it was appropriate when people at his rallies have taken swings at others in the audience. And this afternoon at a rally in St. Louis he said the protestors were "bringing us down; "they contribute nothing" and "are so bad for this country."
The local sheriff, Earl Butler, whose deputies escorted the protester out of yesterday's rally is the only one who has spoken up. He noted that "Regardless of political affiliation, speech, race, national origin, color gender, bad reputation, prior acts or political demonstration, no other citizen has the right to assault another person or to act in such a way..."
We, the people, cannot simply stand by and let the rhetoric of these candidates legitimate this kind of behavior. It is up to all of us to call out this kind of rhetoric and behavior and reaffirm our commitment to basic American values. We have a duty to our country, to our fellow Americans and to our future to hold every presidential candidate to the highest standards as he or she will be the face and voice of our country to the world.
Calling all HuffPost superfans!
Sign up for membership to become a founding member and help shape HuffPost's next chapter