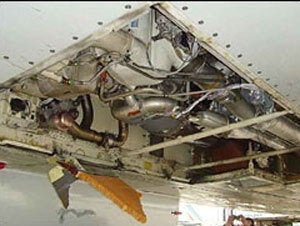 Federal regulators said Thursday they are investigating how an American Airlines jet lost a panel from its belly shortly after taking off from Dallas-Fort Worth International Airport before continuing on across the Atlantic and landing safely in Paris.
Part of the Federal Aviation Administration's probe involves whether the pilot should have turned back, said FAA spokesman Roland Herwig.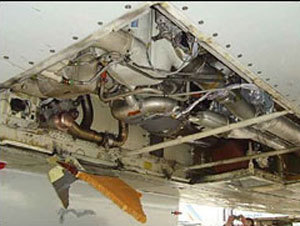 Airline officials say the pilot thought the loud noises during the flight last month were due to cargo shifting, according to an internal memo obtained by The Associated Press.
A flight attendant on the April 20 trip said there was "a loud shaking noise from the belly of the plane." A few minutes later, there was another noise that "sounded like an explosion," the attendant said in an e-mail, according to Dallas television station WFAA.
When the Boeing 767 landed in Paris after the nine-hour flight, ground crews discovered a panel allowing access to an air conditioner was missing. The panel was part of the jet's outer skin and measured several square feet.
An American spokesman said the air conditioner area is separate from the cargo area and the pressurized cabin.
In a statement, the airline said it was also investigating and wouldn't comment further. The pilots' union had no comment, and the pilot, Steve Kantlehner, was not available for comment.
The airline's flight department told all pilots Wednesday that the captain "did exactly what we want our captains to do," according to a company memo obtained by The Associated Press.
"There was no way this crew could have known this panel had departed," said the memo from Jim Kaiser, American's manager of flight operations quality control, and Chuck Harman, the airline's fleet captain for Boeing 757 and 767 planes. "If they had known, they obviously would have returned" to DFW Airport.
According to the memo, no cockpit warning lights came on, and the pilot, who was not identified, also spoke to a maintenance technician in Fort Worth.
Kaiser and Harman, who are both pilots, said while pictures of the hole in the fuselage "are very dramatic," the passengers were never in danger.
After the plane landed, a flight attendant snapped pictures of the missing panel, and the photos began circulating in e-mails between American Airlines employees.
The case of the Paris-bound flight occurred only a week after American canceled about 3,300 flights while it grounded its fleet of MD-80 jets to inspect electrical wiring.
Support HuffPost
The Stakes Have Never Been Higher
Related
Popular in the Community