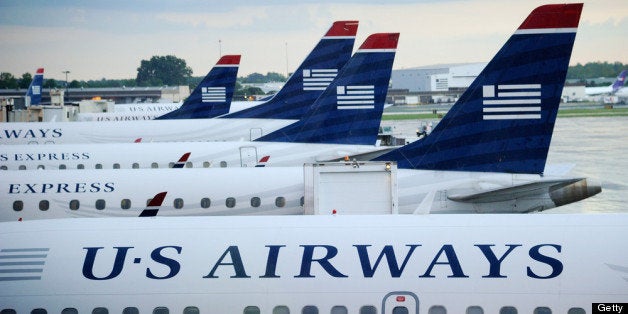 WASHINGTON, July 1 (Reuters) - A group of 19 attorneys general, led by Texas, has joined a U.S. Justice Department probe of a planned merger of American Airlines Inc and US Airways Group Inc, three sources close to the discussions told Reuters.
Some of the states involved worry that they will lose a hub because of the planned transaction, which would create the world's largest airline, while others are concerned about service cutbacks to smaller cities because of the transaction, two sources said.
US Airways has hubs in Philadelphia, Charlotte, Washington, DC and Phoenix while American has hubs in Dallas/Fort Worth, New York, Miami, Chicago and Los Angeles.
US Airways announced on Feb. 14 that it planned to merge with American, which is emerging from bankruptcy, in an $11 billion stock deal. The companies hope to wrap up the merger by the end of September.
The state attorneys general are working with the Justice and Transportation Departments, both of which must approve the deal.
A sticking point in talks between the Justice Department and the companies is whether the airlines will agree to sell slots - takeoff and landing rights - to reduce their dominance at Reagan National Airport outside Washington, D.C., according to two sources.
The involvement of the state attorneys general and the fact that the Justice Department is taking depositions indicates broad concern that the proposed merger creates antitrust problems, antitrust experts said.
The Justice Department can approve a deal on condition of asset sales or, rarely, will sue to stop it. It can also approve a deal without any conditions.
All sources spoke privately to protect business relationships.
Texas is leading the state effort, two sources said. The other attorneys general involved are from Arkansas, Arizona, California, Washington DC, Florida, Iowa, Illinois, Minnesota, Mississippi, Nebraska, New York, Oklahoma, Pennsylvania, South Carolina, Tennessee, Virginia, Wisconsin and West Virginia.
Service to smaller cities has been curbed in recent years as tough economic times and high fuel costs have spurred major carriers to pare flying to unprofitable markets and focus more on big cities. For example, Delta Air Lines Inc last month said it would scrap a hub in Memphis that it gained when it bought Northwest in 2008.
A focal point of the Justice Department has been Reagan National Airport, just outside Washington, DC.
If the deal is approved, the new airline would have 68 percent of the slots at Reagan, far more than Delta Air Lines with 12 percent, United Airlines with 9 percent and the 11 percent held by other airlines, according to a report by the U.S. Government Accountability Office.
The companies have pushed back hard against any suggestion that takeoff and landing slots at Reagan National be sold.
US Airways CEO Doug Parker told lawmakers in congressional testimony last month that requiring the combined company to surrender slots could mean fewer flights to small- and medium-sized cities.
(Reporting by Diane Bartz; Editing by Gary Hill, Bernard Orr)