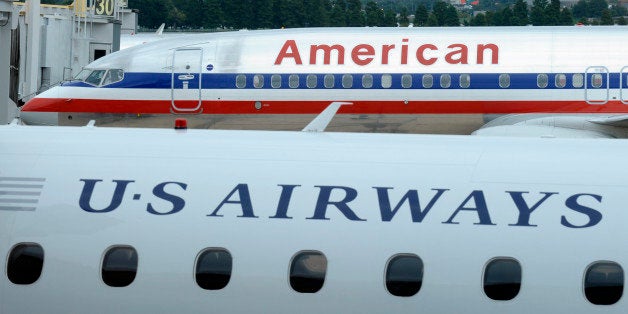 WASHINGTON -- Thousands of service agents at American Airlines unionized with their new colleagues at US Airways on Tuesday, making the most of last year's airline mega-merger.
In a combined union election, airline employees voted on whether to join CWA-IBT, a joint union of the Communications Workers of America and the Teamsters. An overwhelming 86 percent voted in favor of unionizing.
The election covered 14,500 employees who work at airport customer-service desks, airline call centers and, in some cases, their own homes. Nine thousand of those workers were previously non-union employees at American Airlines, while the remainder were US Airways agents already represented by the union. The two brands merged last year to create the largest airline in the world.
Had the group voted down the union, the already-unionized US Airways workers would have lost their contract.
"I'm elated. It's been a long road," said Steve Langhi, a Dallas/Fort Worth-based customer service representative for American Airlines who has long wanted to join a union. "I've spent 35 years in this business … I feel better about my future today than I have at any other time."
The National Mediation Board, the federal agency that oversaw the election, said the workers voted in favor of the union by a count of 9,640 to 1,547, indicating widespread support among employees of both airlines. The election appears to be the largest private-sector unionization this year.
Paul Flaningan, an American Airlines spokesman, said in a statement that the issue of union representation for American's main workforces was now "settled" and the company would move ahead to bargaining. "We have enjoyed a productive relationship with the CWA-IBT as well as our other unions and look forward to continuing our work together," he said.
Despite opposition from the government and consumer groups, American argued that a merger with US Airways was the company's best shot at emerging from bankruptcy proceedings. The Justice Department originally sued to block the merger on the grounds that it would hurt travelers by raising costs, but the government ultimately settled the case when the companies agreed to give up slots at certain airports.
Service agents at American have tried and failed to unionize before, losing a 2013 election by a mere 150 votes. The company opposed that campaign but remained neutral this time around, according to CWA-IBT. The union publicly supported the airline merger when it was being considered by regulators.
Langhi said many of his colleagues have come around to supporting unionization due to the outsourcing that occurred during American's bankruptcy proceedings.
"We suffered as a result of not being organized under bankruptcy," Langhi said. "When you have representation, sacrifices are negotiated. They're not done randomly; they're done with a plan. A union helps employees go through it in an organized way."

Tom Paskutis, a US Airways customer service supervisor in Charlotte, North Carolina, said growing the union's ranks will help workers at both airlines maintain their wages.
"We're glad to have American on board. We needed them for strength," said Paskutis. "This gives us more negotiating power to keep what we have."
Popular in the Community