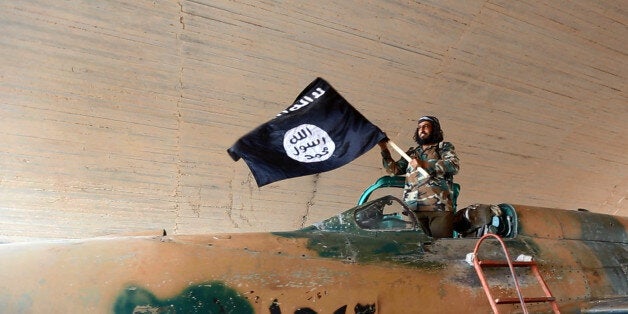 ISTANBUL -- When the United States asked Turkey to join a coalition to fight the Islamic State, Turkey answered with a resounding no, citing concern over the lives of 49 hostages the hardline group took in June from Turkey's consulate in northern Iraq.
But on Sunday the hostages were mysteriously freed, unharmed, after over three months in captivity -- and Ankara has not changed its stance on joining the U.S.-led coalition, despite their homecoming. As the United States, along with allies that include several Arab countries, strikes parts of Syria for the first time, Turkey is shying away from concrete action against the Islamic State, prompting rumors as well as concern among lawmakers, experts and even relatives of the released hostages.
"Here is the test for Turkey," Steven Cook of the Council on Foreign Relations tweeted on Sunday. "With the hostages freed, will Ankara be an active/overt member of the anti-ISIS coalition?"
The release of the hostages, all but three of whom are Turks, was met with relief and joy. The hostages included several young children, the Turkish consul general, and three Iraqis who worked at the consulate. Family members of the hostages were terrified they might meet the same grim fate as other hostages who have been murdered by the Islamic State. President Recep Tayyip Erdogan and his government have refused to explain how the hostage release was negotiated, and released hostages were instructed not to speak to press.
"This is a diplomatic success," Erdogan said at a press conference on Sunday. "The result of a political bargain."
Rumors now abound about how Turkey secured the hostages' release and their safe passage home. Some critics have wondered whether the hostage release was related to Turkey's refusal to join the anti-ISIS alliance, or if the hardline group received something in return for the hostages. Hurriyet Daily News reported that a Syrian rebel group coordinating with Turkey released 50 members of the Islamic State back to the group as part of an exchange for the hostages.
"Whether there was a swap or not –- of course, everybody will write something about it," Erdogan said in a speech on Sunday. "What we look at here is: Whether a swap has taken place or not, our 49 citizens returned to Turkey."
Whispers of Turkey working with the Islamic State or other extremist fighters in Syria are nothing new.
"We hear that Turkey is supporting ISIS," a cousin of one of the released Turkish hostages told The WorldPost by phone, requesting anonymity out of concern for their safety. "We cannot accept Turkey not fighting against ISIS. It's really worrying." Another relative said the government had not done enough earlier to get the hostages back.
With the Syrian war dragging into its fourth year, Turkey faces criticism that its lengthy border with Syria is far too porous and that it turns a blind eye to fighters in its territory on their way to battle the Assad regime, even if they are designated as terrorists. Meanwhile, the country struggles to support more than 1 million Syrian refugees, with more fleeing into Turkey every day.
Fighters, both moderate and extremist, can easily cross its border, and Turkey arguably has done too little, too late to clamp down. Many foreigners seeking to join the Islamic State fly into Istanbul then head to the Syrian border, and the Islamic State is known to recruit fighters in Turkey. Fighters, both Syrian and foreign, are easily spotted in shops, cafes and bus station along the border.
"These foreign fighters are crossing often from Turkey," Sen. Robert Menendez (D-N.J.), chairman of the Senate Foreign Relations Committee, said last week. "Which either because of fear or maybe ideology has declined to participate [in the coalition] to stop that flow of fighters and to counter [the Islamic State]."
In an interview on Sunday at the Council on Foreign Relations, Erdogan told CNN's Fareed Zakaria that the flow of hardline foreign fighters was "under control."
When another reporter asked whether Turkey would do more to help stop the flow of fighters, Erdogan said the question was "an insult" because Turkey was always trying to do more.
Aaron Stein, a Turkey analyst and associate fellow at the London-based Royal United Services Institute, said Turkey is critical in the fight against the Islamic State, with its border serving as the main entry point for its foreign fighters into Syria. But, he stresses, it's too simplistic too lay the issue of smuggling at the feet of the Turks.
"Turkey is the last link in the chain," he explained, saying there are often many steps in a foreign fighter's journey to Syria. He added that Ankara has recently increased its efforts to screen potential fighters, including improving its surveillance, but it's just not advertising it. "I think it is important to note that things have begun to change," he added. "This change happened too slowly, but it has come nonetheless."
REAL LIFE. REAL NEWS. REAL VOICES.
Help us tell more of the stories that matter from voices that too often remain unheard.