In three videos (one, two, three) published on YouTube on 1 and 5 April, members of moderate Syrian rebel group Harakat Hazm were shown operating American-manufactured BGM-71 TOW anti-tank guided missiles (ATGMs). All three videos -- two show missiles being fired and the third shows several missiles on the back of a pick-up truck -- were filmed in and around the town of Heesh in the northern governorate of Idlib. This marked the first time such weapons have been seen in Syria since the eruption of conflict in the country three years ago.
At first glance, this appears to be an extremely significant development. However, some level of care must be taken at this stage in terms of drawing conclusions as to what this means. More videos showing BGM-71 TOWs being used in Syria -- and preferably in the hands of additional rebel groups or in other areas of the country -- will be necessary for this to represent a potential state-based program of providing valuable weaponry to moderate rebels. However, for now, this possibility appears more likely than not and the arrival in some form or another of such new weapons seems worthy of some investigation.
Initially developed in 1963 by the Hughes Aircraft Company and then adopted by Raytheon in 1997, the BGM-71 TOW has been widely exported to more than 40 current and previous US allies. Within the Middle East and North Africa region, TOWs are currently thought to be stocked or to have been stocked by Israel, Tunisia, Saudi Arabia, Oman, Morocco, Lebanon, Kuwait, Egypt, Jordan, Yemen, and Turkey.
Intriguingly, Iran was also sent several thousand BGM-71 TOWs during the Iran-Contra Affair in the mid-1980s, some of which may have been shared with Hezbollah - as purportedly evidenced by the group's apparent use of TOW missiles in the 2006 conflict with Israel. However, the missiles seen being used by Harakat Hazm rebels in Syria are very unlikely to have been acquired/captured from Hezbollah or other pro-Assad forces for three reasons. Firstly, there has been no evidence of pro-government forces using TOW missiles throughout the conflict in Syria. Secondly, Iran is currently more reliant on its domestically produced copy of the BGM-71 TOW, known as the Toophan - specific characteristics of which are distinctly different to the systems just seen in Syria. And thirdly, the good condition of the missiles and launchers seen in the Syria videos would suggest they do not date back to the 1980s.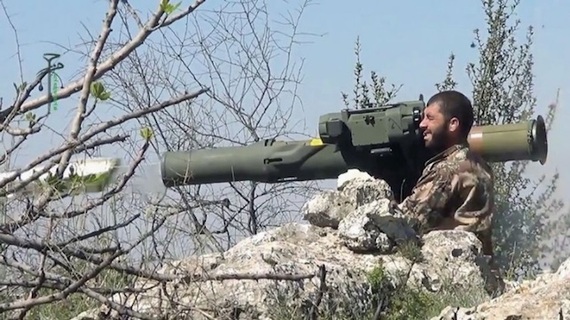 In the videos, the visible presence of a guidance wire between the missile and the launcher is evidence that the systems being used in Syria are not the more modern wireless ones developed and sold by Raytheon since the early 2000s. Importantly, under the common terms of US military sales to foreign states, governments are contractually obliged to seek US approval before transferring US-made weapons to a third party. So technically, if these BGM-71 TOWs were provided to Harakat Hazm by an opposition supporting state, the US and the Obama administration should have known about it and would have to have given the transfer their blessing. Considering that White House and State Department officials have in recent weeks been suggesting the possibility of imminently expanding US military assistance to the Syrian opposition, could these BGM-71 TOWs be related?
This raises the as yet unanswerable question of where these missiles have come from? In this context, it is worth looking at exactly what Harakat Hazm represents within the wider Syrian opposition dynamic.
Harakat Hazm was established on 25 January 2014 via the merger of 12 small moderate rebel factions, including several from the now largely defunct Kataib al-Farouq:
-Kataib Farouq al-Shamal
-9th Special Forces Brigade
-1st Brigade of Madraat
-Liwa Ayman Bil Allah
-Katibat Abi Harith - Farouq Hama
-Katibat Ahrar al-Salmiya - Farouq Hama
-Liwa Ahbab Allah
-60th Brigade
-Katibat Shaheed Abdul Ghaffar Hamish
-Katibat Shaheed Abdullahi Bukar
-Saraya Sawt al-Haq
-Katibat Abu Asad al-Nimr
The group was described in its foundation video as being divided into a northern and a southern division, led by Murshid al-Khalid (Abu al-Muatassim) and Mohammed al-Dahik (Abu Hatem), respectively. The group's Secretary General was named as Bilal Atar (Abu Abd al-Sham), while Awdu Abu Zaid headed military operations and Hamza Shamali (Abu Hashem) took charge of political affairs.
Most intriguing at the time was the fact that the then Chief of Staff of the Western-backed Supreme Military Council (SMC), Lieutenant General Selim Idriss, took pride of place in Harakat Hazm's formation video sat in the middle seat, where he lent the group his official blessing and support. This wasn't a particularly normal move by Idriss and was likely part of a wider behind-the-scenes dynamic.
At this point in time, serious institutional and structural tensions were afoot within the Syrian National Coalition (SNC) and the SMC, particularly regarding Idriss' role within the core Western-backed opposition. SNC President Ahmad Jarba and his Minister of Defence Assad Mustafa were seen to be coordinating a re-energizing of the moderate armed opposition. The formation of the Syrian Revolutionaries Front (SRF) on 9 December 2013 under the leadership of (the previously maligned) Jamal Maarouf and his deputy Haitham Afeisi and the offensive against the Islamic State in Iraq and al-Sham (ISIS) in northern Syria in January 2014 appeared to represent a much needed (re)-focus on unity within moderate ranks. But behind the scenes, moves were being planned against Idriss that would prove damaging in the weeks to come.
This all came to a head on 16 February when a secret meeting of the SMC in Istanbul announced at its conclusion that Selim Idriss was being dismissed and replaced by the little known commander of Al-Quneitra governorate's Military Council, Brigadier General Abdel Ilah al-Bashir. The announcement sparked significant rifts within the SMC and the Free Syrian Army's (FSA) General Staff, and as such, several statements were quickly issued from inside Syria in support of Idriss - including one by Harakat Hazm on 17 February. Two days later, Idriss appeared in a video alongside 12 senior provincial-level SMC commanders and members of the FSA's General Staff in which they rejected his dismissal and claimed they in fact represented the legitimate leadership of the FSA. In effect, the SMC-FSA structure was split in two.
Despite efforts made to mediate these serious divisions - including a set of meetings in early March that ended in a brawl in which Ahmad Jarba was punched three times - the damage has been done. Today, an entirely new and reshaped SMC leadership is now in place, leaving Idriss and his various important supporters inside Syria largely afloat, essentially representing a second distinct military opposition structure. And a core element within that structure is Harakat Hazm.
It was widely accepted in 2013 that Idriss was well respected within US administration circles for being a reliable middleman with solid moderate leanings. Despite Idriss' comparative lack of wider institutional influence when compared to late 2013, it is more than feasible that he continues to represent a coordinator of external military assistance to core moderate rebels - whether that be via official or unofficial circles.
Even if the US was unwilling to send weapons like these BGM-71 TOWs itself - which is likely - Saudi Arabia as one of the opposition's two most significant military backers has thousands of the missiles in its stocks and has an order placed with Raytheon for 13,935 state-of-the-art BGM-71 TOW variants, worth between $900 million and $1 billion. The opposition's other principal backer, Qatar, does not stock BGM-71 TOWs, but instead, operates the German-French Haut Subsonique Optiquement Téléguidé Tiré d'un Tube; HOT missile system.
However, as has been said already, more sightings of these missiles are needed to determine if this is part of a larger shipment and a wider initiative. The slim possibility that these weapons were provided on a minimal scale by a non-state backer acquired though illicit means cannot yet be discounted. It is also worth noting that while BGM-71 TOWs are highly reliable weapons, taken in isolation, they lend minimal military advantage when compared to the Soviet 9M113 Konkurs and Chinese Hongjian HJ-8 ATGMs already in rebel hands.
Nonetheless, should more evidence emerge to suggest many more BGM-71 TOWs have been sent into Syria, the resulting enhancement in opposition anti-tank capabilities will make a difference within localized conflict dynamics. While ATGMs will not defeat the Assad regime by themselves, they have proven crucial in neutralizing the military's ability to defend key facilities and to bombard opposition positions and civilian areas.
Update - Reliable source claims to provide information on BGM-71 TOW source (unconfirmed):
Since the writing of this article, a consistently reliable source has provided - on condition of anonymity - some potentially very interesting details as to the source of these BGM-71 TOWs. This source, citing an eyewitness at a border crossing between Turkey's Hatay province and Syria's Idlib governorate claims he witnessed "7 vans" containing BGM-71 TOW ATGMs being delivered into Syria between 0200 and 0400 on 6 March 2014. This border crossing, the source says, was controlled by the Islamic Front, whose fighters waved the vehicles through, after which the weapons were delivered to Harakat Hazm. Crucially - and it must be emphasised that there is no way to corroborate this claim - the TOWs were "sent" by Saudi Arabia, who the source described merely as "an agent", perhaps suggesting the involvement of additional foreign states.
At the time, the missiles and their launchers were intended to bolster ongoing heavy fighting in Aleppo city's Sheikh Najjar district, although for an unknown reason, they remained in Idlib and only began deployment into fighting in Heesh in late March and early April. Nonetheless, now that they are on the battlefield, the source claims their provision to Harakat Hazm - deemed a more reliable option that the unpredictable Jamal Maarouf and his SRF - was intended as a "test" (more missiles may be provided if their use proves effective). This may lend some explanation to an unusual video released by Harakat Hazm on 10 April showing Wael Ali Bakour announcing that he had personally fired one TOW missile during the Sada al-Anfal offensive in Heesh, which destroyed a T-62 tank. Furthermore, another filmed TOW missile attack from the same area was released shortly afterwards. This detailed video coverage of Harakat Hazm's TOW missile use is likely intended as a 'check list' of sorts, detailing each missile's use in combat.
The arrival of these missiles in Syria has attracted considerable attention, particularly considering the potential knowledge or even indirect involvement of the US. As such, further investigation will be necessary to determine if this source's information is reliable.
Charles Lister is a Visiting Fellow at the Brookings Doha Center in Qatar. Follow him on Twitter at: Charles_Lister
Popular in the Community