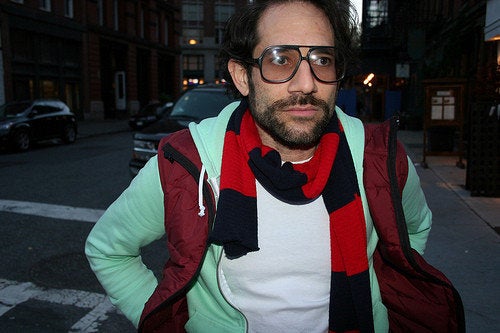 Dov Charney, chief executive officer of American Apparel, the clothing retailer best known for manufacturing its clothes in the United States, stands accused of conduct that seems more typical of an overseas sweat shop boss. A lawsuit filed last week in a Los Angeles court by a former store manager accuses Charney of choking him, throwing dirt at him and deriding him with an anti-gay slur.
American Apparel believes the lawsuit is based on allegations that are "contrived and untrue," Peter Schey, an attorney for Charney and the retail chain, said in an emailed statement.
The former manager who filed the lawsuit, Michael Bumblis, worked at a store in Malibu, Calif. He said he was ultimately fired in what he asserted was retaliation for filing a complaint against Charney through company channels. Charney's attorney declined to say why Bumblis was fired.
[Scroll down to see excerpts from the complaint]

Since founding the company in 1989, Charney has become a magnet for lawsuits alleging malicious behavior, sexual assault and harassment. Ex-employees have accused the CEO of forcing them to perform oral sex and showing up at the office in underwear. In 2011, five women sued Charney for sexual harassement and sexual assault in two separate lawsuits.
Charney's lawyer accused these lawsuits' plaintiffs of seeking to "use publicity as leverage," while pursuing "exorbitant" financial claims. He said previous lawsuits alleging sexual harassment and assault are now in arbitration.
Bumblis said his tumultuous relationship with the boss dates to April, when Charney called and accused him of manning a competing apparel company's booth at a Las Vegas convention. According to the complaint, Charney also used the opportunity to threaten and insult Bumblis, calling him a "fag" and a "wanna be Jew." (Charney is Jewish.) From the complaint: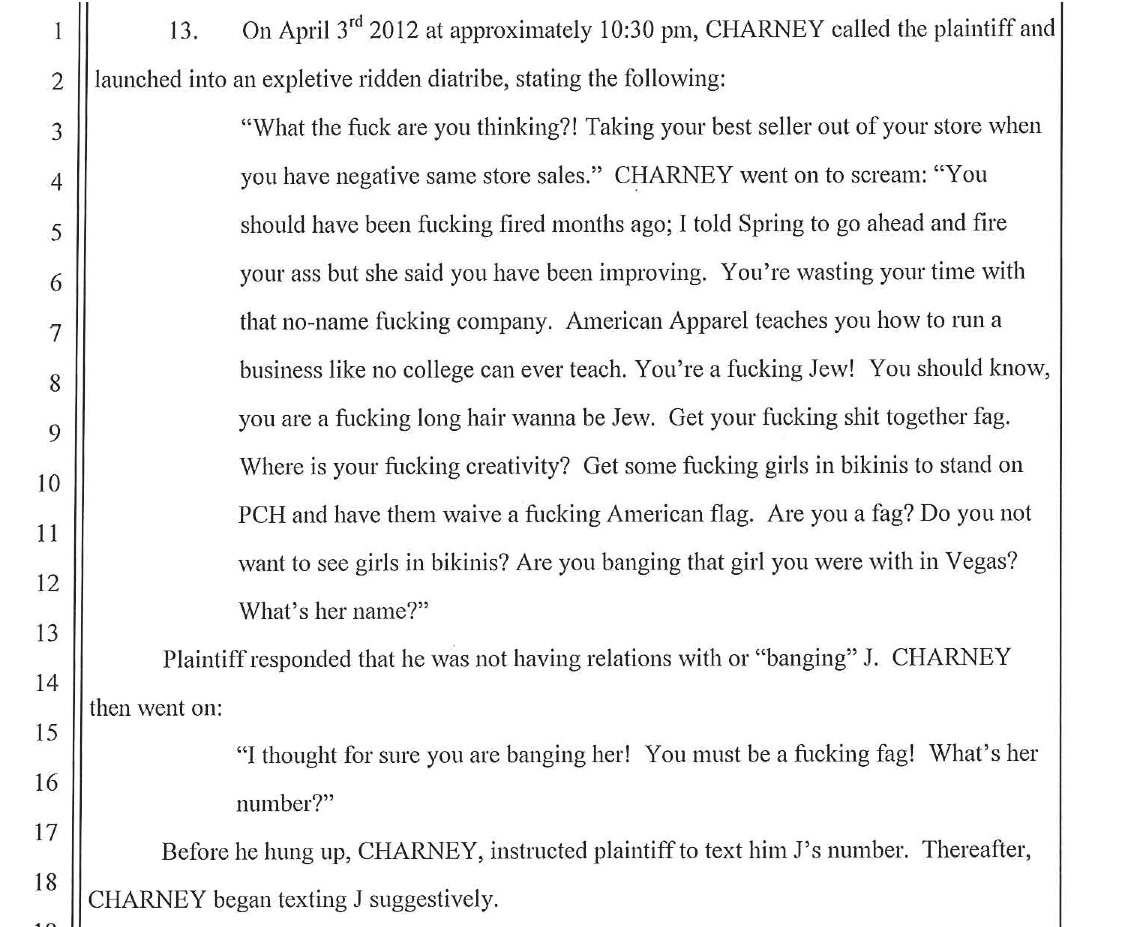 Less than a month later, Charney showed up in Bumblis' store for an inspection and exploded when he discovered Bumblis was using a second floor space as an office, according to the lawsuit: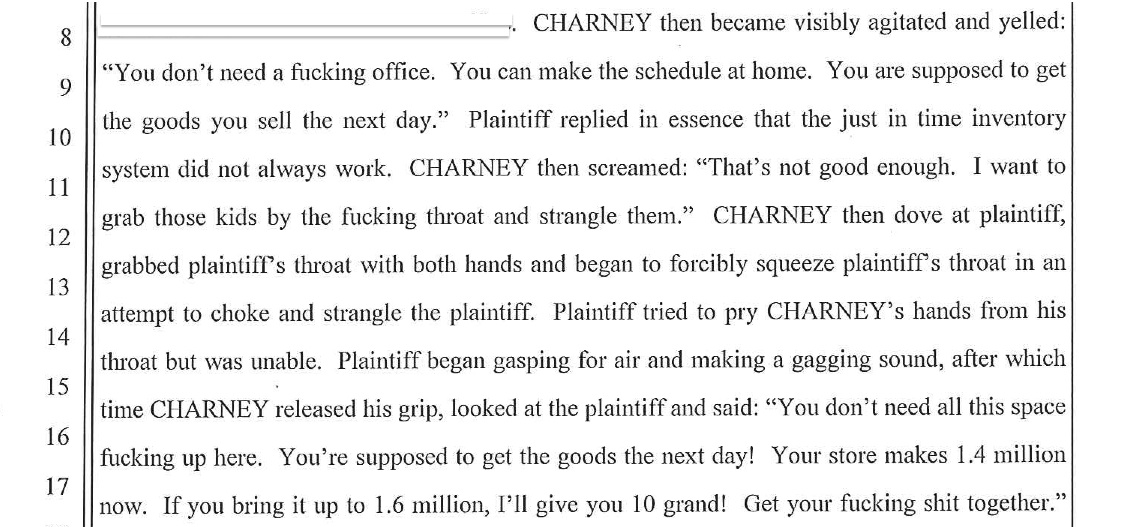 According to the complaint, Charney then bent down in a dusty area of the dressing room. "Look how disgusting you are," Charney said. "Rub it in your face." Bumblis refused, according to the document.


Bumblis, who said he is neither homosexual nor Jewish, is seeking unspecified damages for what he called wrongful termination, discrimination and assault.
Once an edgy chain of boutiques known for its controversial ads, American Apparel has become the largest clothing manufacturer in the U.S. and now sells childrens', babies' and plus-size lines. The company has struggled over the past few years to keep sales up as it expanded to malls, nearly filing for bankruptcy in 2011.
Even some who have never worked for Charney have emerged from their encounters with the CEO bearing stories of bizarre and lewd behavior. In a 2004 magazine profile, journalist Claudine Ko claimed that Charney pleasured himself in her presence while telling her her that "masturbation in front of women is underrated" -- a vignette that she included in her published piece.

Related
Before You Go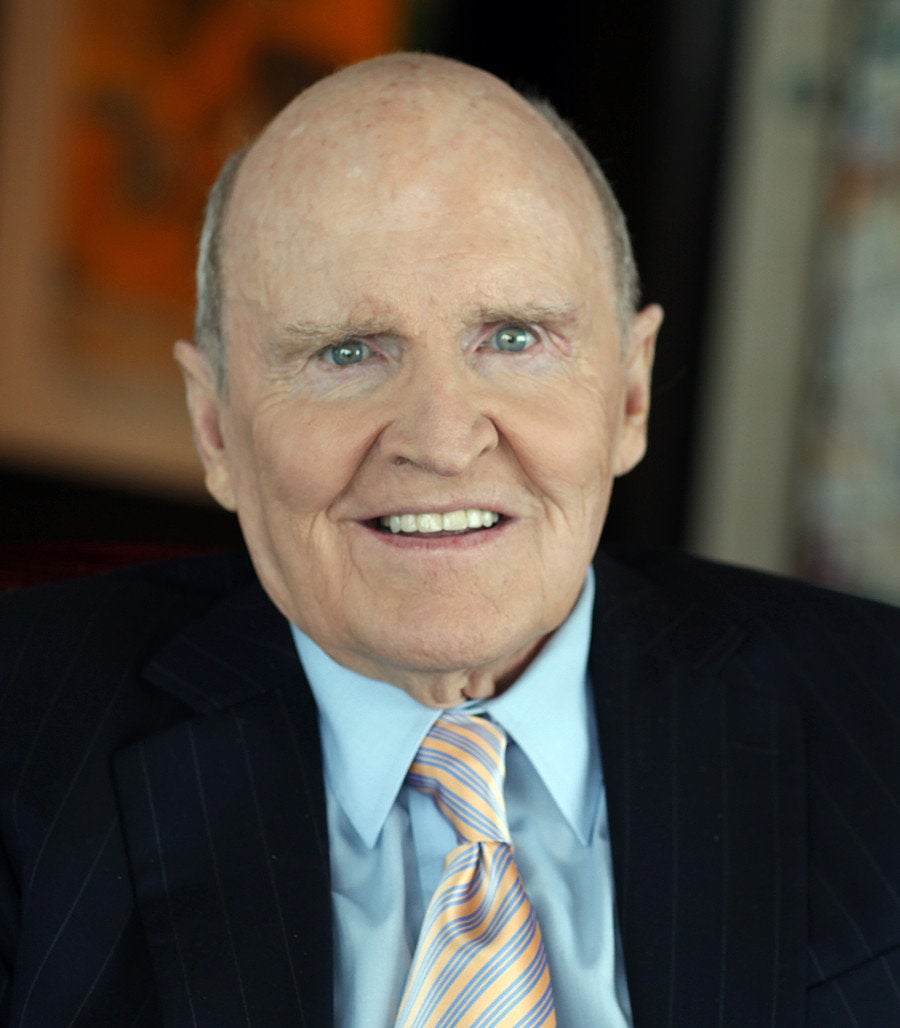 The CEO Sex Scandal Hall Of Fame
Popular in the Community