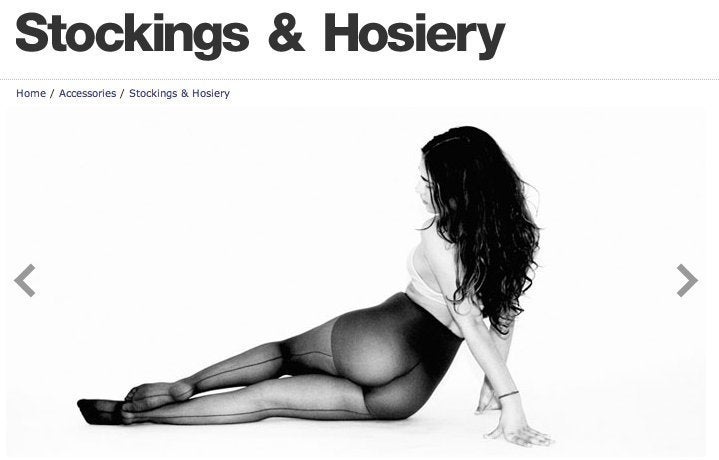 Shocking no one, American Apparel is getting another slap on the wrist for the titillating ads it runs on its website. But this time, the charge is more serious: Britain's Advertising Standards Authority is accusing the retailer of "sexualizing" models under the age of 16. Oof.
The ASA received two complaints about the online images of young women modelling T-shirts – in which it was possible to see the breasts of the girls through the shirts – that they were offensive, irresponsible and overtly sexual and should not be displayed on a website children could access.
One consumer complained about an experience familiar to most of us who've perused American Apparel's website: you're idly browsing for socks when you're suddenly confronted with a topless female model wearing a mesh shirt. If your child is near your computer, you might not be so thrilled to suddenly have NSFW images on your screen. In this case, the woman and her 12-year-old daughter saw the pictures while shopping online for tights.
The ASA deemed the ads were variously "sexually suggestive, gratuitous and flirtatious," writing that "because her breasts were visible through her shirt, we considered the images could be seen to sexualise a model who appeared to be a child." It banned three of the 23 ads used to promote tights.
It's unclear whether the ads were posted only on American Apparel's UK version of its website.
The California-based retailer is also currently facing a lawsuit against CEO Dov Charney, wherein a former employee accuses Charney of throwing dirt in his face and using anti-gay slurs.
UPDATE, 12/17/2012: In response to the ASA ruling, American Apparel released the following statement: "It's unfortunate that the ASA has made this ruling as our models are of age and were featured in Vice magazine, a publication clearly intended for mature, fashion-forward audiences. We'll abide by this ruling as we have in the past with similar ASA decisions, but American Apparel will not be altering our classic advertising aesthetic which is internationally recognized for its artistic and social values."
See more scandalous advertisements: