An atheist billboard rejected by the heavily Jewish community in Williamsburg, Brooklyn has been resurrected in Greenpoint.
The sign, made by the American Atheists, was placed at the corner of Stewart Avenue and Thomas Street Wednesday, The Brooklyn Paper reports, and will be visible to the some 160,000 drivers crossing the Kosciuszko Bridge every day.
Written in both Hebrew and English the sign proclaims "You know it's a myth, and you have a choice."

The original location for the billboard was at South 5th Street, close to a tight-knit enclave of Hasidic Jews. Building owner Kenny Stier prevented the Atheists from erecting the billboard atop the building's roof Tuesday morning. "I don't want to get involved in this," was all Stier told The Paper. Local Rabbis had expressed outrage at news of the sign.
American Atheists director David Silverman was disappointed at Stier's decision. The sign was meant to target the Hasidic community.
"We've gotten over a dozen emails from closeted Hasidic atheists since we announced the billboard," Silverman told The Greenpoint Gazette. "These people feel like they're alone. We believe that the Hasidic community is teeming with atheists who are trapped and don't know any way out of the life that they're in. And all we wanted to do is tell them that they're not alone."
Rabbi David Niederman, Executive Director of United Jewish Organizations (UJO) said the sign was offensive. "I don't think the way one wants to reach out to a few people, is to put up a sign that antagonizes thousands of people," he told The Gazette. "The name of God is very holy to all of us. And seeing his name being publicized and written in that manner really hurts every believing person."
Spelling out the name of God is a practice forbidden in many conservative Jewish sects.
"I still feel bad because of the Jews," Silverman told The Paper. "It was drilled into me as a child that the Jewish people were persecuted and here we are facing religious bigotry from a Jew."
For more controversial New York signs, check out the slideshow below: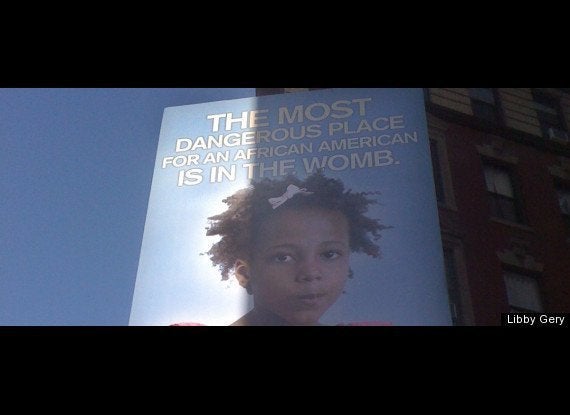 Controversial New York Signs