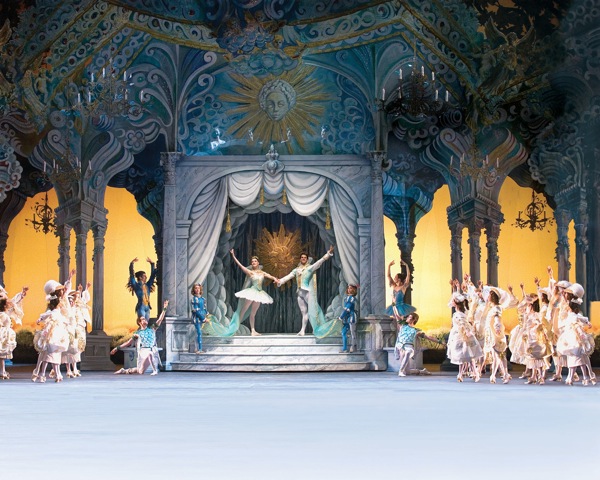 Glorya Kaufman Presents Dance at the Music Center welcomes the return of American Ballet Theatre (ABT), America's National Ballet Company, led by Artistic Director Kevin McKenzie, to the Dorothy Chandler Pavilion, July 15-18, with its full-evening production of The Sleeping Beauty. Pictured: Veronika Part and Marcelo Gomes
Photo credit: Gene Schiavone.
American Ballet Theatre is back in Los Angeles - this time with a restaging of their Sleeping Beauty. Part of the 'Glorya Kaufman Presents Dance At The Music Center,' program, they've brought big names and gorgeous sets to entice a city of denizens notoriously indifferent to ballet. They brought them, but Thursday evening's opening night performance was not exemplary of what they can do, and have done in the past.
Gillian Murphy is a household name among ballet-lovers and she shone as Princess Aurora on Thursday night. Throughout the run, she relinquishes her role to Paloma Herrera and Irina Dvorovenko. The audience waits for her through the first act, which serves solely as an introduction to the story, to the inevitable pricking of the princess' finger, and to the various fairies promising to protect the precious child.
Murphy's dancing is masterful, decorous, and light (as if she's barely breaking a sweat, the long-known mark of a true prima ballerina) - it's no wonder that her Princess Aurora has her pick of gentlemen callers. Her performing is, excuse the pun, leaps and bounds beyond that of her fellow fairies and princes and she easily out-shadowed their efforts.
Her prince and savior, Prince Desire played by ballet mainstay Marcelo Gomes, quickly made himself known as her equal on stage - his movements were thoughtful, beautiful, and made with ease. His dancing has the ability to showcase his enormous talent and simultaneously display hers (the long-known mark of a true star dancer).
Moments of childlike fantasy, balanced with those lacking coordination, were infinitely helped by lavish sets and costumes for which no expense was spared. Throughout the performance, one hoped that the next pirouette would make the difference; that suddenly the dancing would overwhelm with magic and enchantment - like it did during childhood.
Performed by ABT or not, Sleeping Beauty makes no pretense toward something new or innovative. It is a classic story ballet now more loved by audiences filled with first-timers and little boys and girls dreaming of their own days on stage. There is a reason it has survived this long - the score was written by Tchaikovsky in the late 1800s and it was premiered in St. Petersburg very soon after - and its similar in that way to The Nutcracker. Every ballet company, prestigious or otherwise, has taken a stab at portraying the prancing beautiful princess and her narcoleptic dilemma.

I sat next to a fellow reviewer - although she was significantly younger and smaller then myself. A prima ballerina in her own right, the 7 year old to my right was tougher than anyone submitting their review on deadline. When Gillian Murphy developed her leg to the awe of the audience, little miss critic made sure we knew she could do it better. The magic of the ballet was not lost on her though and she mimicked the dancers' movements as she left the Dorothy Chandler Pavilion. Realizing that she is headed swiftly for pointe shoes herself, I found that the performance ended a very happy one as it had securely met at least one lofty expectation - it kept the spectacular dream alive for young ballerinas in training.

Calling all HuffPost superfans!
Sign up for membership to become a founding member and help shape HuffPost's next chapter