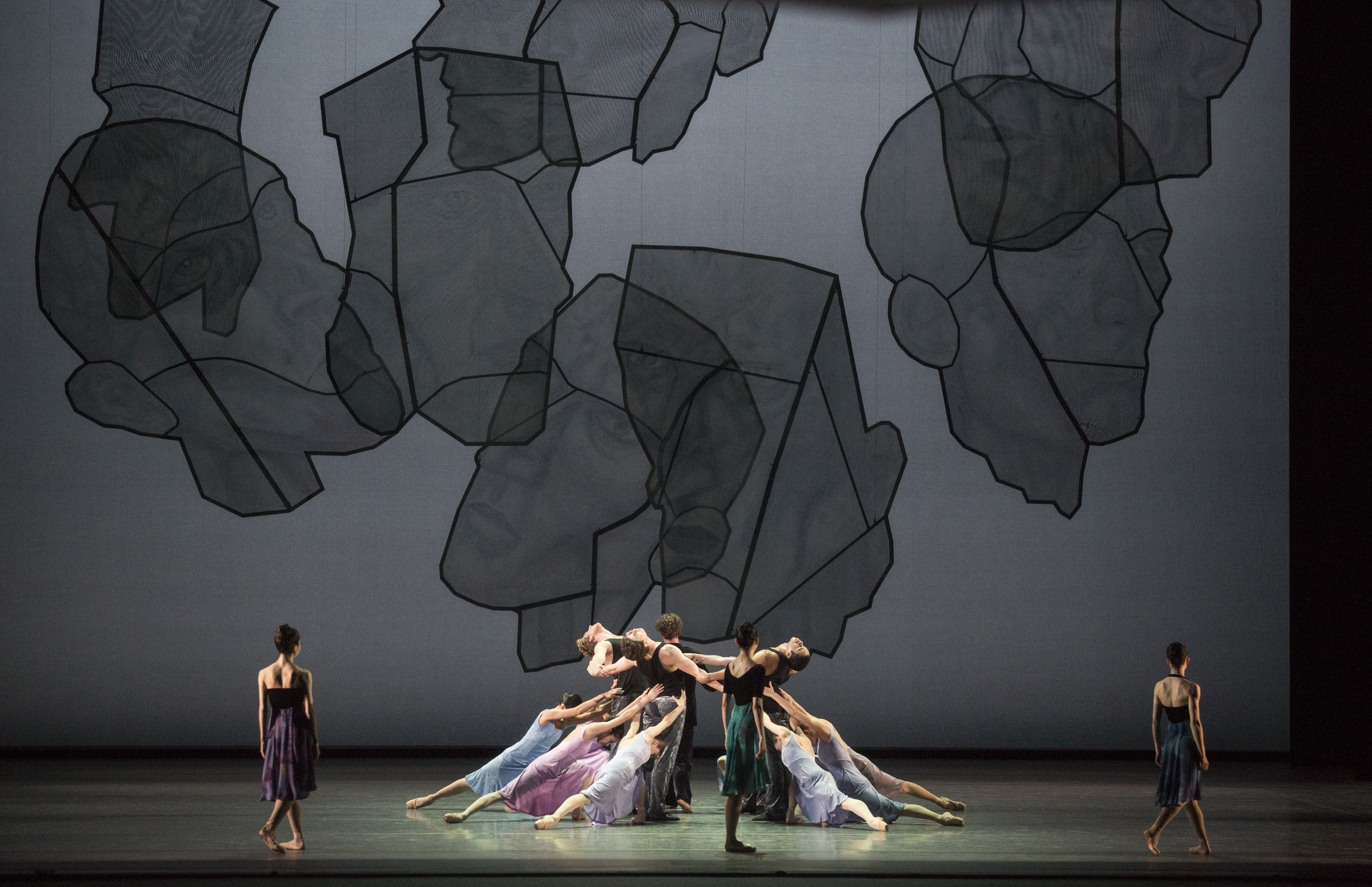 American Ballet Theatre in Alexei Ratmansky's 'Chamber Symphony' (Photo: Rosalie O'Connor)
American Ballet Theatre kicked off the final stretch of its long and arduous season on Thursday with an inspired opening night program in Los Angeles that gave us a powerful political and personal statement by Alexei Ratmansky, flanked by two of George Balanchine's iconic works in interpretations that show the company off at its best. Sadly, this program was not to be repeated in L.A., as popular demand for frothy story ballets ensured an onslaught of the pirate-themed Le Corsaire for the rest of the run.
Ratmansky's Chamber Symphony is seen here in isolation from the opening and closing pieces of his new Shostakovich Trilogy. Music Director Ormsby Wilkins expertly steered local musicians through an orchestral arrangement of the Russian composer's tenebrific Eighth String Quartet, composed in 1960 during a period when Shostakovich was reportedly in a severely depressed state, suffering from a debilitating illness that would later be diagnosed as a rare form of polio, and contemplating his own mortality. Although officially dedicated to "the victims of fascism and war," scholars who have delved into the controversy surrounding Shostakovich's political loyalties now maintain that this was a Soviet whitewash, and that the piece was fundamentally an expression of deep personal grief, regret and longing, possibly his own epitaph. Apart from illness, Shostakovich was mourning the death of his beloved first wife, Nina, and his unhappy second marriage, which had recently ended in divorce. He also appeared to regret decisions he had made under pressure from the Communist authorities, and struggled with intense fear and self-hatred. Modern historians now tend to view Shostakovich as a closet dissident, and his Eighth Quartet as an anguished but veiled manifesto. Woven throughout the piece are repeated allusions to his earlier work as well as Russian folk themes and Jewish folk songs, linking the present-day to the past, in repetition that feels deliberately oppressive. (Shostakovich was said to have attributed the appeal of Jewish music to its "ability to build a jolly melody on sad intonations.")
The dance is stained throughout with unease, the dancers propelled not as much by the music as by the rhythm of their own private pain, the music washing over them in waves of hope, irony, sadness. Overall the movement is weighted, heavy, often constricted, even in the jumps. The dancers' gaze is predominantly downward; rarely do partners' eyes meet, and the partnering conveys tension and conflict. The ensemble at times appears to be the oppressor, then the oppressed. A signature lift has the women swooping downward with arms and legs outstretched like wings - are they angels or birds of prey?
Enormous images of brooding faces painted on scrim, inspired by the work of Russian modernist painter Pavel Filonov in a breathtaking execution by George Tsypin, hang down from the rafters at eccentric angles, details of the faces emerging and fading with changes in Jennifer Tipton's moody lighting design. The piece opens with the bowed figures of the ensemble forming a tunnel, and an artist -- portrayed with great sensitivity and heart-stopping technical precision by James Whiteside -- clearly apart from the crowd. He is drawn to the masses, appears to have momentary power over them, but is alternately rebuffed, embraced, ignored, warned, and whipped, as the ensemble whirls on and off stage in complex patterns.
Three women - Isabella Boylston, Julie Kent, and Yuriko Kajiya -- appear to tempt the artist. They flirt with him, and in turn become involved, but none of these relationships ends well. Common wisdom is that these women represent Shostakovich's three wives, and it would appear that Kajiya represents the adored Nina, who dies suddenly then returns as a ghost to haunt the anguished artist. The most remarkable and affecting moments of the evening occur in the passage in which the ghostly Kajiya returns from the underworld to dance with Whiteside and four men from the ensemble who alternately steal her away then waft her back into his outstretched arms. A formidable steeliness of technique underpins the ethereal, fragile quality of movement superbly summoned up by Kajiya.
Beyond an account of Shostakovich's personal suffering, the dance appears to comment on the trials faced by Ratmansky and his fellow reformers in the Russian ballet world who over decades have fought malign, vengeful forces fueled by deep resentments, fanned by political anarchy and corrupt bureaucracies that mirror the larger instability in Russian society. The three women may represent three distinct eras in Russian history -- the imperial, Soviet and post-Soviet -- in which ballet alternately thrived and declined, dance artists in turn nurtured and abused by the authorities. Ballet is so integral to the Russian national psyche that, paradoxically, it has gone through periods of stagnation and near-asphyxiation as defenders built walls to protect it from pernicious foreign influences. Ironically, the ensuing Russian diaspora has only served to enrich and transform ballet traditions outside Russia. Tellingly, at the end of Chamber Symphony, the artist summons up a final tableau, turns his back and walks offstage as the curtain falls on the restless ensemble trapped onstage. Just as Ratmansky walked away from the Bolshoi, which he ran for five years until he could no longer put up with the viciousness and intrigue. Not a heroic exit, but a sign that the artist had had enough.
With its three muses and central artist figure, Chamber Symphony bows to Balanchine's Apollo, which opened Thursday night's performance. Back in 1928, Apollo heralded the birth of the neoclassical style in ballet; Balanchine would subsequently tinker with it, stripping down the choreography and costuming to enhance the work's spare, modernist aesthetic. ABT is perhaps alone today in restoring both the original birth scene - in which the hunky Marcelo Gomes emerges as a swaddled infant, adding a touch of levity to this otherwise stately and worshipful work - and the apotheosis in which Apollo and the muses ascend to Mount Parnassus.
New York City Ballet fans used to the extreme angularity of the body lines of the typical Balanchine ballerina may be disappointed with the slightly softer, more classically correct execution by ABT's ballerinas. Yet there was great pleasure to be had in Paloma Herrera's sparkling Terpsichore, dignified, but with a touch of mischief. Devon Teuscher was a vivid and supremely lyrical Polyhymnia, whereas Melanie Hamrick as Calliope was more delicate and languid. Sarah Smith was possibly the most glamorous mother ever to give birth in public on a platform high above the stage - a brief but memorable performance, aided by Ronald Bates' sympathetic lighting.
Marcelo Gomes' performance as Apollo felt remote. Attentive in his partnering, his movements powerful and panther-like, he was nevertheless preoccupied with solving some divine mystery.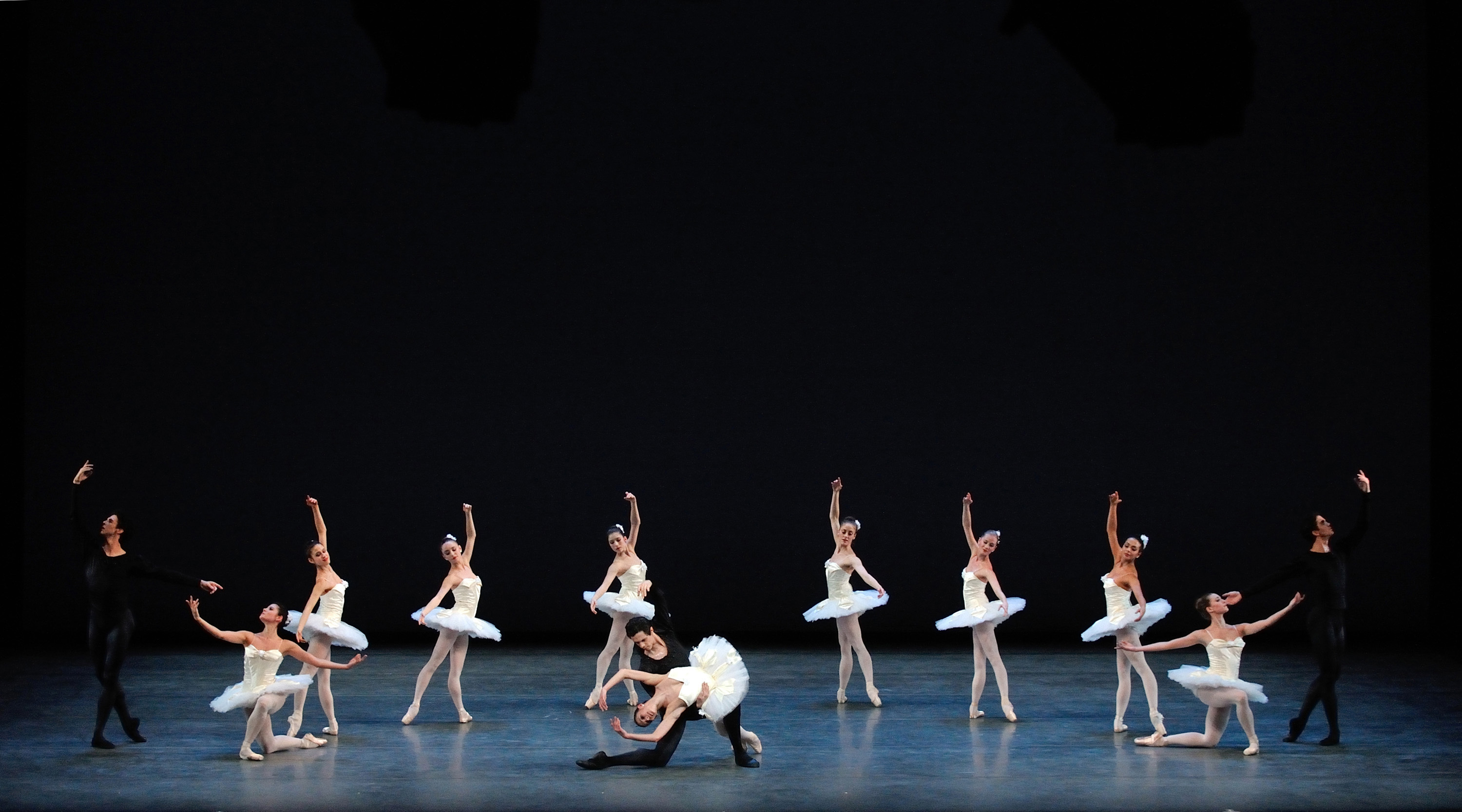 If you were going to be able to take only one ballet to a desert island, make it George Balanchine's 'Symphony in C', here performed by American Ballet Theatre (Photo: Leisure and Cultural Services Department of the Hong Kong SAR)
Balanchine ascribed divinity more often to his female dancers than his men, and goddesses abound in Symphony in C, which closed the program on a rapturous, narrative-free note. The Bizet score is all joyful sophistication, as is Balanchine's inventive riff on the effacé - an angled body position in classical ballet that derives originally from the vocabulary of fencing.
A vast army of ballerinas, commanded by four principals, form a shimmering sea of white tutus, more Hollywood golden era than Swan Lake in vibe. Their partners, sleek in black, keep a respectful distance when not required to show off the women in lifts and turns (though they occasionally manage to sneak in some impressive beaten jumps.) Stella Abrera etched razor sharp pathways on the stage, crowned by her trademark luxurious épaulement, then graciously ceded the stage to the lithe and springy Eric Tamm. Yuriko Kajiya and Sarah Lane were vivacious and sure-footed in the third and fourth movements, adeptly partnered by Daniil Simkin and Sascha Radetsky, but the standout was Veronika Part in the slow second movement with her nobility of line and nerves of steel. The boyish yet striking Thomas Forster, a late replacement for the injured Cory Stearns, acquitted himself adequately in this movement full of partnering landmines.
Phalanxes of ballerinas advancing in complex geometries -- surely the most glorious climax in the history of ballet! -- elicited cheers from the audience but lacked that extra measure of precision and uniformity essential to the full-blown triumph of this ballet. ABT today appears to be a company of individuals -- some captivating, some appealingly quirky -- but for a flawless, disciplined corps one should probably look to Paris Opera Ballet and the Russian companies.
REAL LIFE. REAL NEWS. REAL VOICES.
Help us tell more of the stories that matter from voices that too often remain unheard.