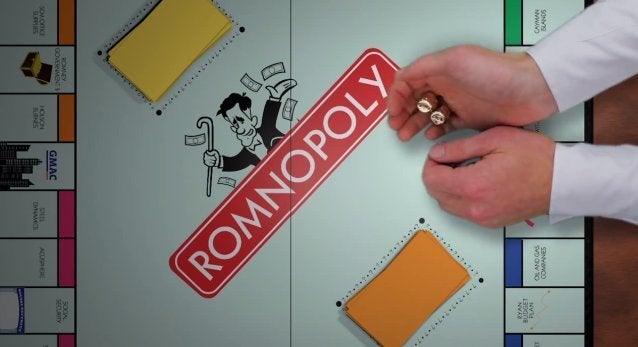 Liberal political action committee American Bridge has a shoutout to Mitt Romney's long-deceased Irish setter -- along with a whole lot of other criticism of the candidate -- in a new ad released Monday.
The ad, "Romnopoly," shows a Monopoly-style board game with different rules for GOP presidential nominee Mitt Romney and millionaires than everyone else. Romney moves around the board in a silver car with a dog on the roof, a nod to his dog Seamus, who rode on the top of the Romney family car in a crate in the early 1980s.
"Your job and our economy are just a game, 'Romnopoly,'" a voice says in the ad, as a man wearing cufflinks rolls the dice.
The ad buy is $111,000, plus $50,000 on targeted ads, Politico's Morning Score reported.
The ad goes on to list a number of things "a Romney presidency would mean," from letting the Detroit automobile industry go bankrupt to harming education to hurting the middle class with a new tax code. It also says Romney killed jobs during his time at Bain Capital and skirted responsibilities to pay taxes, and that Romney plays "the loophole card."
"Mitt Romney acts like there are two sets of rules: one set for us and one for millionaires and billionaires," the voiceover continues.
Romney has tried to play down the message that his wealth makes him out of touch with ordinary Americans, while also criticizing Democrats for demagoguing his success. Still, he has been plagued by the notion that he would do more to help the wealthy than the middle class.
Watch the ad:
*************************
What's happening in your district? The Huffington Post wants to know about all the campaign ads, mailers, robocalls, candidate appearances and other interesting campaign news happening by you. Email any tips, videos, audio files or photos to openreporting@huffingtonpost.com.
Calling all HuffPost superfans!
Sign up for membership to become a founding member and help shape HuffPost's next chapter
BEFORE YOU GO
PHOTO GALLERY
People Who Say Romney's Tax Plan Doesn't Work