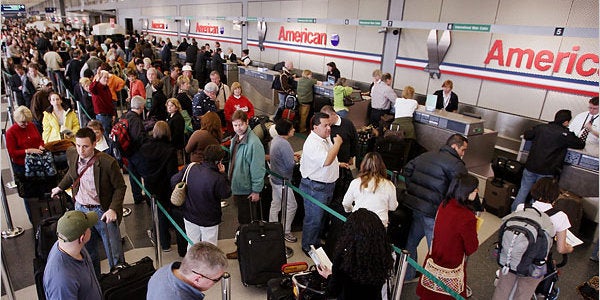 If you are traveling on an American Airlines flight today: Our apologies.
American spokesman Tim Wagner says 208 of those flights canceled Wednesday are at the carrier's main hub at Dallas-Fort Worth International Airport. The nation's largest carrier canceled nearly 500 flights on Tuesday.

It's the second wave of cancellations at American over the same issue. American is inspecting and -- if necessary -- reworking wiring bundles on its MD-80 aircraft to comply with federal safety rules.
At American Airlines' official website, the airline has posted the following message to travelers, under the headline: "MD-80 Aircraft Inspections Affect Some AA Travel"
American is cancelling several hundred flights starting on April 8 to conduct additional inspections of its MD-80 fleet. These inspections are to ensure precise and complete compliance with the FAA's directive related to wiring in the aircraft's wheel wells. We sincerely regret this inconvenience and are actively working to re-accommodate our affected customers. Please be assured that safety of our customers is, and always will be, American's first priority. For more information about your flight, please check Gates & Times.

Popular in the Community