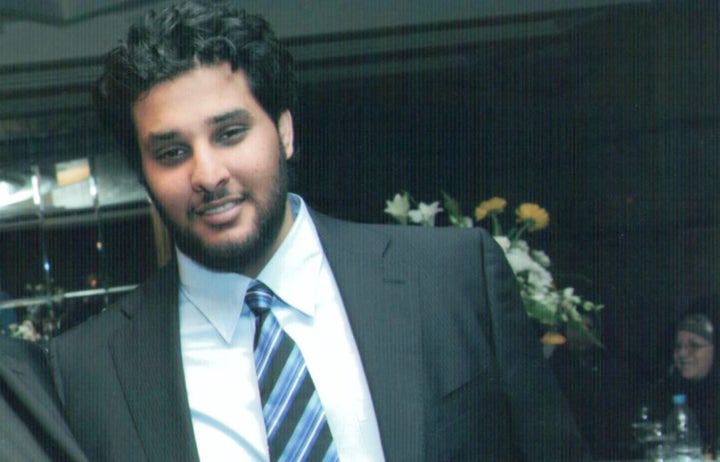 WASHINGTON ― A 27-year-old American man detained in Egypt for nearly five years has been freed, according to his lawyer.
"Today, after spending 1,733 days in jail for allegedly committing crimes at a protest he never attended, American Ahmed Etiwy and his cousin were released from an Egyptian prison," Praveen Madhiraju of the nonprofit Pretrial Rights International wrote in a Wednesday afternoon statement. "The two were released at the start of the Muslim holy month of Ramadan, an occasion that has been traditionally marked by such pardons."
Etiwy was swept up in mass arrests during political protests in August 2013.
Then a 23-year-old student, he was held in a military facility and in prison for over three years before his mass trial with hundreds of others also accused of violence even began. The initial cell he was held in was so small and filled with detainees that they had to take turns sleeping on the floor because they could not all lie down at the same time, a witness told HuffPost last year.
An Egyptian judge sentenced Etiwy to five years in prison in September.
President Donald Trump has made helping U.S. citizens imprisoned abroad a flashy part of his "America First" foreign policy. Trump aides staged a major welcome ceremony last week for three Americans released as part of the president's diplomacy with North Korea. Trump held a celebration last year after he personally spoke with Egyptian President Abdel-Fatteh el-Sissi on behalf of jailed aid worker Aya Hijazi, winning her release by building on a yearslong campaign by U.S. officials and advocacy groups.
But advocates for Etiwy and at least 10 other Americans held by Sissi have been disappointed by the Trump administration's approach. They have repeatedly told HuffPost they have had no luck in winning sustained attention from the White House.
A watershed moment came this January when Vice President Mike Pence, during a visit to Cairo, became the highest-ranking U.S. official to mention Etiwy and Mustafa Kassem, the only other detainee in Egypt whose family has publicly spoken about their case.
"Lawmakers and human rights activists say Egypt is experiencing the worst repression in its modern history."
In his statement, Madhiraju thanked Pence and urged the Trump administration to help Etiwy come home and secure the release of the other detained Americans.
Egypt is a top U.S. ally in the Middle East that receives over $1 billion in annual American military equipment and economic assistance. Sissi has been the country's leader since he helped overthrow its first democratically elected government in 2013. Lawmakers and human rights activists say he has ushered in the worst repression in modern Egyptian history.
Human rights concerns have become a major issue in relations between Cairo and Western countries. European officials were outraged over the torture and murder of an Italian student there in 2016, and Ibrahim Halawa, a young Irish citizen, was caught up in the same trial as Etiwy before being released last year.
The White House did not immediately respond to a request for comment.
Popular in the Community