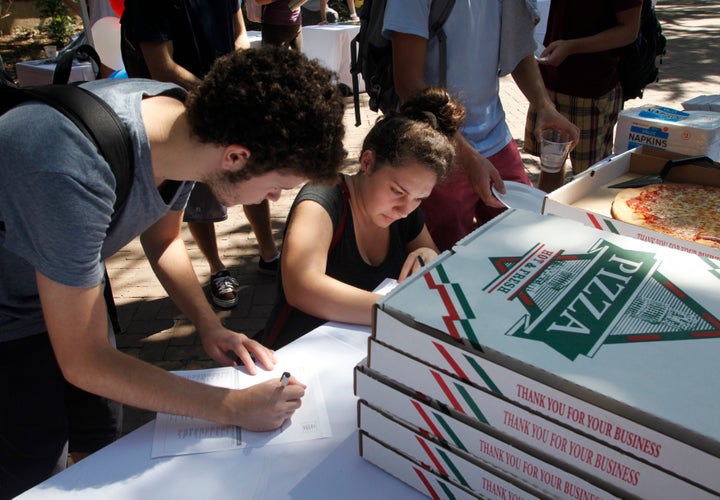 Since the founding of the Republic, American higher education institutions have seen one of their roles as preparing students to become engaged citizens who will contribute to their communities and country. A commitment to civic learning is found in colleges' mission statements and is a bedrock principle of the Association of American Colleges and Universities. Yet in this election year, college communities are likely to witness the disheartening duo of voter apathy and voter suppression that once again limits the impact of the youth vote.
In 2014 youth voter turnout in the U.S. fell to less than 20 percent, its lowest point on record. The figure is doubly vexing because studies have repeatedly demonstrated that voting is habitual and that voting early in life translates into a lifetime of electoral participation.
These trends raise the obvious question: What is the role of colleges and universities in promoting student voting? At Bard College, where I serve as Vice President for Academic Affairs and Director of the Center for Civic Engagement, we believe that an essential element of our civic mission is to actively advance student voting. We promote "active engagement," which is constituted by an institutional preparedness to adopt voter engagement best practices and to apply institutional resources, both human and financial, to promote student voting.
Three times since 2000, students at Bard College have been forced to resort to litigation, or the threat thereof, to protect their voting rights. These were in response to a local election commissioner imposing an illegal questionnaire and denying student registrations en masse (1999-2000), a capricious judicial decision forcing students to vote on affidavit ballots if challenged at the polls (2009), and a different commissioner rejecting registrations due to discriminatory address requirements (2012).
Given the combination of lower youth registration rates and increasingly frequent attempts to suppress voter rights, it is imperative that colleges move beyond platitudes about the importance of citizenship and take concrete measures to ensure that this basic democratic right is preserved and exercised.
Voter registration is critical to student voting: while in the 2012 election, nearly 80 percent of 18-24 year olds who were registered to vote cast a ballot, youth voter registration rates are around 25 percent lower than for older age groups, hovering under 50 percent. Colleges are already obliged by the federal Higher Education Act to make a "good faith effort" to distribute registration materials, but having registration forms on tables and sending email reminders is not enough. The key to active engagement is to deploy unique administrative resources to promote registration, much in the way some states have implemented "Motor-Voter" laws and other legislation to increase participation.
Since 2001, Bard has made voter registration a required stop during student orientation. Faculty, staff and student volunteers, operating under the rubric of the non-partisan Election@bard.edu and trained on state voting rules, meet with new students and provide information about registering locally, or registering where their family lives. Volunteers work closely with students to ensure that forms, which are often disqualified for the slightest error, are correctly completed and mailed. Last year, more than 95 percent of the eligible incoming class registered or applied for an absentee ballot.
These administrative efforts must, of course, be supplemented by more traditional efforts throughout the remainder of the election season. Student fellows organize nonpartisan events, publicize election logistics, host local candidates, conduct door-to-door get out the vote drives (on and off campus), and use social media to engage their peers.
Colleges can play a unique role in the voter registration process, but it is especially important for institutions to act when voter suppression efforts are directed at students. College students are impacted by, and at times the targets of, "voter security" and "anti-voter fraud" efforts sweeping state legislatures that often impose undue and restrictive residency and identification requirements that interfere with the registration and voting process.
The efforts often extend to the polling sites where student voting efforts may be stymied by ill-informed poll workers who do not understand requirements and worse, hostile candidate representatives that intimidate student voters who may be unaware of their rights. Voter suppression efforts are enhanced by the decentralized patchwork of laws governing electoral processes that give tremendous authority to local and county officials, be they election commissioners, poll workers, and judges.
Consistent with the active engagement approach, Bard has worked to protect student voting rights and tackled systematic efforts to suppress student voters. When student registrations were rejected, the Bard Board of Trustees passed a resolution supporting "the rights of students at Bard" and other area colleges to vote "where they live, work, and study." More importantly, the administration and faculty have provided, and in some cases paid for, legal services and linked students with organizations such as the New York Civil Liberties Union, which contributed significantly to voting rights efforts, including the successful 2012 class-action lawsuit on behalf of students from Bard, Marist College and the Culinary Institute of America to reinstate registrations that had been rejected on a discriminatory address technicality.
The defense of voting rights extends to the polling site at which most students vote. As a response to periodic harassment during elections, Bard faculty, administrators and students serve as trained poll workers employed by the county, and/or as poll watchers, to observe developments, try to defuse problems with election officials, and to document and report any difficulties which might necessitate legal action. Election@Bard.edu also arranges local lawyers who volunteer as poll watchers to help clarify rights and options for voters experiencing difficulties.
The "active engagement" approach will vary according to campus size, location, whether the institution is primarily residential or commuter, etc. 
The Andrew Goodman Foundation, which partners with Election@Bard.edu, and the UVote Project offer useful models for institutional engagement. However, the core principles remain constant: through actively promoting student voting and defending voting rights, institutions can realize their rhetoric of civic purpose and promote lifetime habits of civic participation.
REAL LIFE. REAL NEWS. REAL VOICES.
Help us tell more of the stories that matter from voices that too often remain unheard.