It's been nearly 22 years since former running back O.J. Simpson hopped in a white Ford Bronco and led Los Angeles police on a highway car chase after his ex-wife's murder. 
News helicopters broadcast footage that held millions transfixed throughout the roughly 90-minute pursuit, which ended peacefully in front of Simpson's Los Angeles home. Just five days previously, his ex-wife Nicole Brown Simpson and her friend Ron Goldman were killed, and detectives found evidence linking the former football star to the crime. On June 17, 1994, Simpson fled.
Those who catch Tuesday's episode of "American Crime Story: The People v. O.J. Simpson," FX's murder trial drama, will get to relive the whole low-speed debacle. But since it's been a while, here's what actually happened that day -- with a few details you might not remember or know. 
Prosecutors filed murder charges against Simpson that morning.
Simpson's lawyer, Robert Shapiro, received a call that morning from the LAPD. Instead of sending officers to arrest Simpson, authorities instructed Shapiro to surrender his client at 11 a.m. By noon, it became clear that Simpson wasn't planning to show up.
Simpson wrote three letters that morning, also: One to his mother, one to his family and one to the public.
Due to what Shapiro called a "fragile" emotional state, Simpson had spent a sedated night at Robert Kardashian's house, where his doctors and other lawyers joined him the next morning. When police arrived at Robert Kardashian's house a little after noon, they learned their murder suspect and Al Cowlings, a friend and former teammate, had escaped. Simpson left the three notes behind.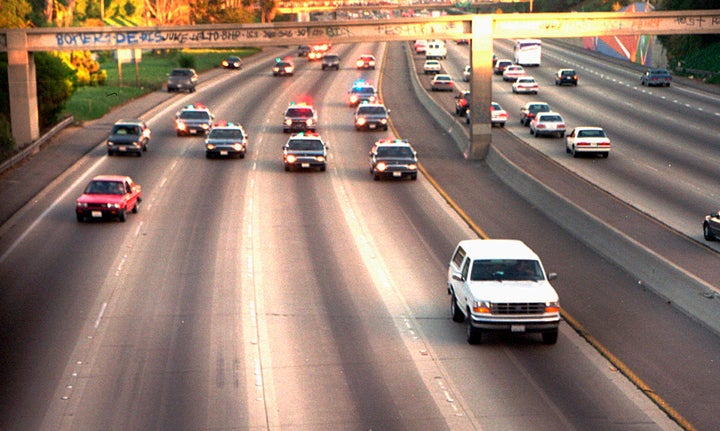 Simpson wasn't at the wheel.
News reports were initially confused, but it became clear he was sitting in the back seat of the white vehicle that became an emblem of the case. Cowlings was at the wheel.
It wasn't his Bronco, either. 
Three hours after he was supposed to surrender, the LAPD declared Simpson a fugitive.
Gil Garcetti, district attorney at the time, later added that anyone helping Simpson escape would be charged with a felony; a couple hours later, police issued an arrest warrant for Cowlings, too.
Around the same time, someone claiming to be Simpson dialed Brown Simpson's home, threatening to come over.
As the police declared Simpson a fugitive, Brown Simpson's father ran into the street in front of his daughter's home, begging someone to call 911. He had received phone calls at his daughter's home from someone claiming to be Simpson; the caller said he was coming over to "go join Nicole." Whoever it was, though, never showed up.
Kardashian read a letter from Simpson, which was generally interpreted as a suicide note, on live television.
"I have nothing to do with Nicole's murder," Simpson wrote. "I loved her. Always had, and always will. If we had a problem, it's because I loved her so much." To members of the press, he requested, "Please, please, please leave my children in peace. Their lives will be tough enough."
"Don't feel sorry for me," the note ended. "I've had a great life, great friends. Please think of the real O.J. and not this lost person. Thanks for making my life special. I hope I helped yours. Peace and love. O.J." Shapiro also said he believed his client to be suicidal.
Around 6 p.m., Simpson called 911 on his cell phone.
The call was traced to a spot nearby the cemetery where Brown Simpson was buried.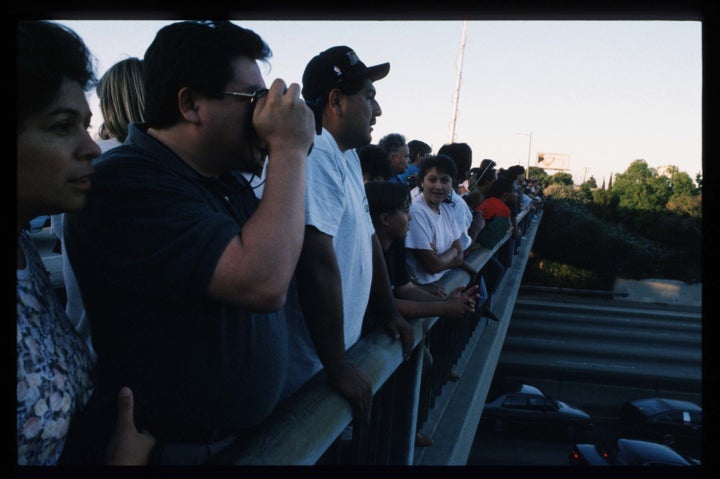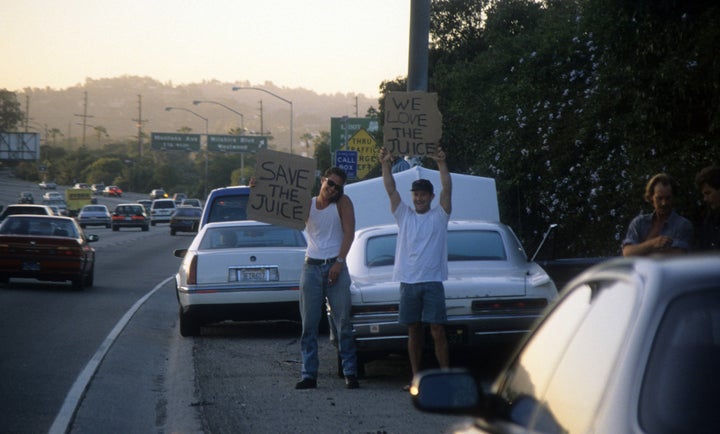 After police tracked down the Bronco on the freeway, crowds gathered along its path.
As Cowlings drove, Simpson sat with a revolver pointed at his own head. People gathered to wave from the side of the road and overpasses above, carrying signs in support of "the Juice," Simpson's nickname on the field.
Live coverage of the pursuit interrupted a highly anticipated NBA playoff game on televisions across the country.
NBC initially gave helicopter footage of the Bronco a corner cut-in over Game 5 of the NBA Finals -- a highly anticipated matchup between the Rockets and the Knicks. But the Bronco eventually took center stage, CBS Sports' Ken Berger reports, as the network struggled between the event they were supposed to cover and the more shocking one unfolding on the opposite coast.
At 8 p.m., the Bronco pulled up to Simpson's home, which was swarmed with media, fans and police.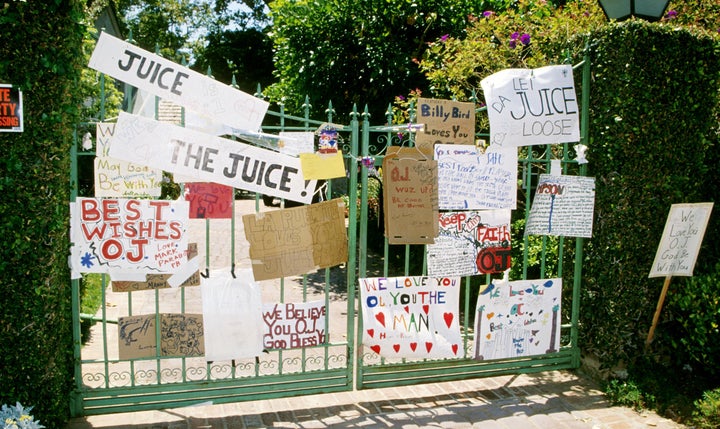 In a 1994 article, New York Daily News published a description of the scene outside Simpson's Tudor-style mansion: "Thousands gathered in a circus-like atmosphere chanting, 'Juice! Juice! Juice!'"
Officer Tom Lange spoke with Simpson on his cell phone in the driveway for nearly an hour. Simpson apologized to the officers and explained that he wanted to come to his house because he and Nicole Brown Simpson had their first date there. Eventually, Lange convinced Simpson to give up his gun.
Unarmed, Simpson was allowed a few minutes inside the house to call his mother and have a glass of juice before officers took him into custody. Officers finally arrived at LAPD headquarters with their suspect 11 hours later than expected.
Inside the Bronco was $8,000 in cash, a loaded .357 Magnum, a passport, family pictures, a fake goatee and a set of clothes.
According to an account by former Simpson defense attorney F. Lee Bailey, Simpson's reluctance to surrender had sparked some fears of a shootout at the scene.
Later, the white Bronco found a different owner: a "porn king."
The Bronco's sale record is muddy, but after a bungled attempt to sell the vehicle for $200,000 in 1995, it ended up in the hands of Michael Pulwer. Interviewed by USA Today, Pulwer's cousin describe him as a "porn king." But he's taken good care of the Bronco.
And people have rented the infamous car for parties.
CORRECTION: This article previously misidentified the team the New York Knicks played on June 17, 1994. 
PHOTO GALLERY
O.J. Simpson Timeline

Calling all HuffPost superfans!
Sign up for membership to become a founding member and help shape HuffPost's next chapter