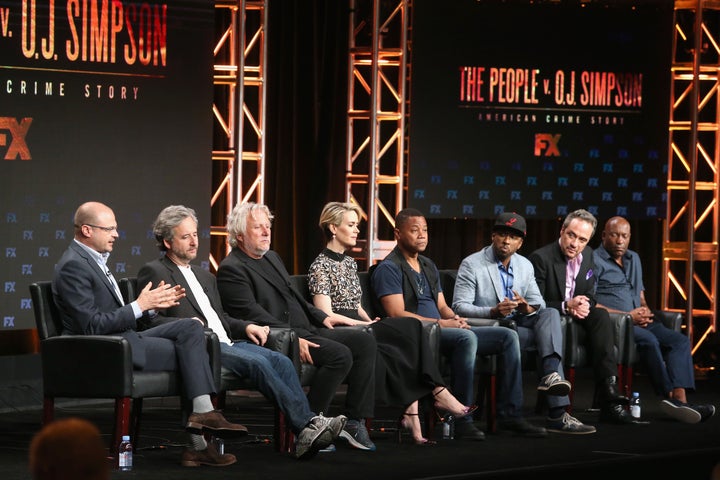 Details surrounding Ryan Murphy's shows are sparse these days.
First, it was confirmed that the theme for the upcoming season of "American Horror Story" would remain a mystery until the premiere. Then, "American Crime Story" producers maintained the same level of irritating secrecy talking about what's to come in "Katrina," the Hurricane-Katrina-focused follow-up to last year's installment, "The People vs. O.J. Simpson."
"There's a writers room right now, working on 'Katrina,'" he said. " We're just starting to get the episodes in. I'm sadly not going to make any big news, but you will have the famous people. You will also have the people who weren't famous."
He continued: "It's going to be about the intensity of what it was like to be there on the ground — and also the bigger crime, that Katrina was something that was predictable."
Simpson also said "Katrina" will be "tonally and thematically" different than "O.J.," which we all could have assumed, and that it "turns the lens on America."
Showrunner Ryan Murphy also spoke about the upcoming series in a recent interview with The Hollywood Reporter, admitting that some cast members from the first installment may return. He also revealed that the show is looking to cast the roles of former President George W. Bush, former Secretary of State Condoleezza Rice, former New Orleans mayor Ray Nagin and former Louisiana Gov. Kathleen Blanco.
Back in January, Murphy also told THR that he wanted the show to be "a socially conscious, socially aware examination of different types of crime around the world."
"And, in my opinion, Katrina was a f***ing crime — a crime against a lot of people who didn't have a strong voice, and we're going to treat it as a crime. That's what this show is all about," he said.
This post has been updated to include comments made by Ryan Murphy to The Hollywood Reporter regarding casting.