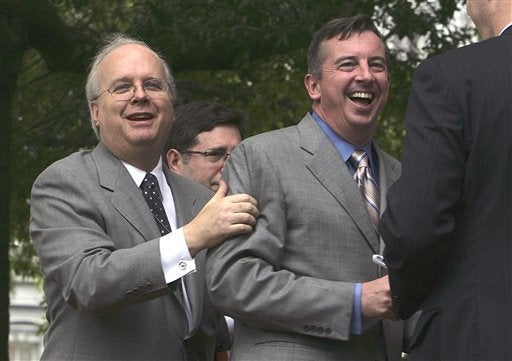 GOP donors disenchanted with the recent flurry of news about Republican National Committee indiscretions will soon have a new place to put their money -- American Crossroads, a new conservative PAC that many of these big-time donors, as well as conservative behemoths such as Karl Rove and former RNC Chairman Ed Gillespie are helping to get off the ground.
The new 527 group will likely compete with the RNC to bring in contributions from both wealthy donors we well as corporations.
(So far they have already received $30 million in commitments from contributors, the National Journal reports).
Much of American Crossroads' start-up capital has been provided by the contributions of Rove and Gillespie, themselves. They have been pitching the idea of the PAC to wealthy conservative benefactors around the country over the past few months.
"I'm raising money and encouraging people to contribute across the board," Gillespie said in an interview with the National Journal. "You need to send a signal to people that this is the blessed or preferred 527 group."
The "shadow" RNC, as some have called it, is set to be directed by Steven J. Law, who will leave his position as general counsel of the U.S. Chamber of Commerce for the job, and former RNC chairman Mike Duncan.
Popular in the Community