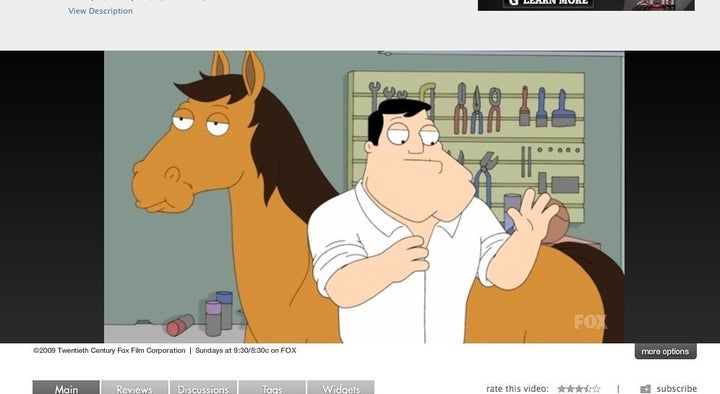 Watch the controversial video below.
"American Dad" is in trouble for a horse ejaculation scene that aired on a January 3 episode of the Fox cartoon.
The only thing that wasn't racy about the scene was the horse.
It started with the lead character telling his car, "I'm going to take you to Makeout Point and tongue your gas hole." Shortly after, another character rode the horse through a sharp turn at the corner of Popper Ln. and Cherry St., the street names in a much larger font than the abbreviations.
The scene wasn't finished. Next, one of the characters asked for help with "horse chores":
You have to brush the horse's coat and mane, water and feed it, and then give it a full release ... You know, give it a happy photo finish. Take the glue out of the factory. Spank his front butt. Grant him a bone loan.
Shortly after, the other character made awkward small talk with the horse in a garage. Before ducking under the animal, he said, "do me a favor and let me know when you're about to, you know." The scene then cut away to a shot of the man being sprayed in the face ... and pulled back to show it was a spray from water hose, presumably after some time has elapsed. Some additional dialogue alluded to what had transpired.
The Federal Communications Commission is proposing to fine Fox $25,000 for failing to properly respond to its questions about the airing of a Jan. 3 episode of "American Dad" installment that drew 100,000 consumer complaints ...

In what could develop into a new test of the FCC's indecency authority, the commission is rejecting Fox's bid to limit indecency enforcement probes to stations in areas where complaints have been filed.
A broadcast television network aired an animated program on a Sunday evening when children were in the audience, and the program featured a man masturbating a horse. Up until now, I never imagined that those exact words could ever be spoken in that particular order. But sadly, here we are ...

Under what definition of 'contemporary community standards' is the Fox broadcast standards department operating? The fact that this material even made it to air demonstrates the network's contempt for families. It also demonstrates their complete and utter disregard for the terms of their broadcast licenses that allow them to deliver their programming and their advertisements into every home in America for free.
Related
Popular in the Community