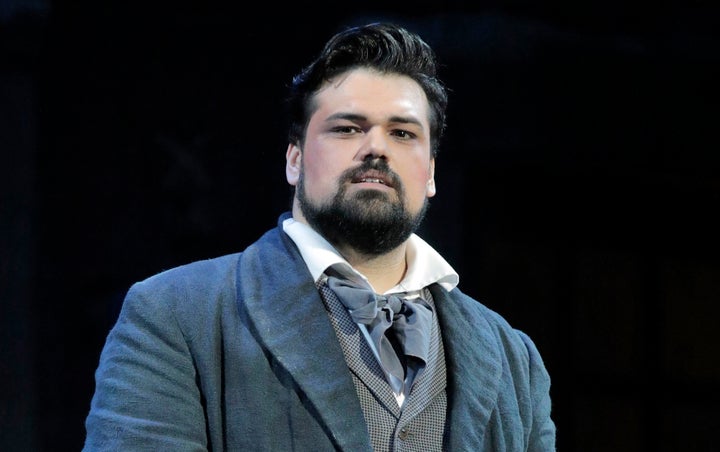 The young Italian tenor Giordano Lucà shared his perspective on his exciting American debut with Portland Opera in a backstage interview conducted in Portland, Oregon during rehearsals of La bohème in April 2017.
He credits watching opera on TV at home in Italy, his parents unwavering support, and the serendipitous appearance of the great soprano Monserrat Caballé for a holiday concert at the church he regularly attends in Rome with propelling his career. But, even at his relatively young age, his life-long passion for opera is contagious when you meet him in person.
I started watching opera on the television on my own. I was very young, like 10 years old. No one in my family was a singer or played a musical instrument.
Despite the fact there were no musicians in his family, he was provided with a rich musical experience early on in his life. His gift of a "big voice" was evident when he was just a child; he would mimic the singers when he watched opera on TV.
His parish priest encouraged him to join the chorus of Maria Madre del Redentore in Rome and he excelled in that environment; he had his singing debut at just 10 years old. Soon thereafter, he started studying opera with the singer who is still his current vocal teacher, Clizia Aloisi, who has helped train his vocal instrument, paying special attention to his development given the early age that he started singing.
He has been very fortunate to have met some true opera superstars during his short career. At age 16 he was discovered by Katia Ricciarelli after one of Giordano's friends suggested that the renowned soprano audition him. He met Monserrat Caballé when he performed during a masters' class; she later remembered him well when they met again in Rome. He was auditioned by the legendary Luciano Pavarotti in 2006 and sang for Plácido Domingo in a competition in 2010. He has also been fortunate to meet some of his other favorite singers along the way like Dame Joan Sutherland and Mirella Freni.
I have met many of my favorite singers. There is also the matter of destiny. I met Ms. Caballé in 2008 in a masters' class. The following year, she came to Rome to sing in a Christmas concert. I saw online that she was coming to Rome, but I asked myself, where? I was amazed to find out that it was at my local church, the one where I started to sing in the choir. With the whole of Rome and so many churches, it is quite a coincidence that she would happen to come to my church. When I went to the church, she recognized me and invited me to sing with her!
He represented Italy and won the BBC Cardiff Singer of the World competition in 2009. He later placed 2nd at the prestigious Operalia competition at the Teatro alla Scala in Milan in 2010.
At the age of 21 he made his opera debut in the production of Rigoletto at the Teatro Verdi di Padova. He was chosen for this role in part because the Artistic Director of that theatre had been in the audience during a performance where Giordano appeared with Katia Ricciarelli. The young singer had made a favorable impression on the director and that opened the door for his later debut.
Despite his youthful age, Giordano Lucá has already performed a number of important tenor roles. Over the last few years he has performed in La bohème several times including in India, Estonia, Madrid and Valencia in Spain; in Italy, he has performed at the Opera di Genova, Teatro di San Carlo di Napoli, and earlier this year at the Teatro Sociale di Rovigo.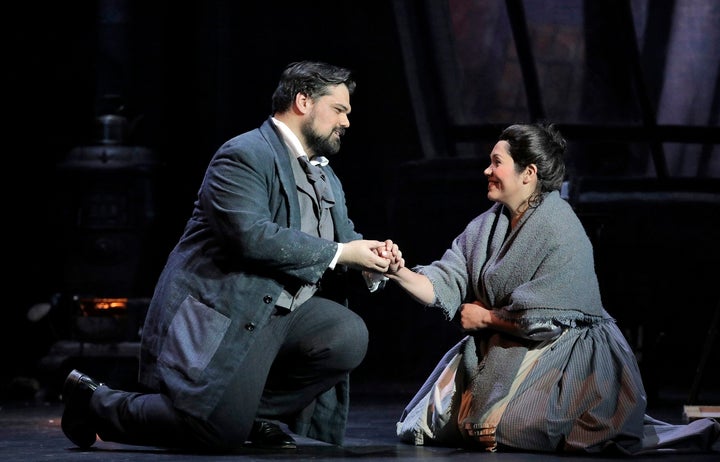 When asked about his American debut in the role of Rodolfo with Portland Opera, Giordano was enthusiastic about his first experience in the US. He confirmed his earlier impression of America as larger-than-life and has had ample opportunity to indulge his love for American pop culture.
He said that playing Rodolfo is easy for him, as he is basically playing himself onstage. He likes the fact that the role is involved in the action throughout the opera, but that also makes the role challenging.
In my real life, among my friends, I am just like Rodolfo. He has friends with different careers like musicians, painters, etc. just like any normal group of friends in real life. La bohème by Puccini is like a movie. Every phrase is a cue, an interaction with another character on stage, and the action never really stops.
Besides opera, he is passionate about horror films, popular music, and having fun! Why not? He is still in his twenties!
I like horror movies. In Italy, I have watched American horror programs like Supernatural, Vampire Diaries, True Blood, and Walking Dead. I like pop music, singers like Beyoncé and Lady Gaga.
When asked to summarize his feelings about the experience of his debut in America, Giordano was quick to acknowledge the factors contributing to his success.
First and foremost, I owe my debut in America to my parents. They paid for my lessons and have supported me all along. My mother helped a lot, especially when I was very young and had to travel. You must have a good family, but you must also have good luck.
We will likely be hearing more of this "big voice" as Giordano's career is just starting and he is already gaining momentum. Upcoming engagements include: Edgardo, Lucia di Lammermoor (Teatro Verdi di Padova) and Alfredo, La Traviata (Stadt-theater Klagenfurt).
Related
Popular in the Community