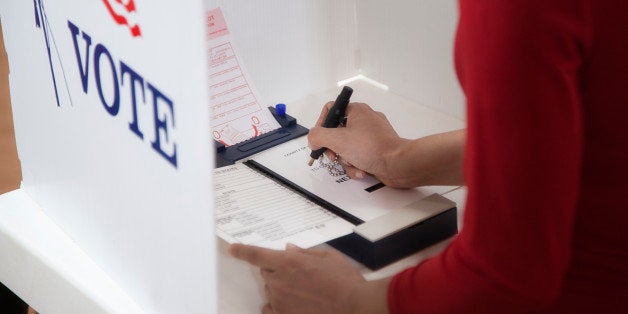 Did you feel the earth spin off its axis last week? In the eyes of some, Canada's newly minted prime minister, Justin Trudeau, breached the laws of nature when he named 15 women to serve on a cabinet of 30, making good on his campaign promise of a parity cabinet. Trudeau's nod to equal representation didn't end with gender: his new attorney general is indigenous lawyer Jody Wilson-Raybould; para-Olympian Carla Qualtrough is minister of sport, and as minister of democratic institutions he chose former Afghan refugee Maryam Monsef.
So while the national media fixate on the surprise victory of GOP dark horse Matt Bevin over Democrat Jack Conway in Kentucky's gubernatorial race, I'm focused on the fact that when Kentucky voters go to the polls, their choices are more constrained than anywhere else. Among the states, Kentucky ranks last in fielding candidates who are female or non-white: 83 percent of those running for office are white and male. Not that the "blue" states have anything to be smug about. In New York, candidates are 78 percent male and 85 percent white.
The problem is that long before voters arrive at the polls, others have shaped the ballot to their own preferences. Party machines and wealthy donors control the candidate pipeline, favoring long-time insiders and familiar faces. In over half our elections, incumbents who are are 90 percent white and 61 percent male run unopposed, virtually ensuring the preservation of the status quo. Before every election, a strong magnetic pull drags women and people of color away from the ballot. In other words, a mirror image of what Justin Trudeau did -- just in the opposite direction.
Dismantling these structural barriers will be top of mind when WDN convenes our community of progressive women in New Orleans this week. With guidance from celebrated journalist Maria Hinojosa, we'll plot next steps for our Reflective Democracy Campaign, which keeps startling the talking heads with myth-shattering data showing just how far we've strayed from true democracy, and how dissatisfied American voters are with the current imbalance of power.
In New Orleans, we will set our sights on a future where communities, not committees, choose candidates, and where big money doesn't block average Americans from holding political office. Exploring the intersectionality of race and gender issues with renowned legal scholar Kimberlé Crenshaw, we'll fine-tune our philanthropic agenda supporting research and activism aimed at greater inclusion, effective grass-roots organizing, and a democratic system that truly reflects who Americans are. If you feel the earth shift off its axis, blame it on a gathering of bold women in New Orleans.
Calling all HuffPost superfans!
Sign up for membership to become a founding member and help shape HuffPost's next chapter