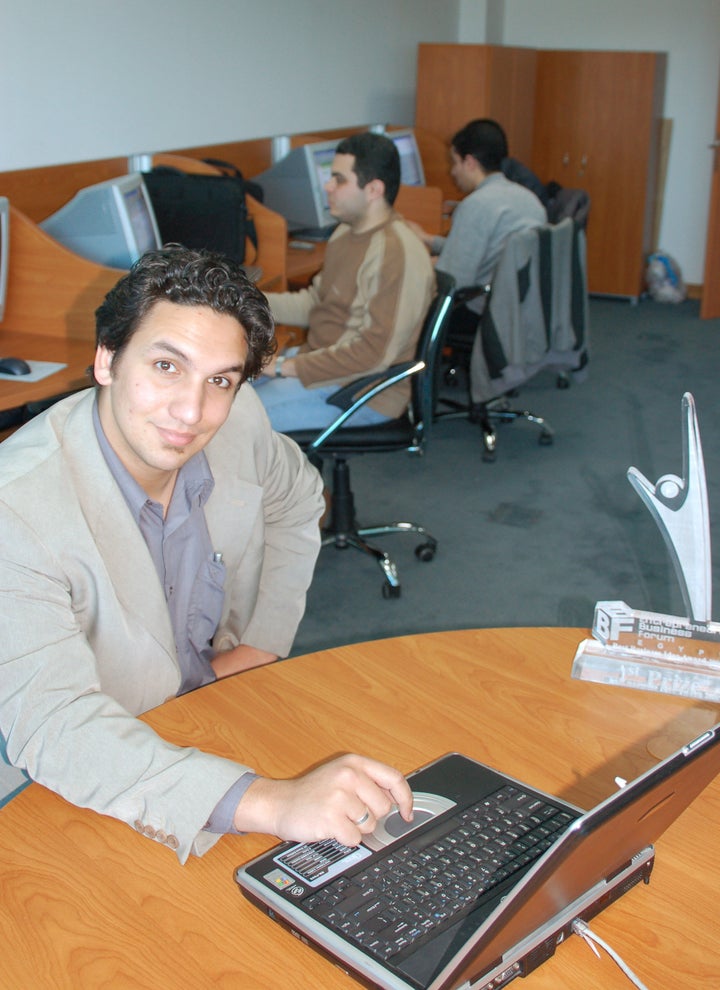 The flight had a brief layover in Amsterdam, which gave me time for a stroopwafel, before I arrived in Egypt. I didn't book the flight through hipmunk (only because program organizers booked it for me), but I'd be talking about how my little chipmunk grew a significant following of hundreds of thousands of flight and hotel searchers in under a year based primarily on word of mouth. Build a great product online and you can start a company from your living room in San Francisco -- or Cairo.
I love tech startups. And the chance to use my rather specific focus to assist a selection of tech entrepreneurs in the middle of rebooting their entire nation was something I couldn't pass up. The Young Entrepreneur Council gave me this great opportunity, probably because of my well-known love of hummus.
In total, I've only lived about a year of my life overseas. But in the thirty-five or so countries I've visited, there's a universal desire that seems too obvious to mention, yet still shows up in articles from Americans going abroad: people -- no matter their circumstances -- are damned resourceful.
Entrepreneurship may be an inextricable part of the mythical American dream but, though it's not championed elsewhere in quite the same way, it's not at all uniquely American.
As a country, we're at our best when we lead by example, not by coercion. To employ a pop culture reference (one of our few remaining exports), Jay-Z doesn't go around making people act like him (that is, cool) and he'd look significantly less cool if he did. People want to emulate Jay-Z because of his success, they don't need to be convinced.
So there I was, far, far from being Jay-Z, with my fellow American and Danish tech entrepreneurs, sharing lessons learned from our own businesses in the West.
After lecturing and mentoring Egyptian startups at various stages of progress, I found myself answering the same questions I answer when speaking at UCLA or MIT. I'm convinced MBA programs and business jargon are created in part to build an artificial barrier to entry for the less-connected.
It turns out business fundamentals are best learned through experience and the best resources are freely available from the experiences of founders who've done it before with a desire to share (it's mutually beneficial, of course, because we get more respect within the community). We in the startup community don't see it as a zero sum game -- if you succeed, it doesn't mean there's any less "success" in the world for any of us.
I've spoken about my own life lottery ticket and I was humbled to speak before a room of actual revolutionaries (not the bullshit ones we see "revolutionizing" the web on magazine covers).
Yasmin Elayat, an NYU graduate from Cupertino, CA, repatriated to launch 18 Days in Egypt, and is part of the committee writing the new constitution. There's still much work to be done bridging the digital divide, but when one gets access, they're suddenly on a level playing field with the rest of the world.
Take Bey2ollak, which ingeniously crowdsources traffic conditions through an iPhone app that thousands of frustrated Cairo commuters downloaded in its first day alone to learn what roads to avoid. Another app, Inkezny (RescueMe), instantly displays the nearest hospitals, ranked for quality, so you can call the best one in an emergency. There's no 911 in Egypt that will reliably produce an ambulance. Inkezny is not only useful for residents in countries with similar infrastructure problems, but top of mind for a tourist traveling overseas.
Some things are just universal -- like the Y Combinator motto for building a business: Make something people want.
The nascent tech investing scene in Egypt is mitigated by the fact that the cost of starting a website drops every day. That said, we delegates pooled together $125,000 for investment to be distributed by Flat6 Labs, a fund to be launched soon by an Egyptian venture capital company, Sawari Ventures. Like most of the other delegates, I'm an angel investor, but I sure didn't see that one coming.
Likewise, just a month after Mubarak resigned, Intel acquired Cairo-based SySDSoft (a 4G wireless software developer). There is an undeniable energy here, not just in Egypt, but according to my new friends, throughout the Arab world.
Now I'm excited for the reddit team to tidy up the Arabic UI so that we can see what a reddit can do for sharing and promoting all these great ideas.
Watch our Egyptian entrepreneurial adventure below:
Calling all HuffPost superfans!
Sign up for membership to become a founding member and help shape HuffPost's next chapter