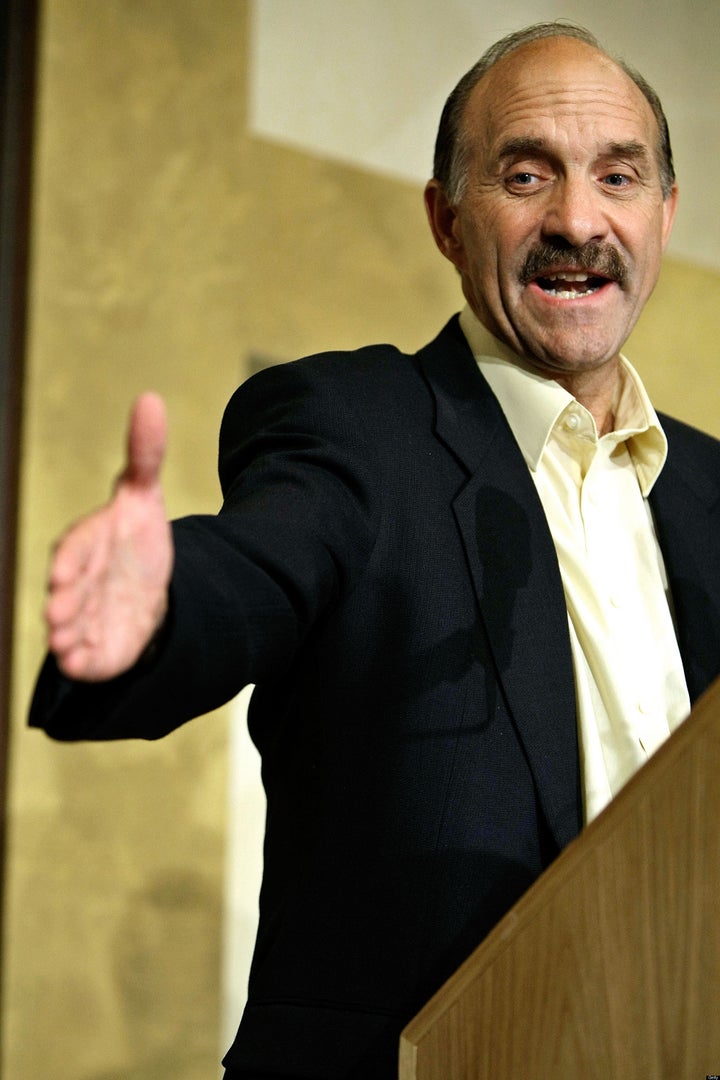 Over 1,300 people gathered at Makerere University in Kampala, Uganda on Sunday to hear American Evangelical Lou Engle preach at a rally and prayer service against "homosexuality, witchcraft, and corruption."
Engle's involvement in organizing TheCall Uganda was mired in controversy from the very beginning given his long history of violent anti-gay and anti-abortion rhetoric and preaching. At past TheCall rallies, like the one in support of Proposition 8 in California, Engle called homosexuality a "spirit of lawlessness" and called for "martyrs" to become "God's Avengers of Blood" to stop the "homosexual agenda" at all cost.
Engle's newly founded chapter of TheCall Uganda comes at a time of unparalleled violence and animus towards LGBT people in the country, including the odious Anti-Homosexuality Bill, which calls for life imprisonment for gays and their supporters, as well as the death penalty in some cases.
Engle's press statement before the event said:
TheCall had no knowledge at the time, of the Uganda homosexual bill and the controversy surrounding it...

TheCall has been wrongfully marked and vilified as an organization promoting hatred and violence against homosexuals and as one that supports the Uganda bill as currently written...

We do not see the character of Christ reflected in some key aspects of the language of the current bill.
His words and actions in Uganda on Sunday told a very different story.
When he [Engle] took the stage late on Sunday afternoon, with Ugandan politicians and pastors looking on, he praised the country's "courage" and "righteousness" in promoting the bill.

"NGOs, the U.N., Unicef, they are all coming in here and promoting an agenda," Mr. Engle said, referring to nongovernmental organizations. "Today, America is losing its religious freedom. We are trying to restrain an agenda that is sweeping through the education system. Uganda has become ground zero."
Quite a different tune from Engle's previous previous press release before his trip, isn't it? His rallying support and praise for the Bill is exactly what Human Rights groups feared would happen. It seems TheCall was in no way "wrongfully marked and vilified" for its violent, anti-gay stances.
One long-time Ugandan LGBT rights activist, who asked that I not share his name for fear of his safety and that of his family, sent me this chilling first-hand report of TheCall Uganda rally, which he attended:
Pastor John Mulinde of Trumpet Church, in his prayer, condemned evils in society done by both homosexuals and heterosexuals. He emphasized that homosexuality is in schools, families, and the entire community. He also pointed out that many children are being deceived with school fees from homosexuals and recruit them into the act.

Pastor Lou Engle from America noted that he didn't know by the time of his invitation to Uganda that there was a homosexuality bill. He went ahead to emphasize that it is the Western World using non-government organizations to promote homosexuality. He warned the youth in the crowd that when America allowed homosexuals freedom it was the end of their nation.

He [Engle] called upon the government of Uganda to be firm and hold on its righteous stand against the evil. He mentioned that homosexuals have penetrated the educational system and Ugandans must be aware of the evil. He also lectured about how God planned marriage only between man and woman and that marriage is for procreation.

Honorable Minister of Ethics Nsaba Buturu was worse. He spoke out against homosexuality, saying that for those who think it's a human right issue 'Uganda cannot listen to that nonsense.' He asked the audience to pray for president Museveni and his government to maintain their firms stand against evil in our society.

Pastor Mulinde then called his fellow pastor to come forward and pray for Buturo and Bahati and the government to continue with their crusade against homosexuality.
Not only did Engle fully support the Ugandan Anti-Homosexuality Bill, but he whipped up bizarre fears of evil gays lurking in schools in Uganda. He also praised the backers of a bill that seeks to kill gays and imprison those who support them. Engle happily gave a huge platform to violent, anti-gay activists with his organization's TheCall rally in Uganda.
This is the danger of exporting radical American Evangelicalism and homophobia to other countries. Lou Engle has turned an already volatile situation into an untenable one where blood will most likely be spilled in the name of his extremism -- blood that will rest firmly on his hands.
(Cross-posted from my home blog, Bilerico Project. Come visit me there to see why both the Washington Post and the Advocate named us one of the top 10 LGBT political blogs in the nation.)
Related
Popular in the Community