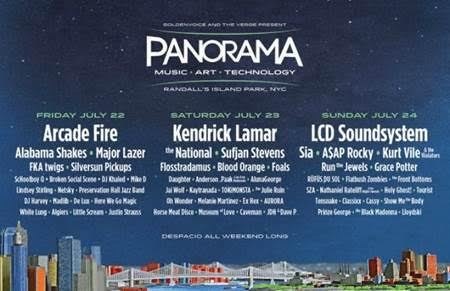 The summer's newest and most anticipated music festival, Panorama is hitting NYC this July at Randall's Island. A 3-day festival space where music and technology shall converge - you can expect electrifying performances by Kendrick Lamar, Arcade Fire, Sia, FKA Twigs, A$AP Rocky and more.
And of course American Express is adding a special bonus for card members. This time they are providing Amex Access in-app at the first-ever Panorama Music Festival. Building off their successful app integration and program that debuted at Coachella earlier this year, American Express is unveiling their latest installment of the Amex Access integration at Panorama in NYC next month bringing Card Members and fans unique experiences throughout the weekend on Randall's Island.

This is the inaugural year for the Panorama Music Festival but the third time that American Express is the official payment partner for festival-goers -- beginning at Coachella in 2015. This year, American Express has worked with Panorama to include an integration that allows American Express Card Members with an americanexpress.com User ID and Password to connect with the Panorama app and seamlessly enroll in a $10 back offer redeemable when they use their Amex Card at Panorama merchants. The sign-up function also automatically makes Card Members eligible for a series of rewards and unique access throughout the festival directly communicated and redeemable through the app.Always providing its consumers with premium access, Amex will have a two story hospitality space onsite for Card Members featuring food and beverages and special programming, as well as interactive activities for consumers to enjoy.
We sat down with Amex executives Walter Frye, Vice President, Global Experiential Marketing, American Express and Gopi Sangha, Director of Digital Strategy, Goldenvoice to talk about the unique experience.

Why was it important for AMEX to be a part of the first ever Panorama Music Festival?
Walter Frye: "We are excited to be a part of the first-ever Panorama Music Festival which is taking place right here in Amex's backyard in New York City" said Walter Frye, Vice President, Global Experiential Marketing, American Express. "We are always looking for opportunities to enhance the fan experience for our music-passionate Card Members by giving them access to unique and memorable offers, rewards and experiences. And as the official payment partner of the festival, we will also give Card Members the ability to use their Amex Cards festival-wide for purchases."

Gopi Sangha: "Through our prior partnership at Coachella 2016, American Express has shown it's dedication to elevating the fan experience by enabling card transactions at all food, beverage and retail service areas at the festival or by providing a tremendous amount of value directly back to the fans through member offers and rewards, said Gopi Sangha, Director of Digital Strategy, Goldenvoice. "The response from the fans was overwhelmingly positive and voluntary engagement into the mobile app program far exceeded our wildest expectations. It was only natural to bring this unique digital integration to our technology infused festival experience at Panorama."
Can you explain the basic functionality of the app? What do fans do to use it step by step?

Gopi Sangha: The Panorama App is designed as an interactive guide to your festival experience added Sangha. "At its core the app will introduce you to the artists, dining options and interactive experiences at the festival. In addition the app keeps a live dialogue between the festival and fan through social media updates and real time and contextual notifications from the event producers. The app is the easiest way to activate your festival wristband giving you access to enhanced customer support as needed."
Walter Frye: The American Express #AmexAccess program integrated into the Panorama app gives Card Members exclusive offers and rewards throughout the Panorama Festival weekend. Here's how it works:
- American Express Card Members can enroll in the program by downloading the Panorama app and logging in on the #AmexAccess page using their americanexpress.com User ID and Password. This seamlessly enrolls their Amex Card in a $10-back offer redeemable when they spend $10 or more on their Card at participating Panorama merchants.
- Upon enrollment, Card Members are also automatically eligible to receive additional rewards and surprises throughout the festival weekend, which are directly communicated and redeemable through the app as well as onsite at the American Express Experience.

What can Card Members win via the app?
Walter Frye: By enrolling in the #AmexAccess program in the Panorama app, Card Members will have the ability to receive unique surprise & delights that will enhance their festival experience on-site and beyond. American Express launched a similar program at Coachella earlier this year and we are looking forward to bringing this access platform to even more Card Members at Panorama.

With such an amazing lineup is there a chance that card holders will get to meet any of their favorite artists? Will they get any personalized or signed merchandise?
In the spirit of a true surprise and delight program, we're excited for our Card Members to learn about these unique offers and rewards for the first time on-site at the festival.

What do you want people to know most about this experience?
Walter Frye: American Express is committed to elevating the fan experience for festival attendees through an engaging and compelling experiential program throughout the Panorama festival experience - and what better place than directly in the festival app that festival-goers will be using all weekend long. The #AmexAccess Panorama app integration is yet another proof point of Amex's digital transformation strategy to meet our digitally savvy Card Members and partners where they are to create slick and seamless payment and access experiences.
REAL LIFE. REAL NEWS. REAL VOICES.
Help us tell more of the stories that matter from voices that too often remain unheard.