The dictionary defines folk art as work "produced typically in cultural isolation by untrained often anonymous artists or by artisans of varying degrees of skill and marked by such attributes as highly decorative design, bright bold colors, flattened perspective, strong forms in simple arrangements, and immediacy of meaning."
While this definition conjures exoticized images of far off lands and age-old traditions, it fails to encompass the entire scope of global folk art -- for example, the crop born and bred in the United States. An exhibition at the Worcester Art Museum in Massachusetts entitled "American Folk Art, Lovingly Collected" will explore the branch of folk art shaped not by cultural isolation, but by the quickly changing cultural landscape engulfing it.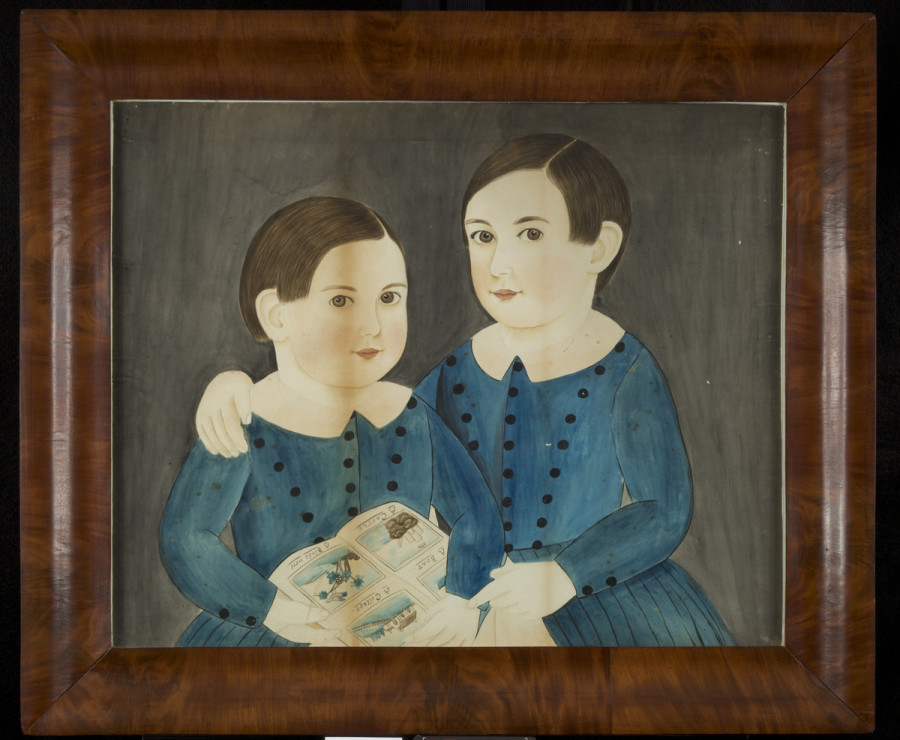 Two Children in Blue, about 1840 attributed to Mary B. Tucker Image: Courtesy of the Worcester Art Museum
"Over the years there has been much debate of what folk art is," Paul D'Ambrosio, curator of the exhibition, explained in an interview with The Huffington Post. "But I see it as broad category of Americana done by artists with little or no formal training in the fine arts. It's a body of work that was brought together in the early 20th century by a diverse group of people."
"This includes portraits, landscapes, needlework pictures, quilts, painted furniture, all kinds of decorative arts. Sculptures, carvings, shop signs, cigar store figures. It's a very broad category, but it speaks to the centrality, the absolute integration, of handmade goods in American society, especially in the 18th and 19th centuries."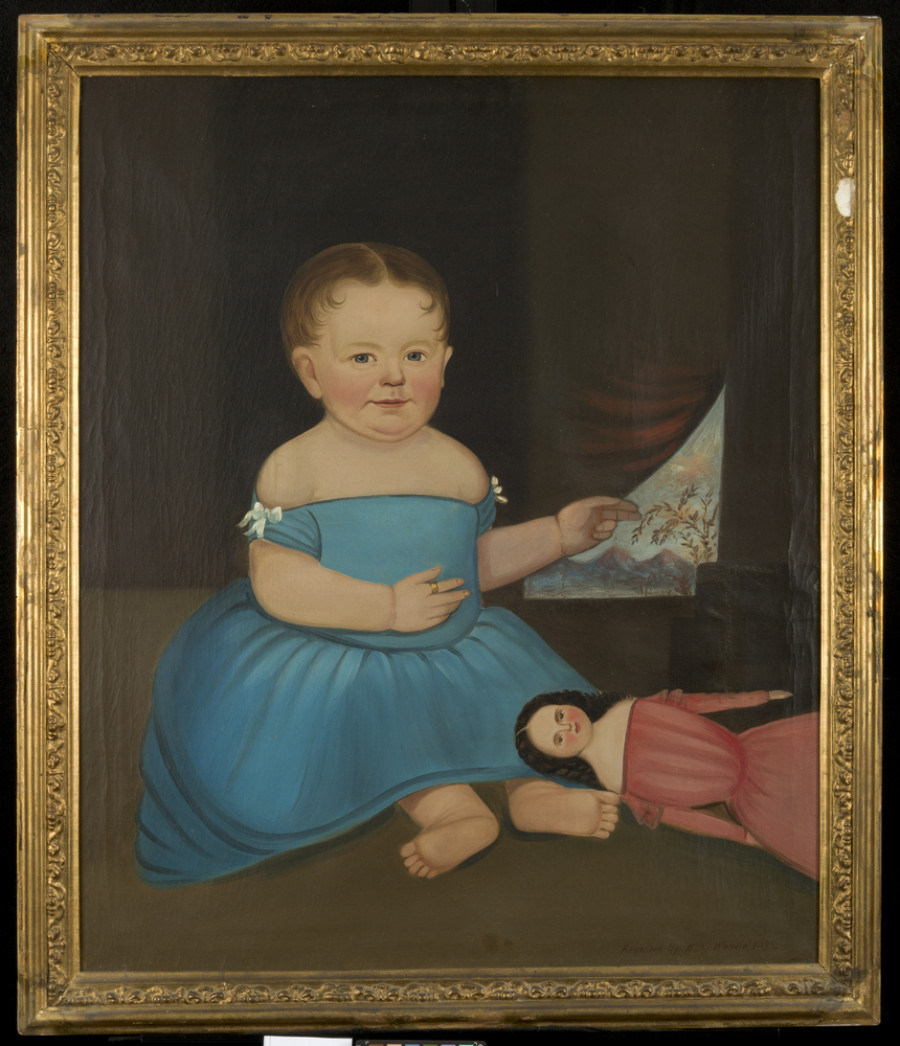 Child in a blue dress; Courtesy of the Worcester Art Museum
The exhibit provides a rare glimpse into the 19th century transformation of a New England town, and in turn, the town's unexpected effect on a burgeoning art movement -- one that arguably has more in common with a remote civilization than Western tradition. In 1800, Worcester County had about 60,000 residents. By 1840 it had grown to 95,000. In the decade that followed, between 1840 and 1850, the population grew by another 35,000 people to 130,000. "So you're talking about exponential growth," D'Ambrosio explained. "Along with this there are advancements in industrial technology, improvements in transportation, and the artists that created these works. They didn't have an industrial technique but they had an understanding of mass production and that's an idea that came along with the industrial revolution."
The art of this period is characterized by flattened portraits against a neutral, monotone backdrop, the subject either in full profile or looking straight at the viewer. Their straightforwardness is almost awkward, recalling the naivety of artists like Henri Rousseau or Morris Hirshfield. Yet the inspiration for said artworks wasn't the "primitive" artists of Europe, but rather the mechanization of the U.S.
"In 1800, artists imitated the mechanical means with their hands' work. A portrait painter would paint a similar composition over and over again, it would be called a formula or a stock pose. They would take elements and repeat them in order to speed up the production of the works. They were not judged as art, they were furnishings at the time. Artists would emphasize whatever they were best at, and their pictures would conform to their best talents to create the best possible products."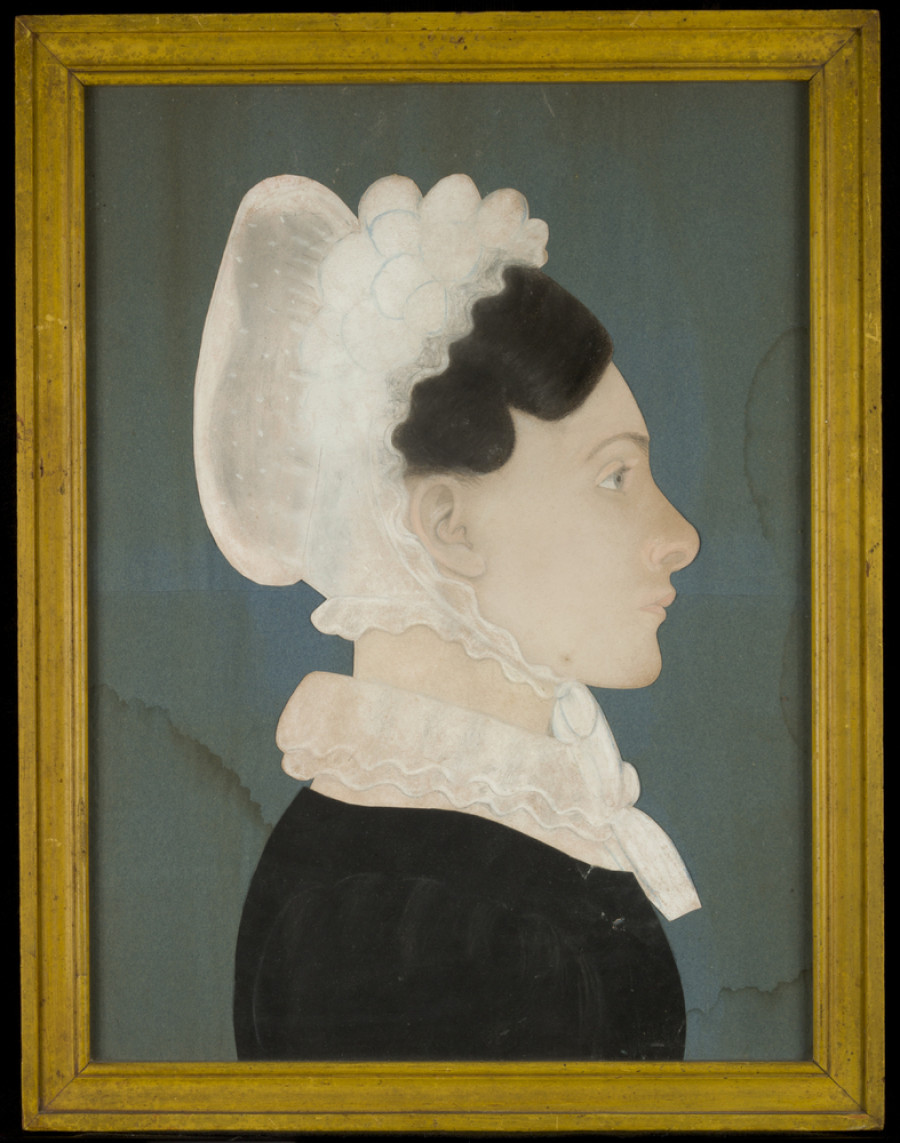 Mrs. Kendall, about 1831 attributed to Ruth Henshaw Bascom Image: Courtesy of the Worcester Art Museum
A thriving middle class bolstered an engorged supply of commercial goods, many of which were made by hand. This newly skewed supply and demand opened up space for a healthy art market, able to make a living through their production of bright and bold handmade goods. However, despite their economic success, such folk artists were never considered on par with formally trained fine artists, until, perhaps, now.
Although it sounds almost counter-intuitive, the industrial revolution molded the 19th century culture of folk art, imbuing it with handmade alternatives to booming mechanical trends. "Some went as far as William Matthew Prior who developed a price scale where he charged less for simpler pictures and charged more for more elaborate ones. Basically, time is money. They're in this transitional period toward mass production, where soon they will be replaced by mechanical processes such as photography and lithography."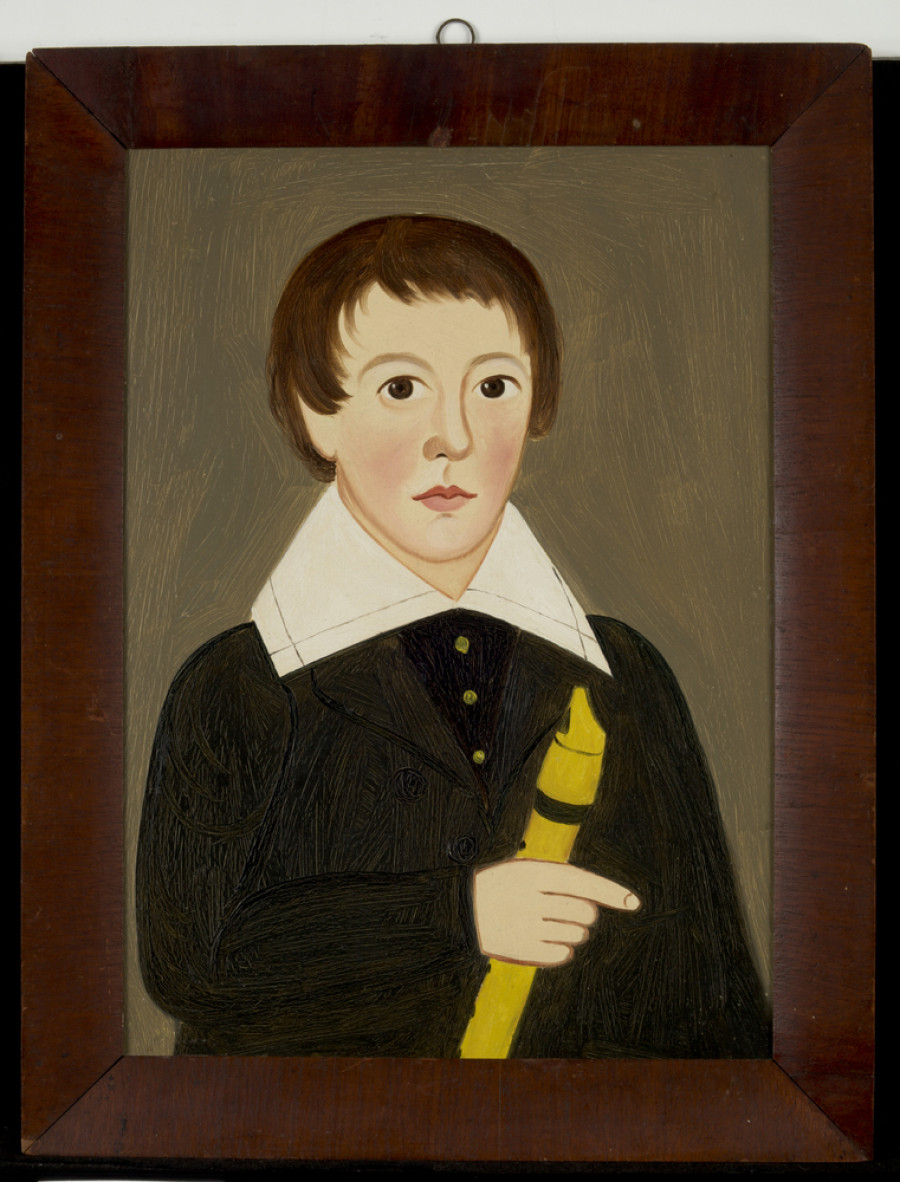 Boy in Blue with Recorder, 19th century attributed to George G. Hartwell Image: Courtesy of the Worcester Art Museum
In this final moment before the eventual mechanical takeover, we see images oddly teetering between the handmade and the automatic, like stunted hybrids on the verge of a breakthrough. It's an interesting juxtaposition to the contemporary relationship between art making and the internet -- an artistic moment explored in MoMA's current contentious exhibition "The Forever Now: Contemporary Painting in an Atemporal World," which posits that "courtesy of the internet, all eras seem to exist at once."
"American Folk Art, Lovingly Collected" will run from July 15 until November 29, 2015 at the Worcester Art Museum. Until then, enjoy the preview below.
Related
Before You Go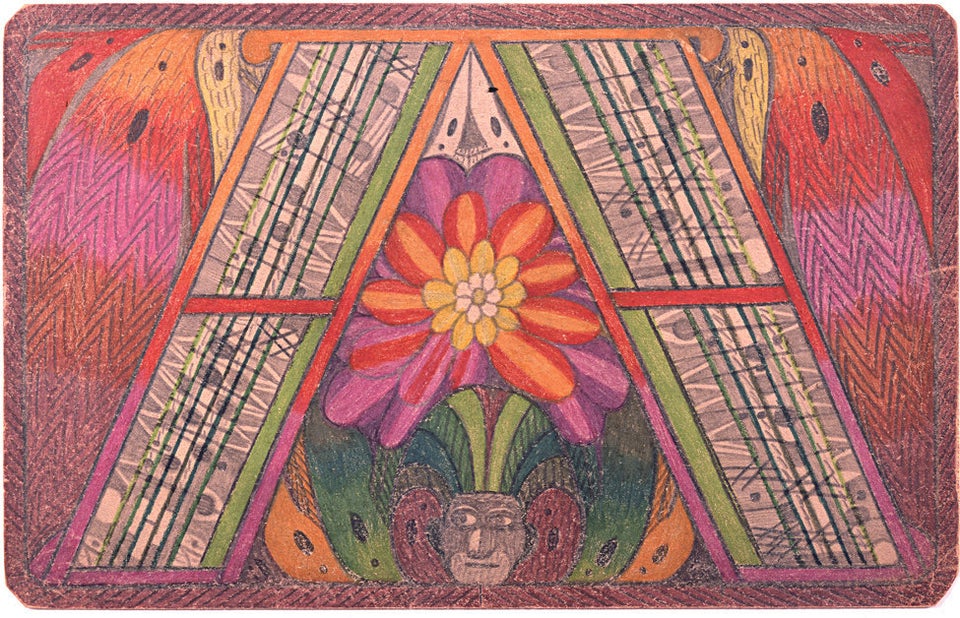 Outsider Art Fair Preview
Popular in the Community