An American general was wounded in an attack by the Taliban in Afghanistan last week that also killed two senior Afghan officials.
U.S. Army Brig. Gen. Jeffrey Smiley was shot at least once during the incident, which occurred in the country's Kandahar province, the Pentagon confirmed on Sunday after The Washington Post first reported his identity. Two Afghan officials were assassinated, including Kandahar province's police chief, Abdul Raziq, and the region's intelligence chief. Kandahar's governor was also shot, but survived.
"I can confirm that General Smiley is recovering from a gunshot wound," Lt. Cmdr. Grant Neeley, a spokesman for a NATO-led training command in the country, told ABC News. He is being treated at a Resolute Supporter hospital in Kandahar.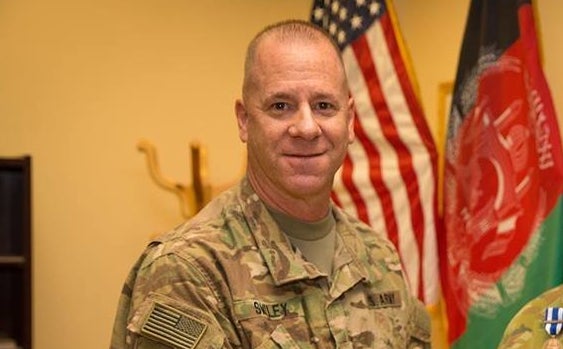 Army Gen. Austin "Scott" Miller, the leading American military officer in Afghanistan, was present during the attack and drew his firearm, although he did not discharge his weapon.
The Taliban has claimed responsibility, saying they had targeted both Raziq and Miller, who had been meeting at the governor's residence just moments before. The gunman was killed in the attack.
"This is just a message to the Afghan government and U.S. military commanders that whenever and wherever we want, we can enter and carry out attacks on them," a Taliban commander said in a statement obtained by Reuters.
The Post notes that senior U.S. military officials are rarely present in such situations and almost never wounded. Miller expressed doubt shortly after the attack that he had been targeted, telling local Afghan news that he was near Raziq when he was shot.
"My assessment is that I was not the target," the general told Afghanistan's Tolo News TV, according to Reuters. "It was a very close confined space. But I don't assess that I was the target."
Raziq, the police chief, was a contentious figure and an instrumental ally of the American military. He had been accused of human rights abuses, including torture and extrajudicial killings, and had survived dozens of earlier attempts on his life, according to The New York Times. But U.S. officials had relied on him to help fight the Taliban and the Times notes that Raziq had a vast network of support among the region's police forces.
The Taliban had demanded the Afghan government scuttle planned elections, threatening violence that was ultimately seen around the country at polling places. Following last week's attack, the Kandahar election was postponed for a week, although the country's president, Ashraf Ghani, championed those going out to vote on Saturday.
"With casting our ballots without fear we honor the sacrifices of the fallen," Ghani said on Twitter.
Popular in the Community