American Girl just made an awesome move toward inclusiveness. Starting this year, kids with diabetes are able to give their American Girl dolls diabetic care kits.
According to the company website, the kits feature insulin pumps, blood sugar monitors, lancing devices, glucose tablets, insulin pens, diabetes log books, adhesives, medical bracelets and more. Priced at $24, the kits became available for online purchase on Jan. 1.
The new doll accessory comes after a powerful petition from a young girl with diabetes received over 4,300 signatures. In January 2014, then-11-year-old Anja Busse created a Change.org petition calling for American Girl to offer diabetes-related accessories for dolls, not just for herself but for other kids like her.
"I have type 1 diabetes and there are no accessories for my American Girl doll," Anja wrote in the description. "I'm 11 and I just got diagnosed with diabetes a little over 3 months ago. I feel so different now and my whole life has been turned around. I want to have diabetic accessories for my American Girl doll so she is just like me. I just want everyone to feel good about themselves no matter if they have something 'wrong with them.' Whether they have a disability, blindness, deaf, diabetes, and so much more!"
"It's important to feel good about yourself!" she added. "No matter who you are!"
Anja and her mother Ingrid have been sharing updates about the petition on Change.org and their Facebook page, Diabetic American Girl. Now, nearly two years after they were first impelled to action, the Busses' wish has been granted.
"American Girl has a long history of creating items that speak to diversity and inclusion, and the diabetes care kit is yet another way we are expanding in this important area," American Girl spokeswoman Stephanie Spanos told The Huffington Post in an email.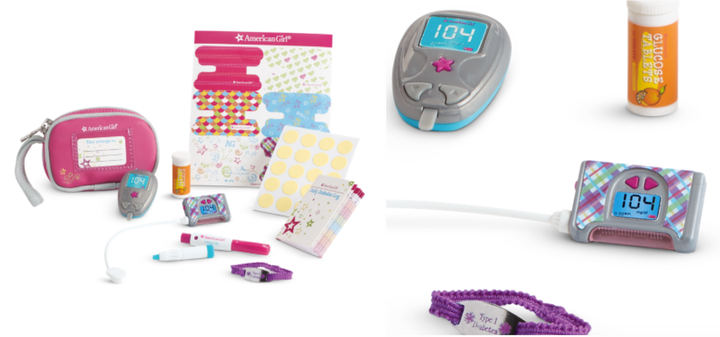 When the Busse family heard about the new diabetes care kits, they were overjoyed. Ingrid told HuffPost that Anja said, "I'm so excited! I feel like this is something that will really help diabetic kids through this disease and make them not feel alone. They will have a doll that is truly like them now."
Ingrid added that she hopes this new toy helps lets with diabetes know "that they matter and they are not alone." So far, she said, people are purchasing the kits for diabetic children, kids who have loved ones with diabetes, and diabetes clinics and hospitals.
"Anja's motto is 'I have diabetes, but diabetes doesn't have me,'" the mom added. "We are so thankful for everyone who shared our story, signed the petition, and contacted the company. This is a reality because so many people let the company know they wanted this product, and American Girl listened."
Here's to more positive changes and inclusiveness in 2016!

Dolls Without Makeup By Nickolay Lamm