Neil Gaiman's cult classic American Gods has spent 15 years migrating from the printed page to a video screen, and its message doesn't feel even a tiny bit old.
American Gods, published as a book in 2001, will air on Starz next year in a much-anticipated adaptation by Michael Green and Bryan Fuller.

Its lead character, Shadow Moon, will be portrayed by Ricky Whittle. The cast also includes Ian McShane, Gillian Anderson, Kristen Chenoweth, Dane Cook, Emily Browning and Cloris Leachman.
Green says the adaptation will "follow the roadmap" of the original story, which Gaiman has extended slightly over the years.
It's just not a simple map, which is why Gaiman's readers are both excited and nervous about how it will translate to the screen.
"Fans are incredibly passionate about this story," says Green. "Fortunately, we haven't really experienced the dark side of fandom. What we've heard has been very supportive. Mostly, they just say, 'Make it great.' "
To almost criminally oversimplify, American Gods traps Shadow between two powerful opposing forces: the Old Gods, traditional sources of guidance and objects of worship, and the New Gods, who represent modern-day icons like media and money.
Shadow, who has just been released from prison, is recruited by Mr. Wednesday (McShane), an incarnation of Old God Odin, to rally Mr. Wednesday's colleagues to the fight.
Many adventures ensue and it's hard not to notice that in the 15 years since the book was published, real-life Americans have only upsized their adoration for things the New Gods represent, like technology.
Fuller and Green acknowledge this, and say it only makes the message of American Gods more intense.
"That has definitely happened," says Fuller. "The issues he was exploring in the book are just as relevant today as they were 15 years ago."
What we revere and worship in our culture is one of the Big Issues, of course, and Green and Fuller say that's a significant part of the appeal in tackling American Gods.
"It's about a faith journey," says Green. "We don't take a position, because we want the show to be a place where these things can be discussed. We want it to help start a conversation."
Fuller has an idea where he'd like that conversation to go.
"I'd love for this show to encourage tolerance of other people's beliefs," he says. "You have so many people purporting to be Christians, for instance, who don't accept basic tenets of Christianity like acceptance and understanding and forgiveness."
That kind of contemplation permeates Gaiman's book, and while Green says the adaptation will enhance a few of its elements, including the female characters, he also says it will not create whole new roads.
It will, however, have something that a novel cannot: a wide range of music created by Brian Rietzell, who previously worked with Fuller on NBC's Hannibal.
"Because the show goes to so many different places and covers so many different experiences," says Green, "Brian has to be a real innovator in multiple areas of music. For one episode we needed an Estonian folk song, with lyrics. And he wrote it."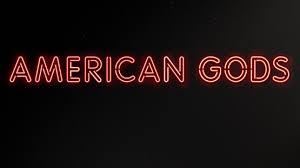 As for how long American Gods could run, Green and Fuller say it's not open-ended. The story will have an ending at some point, even if Gaiman writes his promised sequel while the TV show is still in production.
"I see 68 episodes," Green says, joking about the number, but not about closing the story when he feels it has been told.
The most open-ended thing about American Gods, he notes, was getting it to the screen in the first place.
"I wanted to adapt it for 10 years," he says. "But they kept trying to make it into a movie. I knew it wasn't a movie. It was a TV series. Which we are now making."
Just as the gods intended.
REAL LIFE. REAL NEWS. REAL VOICES.
Help us tell more of the stories that matter from voices that too often remain unheard.