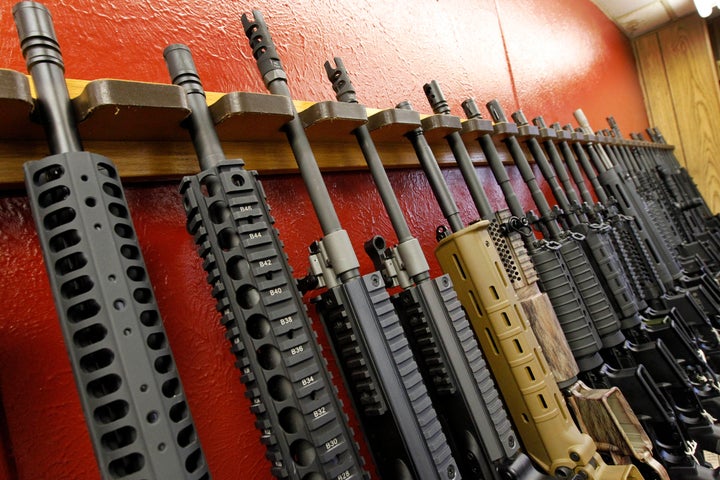 Each time I hear of yet another incident of gun violence, I think back to the very first thing that caught my eye as I entered the grounds of the Iowa Republican Party Presidential Straw Poll in the summer of 2011. Three young children, I would guess between the ages of four and seven, sporting day-glow orange baseball caps with "NRA" scrawled atop, and round stickers on their small T-shirts announcing "Guns Save Lives."
According to the U.S. Centers for Disease Control and Prevention, though, gun related violence has reached epidemic proportions in our country by snuffing out the lives of upwards of 30,000 people (over 11,000 at the hands of others and the rest by suicide) and wounding many more annually. Each year, over 100,000 people are affected in some way by gun violence. Many of the guns used in these killings reach military level weapons power, guns which currently remain legal. Today in the United States, there are 88.8 firearms per 100 people.
I believe we must criminalize the possession of automatic and semi-automatic weapons, and close loopholes such as buying a weapon at a gun show, which many times does not require background checks. We must increase the waiting period and make background checks more rigorous and effective. Furthermore, we need to limit the number of guns any individual can own. We must also rethink the "logic" of permitting concealed weapons, especially in places like houses of worship, colleges, bars, and political rallies. Moreover, all data bases monitoring gun ownership must interface to assess the gun owning population more accurately.
I also believe that even our founding fathers did not want unlimited and unrestricted rights to bear arms. Even if they did advocate for unrestricted gun ownership, these are the same men who owned slaves, committed genocide against and expelled native peoples, withheld enfranchisement from women, and so on.
But as we all know, the chances for comprehensive gun control in the United States is only a pipe dream since the NRA controls Congress and state legislatures, for if they did not, we would have seen effective laws passed years ago resulting in countless lives saved.
Giving new meaning to the term "hunting for a wife," Jewelry by Harold owner in North Liberty, Iowa will give a husband-to-be a voucher for a new Remington 870 rifle with the purchase of an engagement ring priced at $1,999 or higher. Shop owner Harold van Beek told KCRG in Cedar Rapids: "So say: I'm hunting deer, and here is a diamond ring, dear." To apply for this "deal," one must be eligible to own a gun in Iowa, and not have been convicted of a felony.
In its attempt to pull in shoppers last year on so-called "Black Friday" (the day following Thanksgiving), the camping and outdoors superstore Cabela's handed out envelopes to the first 800 people over the age of 18 who lined up in front of its stores before 5 a.m. for a chance to win a Browning A-Bolt Medallion .300 WSM rifle with a Cabela's 50th anniversary gun case worth $875.
The Scottsdale, Ariz. gun club now offers its members the service of sending out their Christmas cards with family, including infants, posing with Santa while holding pistols and military grade automatic weapons, fa la la la la, la la la la. Joy to the world?
And maybe it's not too late to go down to Nation's Truck Sales in Sanford, Florida where two years ago they offered each customer a brand spanking new assault rifle with the purchase of a truck. Stated General Sales Manager, Nick Ginetta: "We started on Veterans Day. Hey, so many have given so much for this right!"
Be the first on your block to kill long after you have died. For the sum of only $1,250, your loved ones can have you cremated with a pound of your ashes stuffed inside genuine bullets, resurrecting you as live ammunition. For that measly sum, you can metamorphose as 250 shot shells, 100 rifles cartridges, or 250 pistol cartridges. For only $100 extra, until you come alive again as a killing apparatus, your bullet ashes can rest in peace in a decorative wooden coffin-like box.
According to the founder of Holy Smoke Bullet Urns of Stockton, Alabama:
"You know I've thought about this for some time and I want to be cremated. Then I want my ashes put into some turkey load shotgun shells and have someone that knows how to turkey hunt use the shotgun shells with my ashes to shoot a turkey. That way I will rest in peace knowing that the last thing that one turkey will see is me, screaming at him at about 900 feet per second."
Since Columbine, there have been 181 major school shootings! Then, how many more Newtowns, Portlands and Oak Creeks -- and how many more Gabby Giffords and Harvey Milks, Trayvon Martins and Lawrence Kings, the famous and the not-so-famous, will it take for this country and its politicians to wake up to the reality that, contrary to the NRA's assertions, guns in the hands of anyone, in any and all stations of life, kill people?
Calling all HuffPost superfans!
Sign up for membership to become a founding member and help shape HuffPost's next chapter