In late December, the president was right when he wrote about the "staggering physical and economic loss" due to cardiovascular diseases. He also was on target with his optimism that "substantial progress in combating those diseases is being made by comprehensive educational and community programs."
Here's the twist: That president was Lyndon Baines Johnson.
Those lines come from Proclamation 3566, the document that declared February as "American Heart Month." This formal designation began in 1964, which means this February is the 50th anniversary.
This anniversary is truly golden. Because, in retrospect, that proclamation helped spark a turning point in our nation's health history.
LBJ was less than six weeks into his jarring ascent to the Oval Office when he signed that declaration. A heart attack survivor himself, he appreciated the aims as well as anyone.
The timing proved to be perfect.
Just a few weeks later -- on Jan. 11, 1964 -- U.S. Surgeon General Luther Terry rang in a new era by releasing a report declaring the health risks associated with smoking. And just a few weeks after that, along came the first official American Heart Month, ushering in a new era of fundraising, education and awareness.
This proved to be an incredible 1-2 punch in the fight against cardiovascular diseases. Just look at the statistics.
As of 1960, about 662,000 Americans died each year because of heart disease, and 924,000 from all forms of cardiovascular disease.
As of 2010, those figures were below 600,000 and 784,000.
Taken in a vacuum, that change is pretty good. But there's another factor that makes that reversal far more powerful: the explosive growth of our nation's population.
From 1960 to 2010, the number of Americans jumped by more than 72 percent, a rise of more than 129 million people. However, the annual number of deaths from cardiovascular diseases dropped by tens of thousands.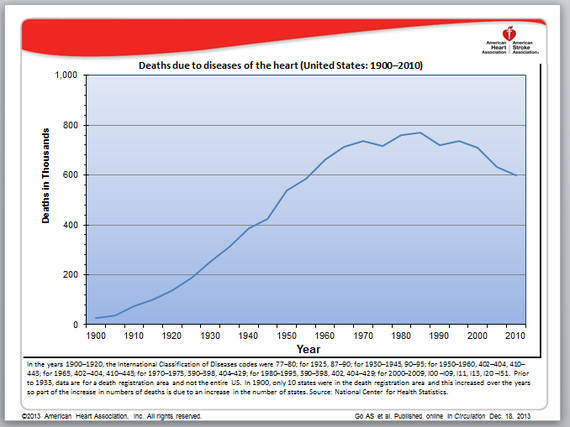 There's a treasure trove of reasons for this improvement.
The advancements in technology and treatment are mind-boggling. There's better equipment, better medicines, better treatment and diagnosis methods. We also have seen a popular emphasis on diet and physical activity and, of course, the fight against smoking. Awareness and the accessibility of information play major roles, too.
At the core of it all is one thing. Research.
Progress is driven by scientists studying cardiovascular diseases -- how they develop, how to treat them and, best of all, how to prevent them. Everything else stems from that.
I'm proud to say the American Heart Association is the leading funder of cardiovascular research outside the federal government, having invested in excess of $3.5 billion, and in recent years consistently topping $100 million annually.
Our organization began in 1924, and shifted toward funding research in the mid- and late-1940s. The precursor to American Heart Month -- known as "National Heart Month" -- began then, as did various national fundraisers often featuring First Ladies and other wives of political powers as their honorary chairs.
We made our very first grant in 1948. It went to a Nobel Prize winner for studies on muscle energetics. In all, we have supported 13 Nobel Prize winners, nine of them honored for research we wholly or partially supported. Some of the many lifesaving advancements we funded include the first artificial heart valve, cholesterol-inhibiting drugs, heart transplantation, and CPR techniques and guidelines.
We're not the only organization making a difference, but as the nation's oldest and largest voluntary group devoted to fighting cardiovascular diseases and stroke we take pride in leading the fight.
It is in this role that we must acknowledge how much work remains to win this battle.
Heart disease is still the No. 1 killer of Americans, just as it was during LBJ's tenure.
While the rate of cardiovascular-related deaths has plunged from 54 percent in 1964 to below 32 percent, cardiovascular diseases still claim more lives than all forms of cancer combined. And, contrary to popular opinion, heart disease isn't just for men. More women die of heart disease and stroke each year than men, and it's been that way every year since 1984.
The number of people living with cardiovascular diseases has surged since LBJ's day, from around 10 million to nearly 84 million. This shows what a great job we are doing in treating these problems, and illustrates how much more work is needed to prevent them.
As we begin the 50th anniversary of American Heart Month, and President Obama continues the tradition of an annual proclamation, I leave you with a few more words from the initial document LBJ signed in December 1963:
The results thus far achieved in combating the cardiovascular diseases give hope that the continuation and expansion of these programs may eventually eliminate these diseases as important causes of death. ... It is essential to the health and well-being of our nation that our citizens be made aware of the medical, social, and economic aspects of the problem of cardiovascular diseases, and the measures being taken to combat them. ... I urge the people of the United States to give heed to the nationwide problem of the heart and blood-vessel diseases, and to support the programs required to bring about its solution.

Popular in the Community