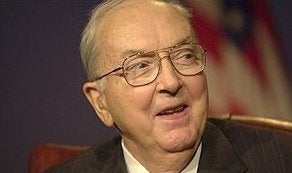 If you were sickened in the past week by much of the media coverage of the passing of "conservative icon" Jesse Helms, you ought to take heart from the following. A state worker in Helms' native North Carolina named L.F. Eason III quit the only job he'd ever had rather than lower the flag to honor longtime racist Helms.
This is how the Raleigh News & Observer put it today: "Eason, a 29-year veteran of the state Department of Agriculture, instructed his staff at a small Raleigh lab not to fly the U.S. or North Carolina flags at half-staff Monday, as called for in a directive to all state agencies by Gov. Mike Easley.
"When a superior ordered the lab to follow the directive, Eason decided to retire rather than pay tribute to Helms. After several hours' delay, one of Eason's employees hung the flags at half-staff."
It all began last Sunday, when Eason emailed his staffers that he did not think it was apt to honor Helms because of his "doctrine of negativity, hate, and prejudice," his opposition to civil rights bills and the Martin Luther King Jr. holiday.
The News & Observer continues:
When the lab opened Monday morning, the flags were not out at all. An employee called Eason's boss, Stephen Benjamin, who worked in another building in Raleigh. About 10:45 a.m., Benjamin told one of Eason's co-workers to put the flags at half-staff. Another of Eason's superiors later drove by the lab to make sure the flags were up properly.

No one in the Governor's Office was aware of any time in recent memory when a state employee refused to lower a flag. Brian Long, a spokesman for the Agriculture Department, said Eason's refusal was unexpected. "We've never had any conversations like that," he said.

In a string of e-mail messages with his superiors, Eason was told he could either lower the flags or retire effective immediately.

Though he's only 51, Eason chose to retire, although he pleaded several times to be allowed to stay at the lab. Eason, who had worked for the Agriculture Department since graduating from college, was paid $65,235 a year as the laboratory manager.

Several people, including his wife, argued to Eason that the flags belonged to the state, as did the lab. But Eason said he felt a strong sense of ownership.
He later sent an email to the governor explaining his decision, saying of Helms: "Even to his death bed, he refused to apologize for the damage he caused. Now, I stand by this decision. It is a personal decision, but obviously affects my job at the lab....I also understand that my decision is not acceptable. You cannot ignore that fact. There is the law, but there is also a higher law I must follow as a matter of conscience."
Popular in the Community