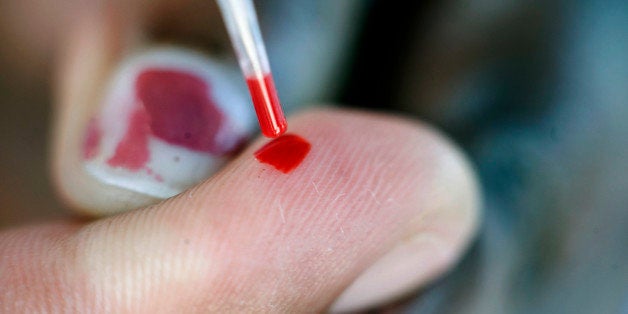 One of the biggest misconceptions about the AIDS epidemic in the United States is that it's over. This belief is also part of why the disease is so dangerous -- and why campaigns like this week's National HIV Testing Week are so necessary.
A full two-thirds of new HIV infections occur in just 3 percent of U.S. counties, according to newly released statistics from AIDSVu, a data project developed by researchers at Emory University's Rollins School of Public Health that maps data about the disease using information from the Centers for Disease Control and Prevention and the U.S. census. These counties are found in both cities and rural areas, but they have one thing in common: a lack of resources.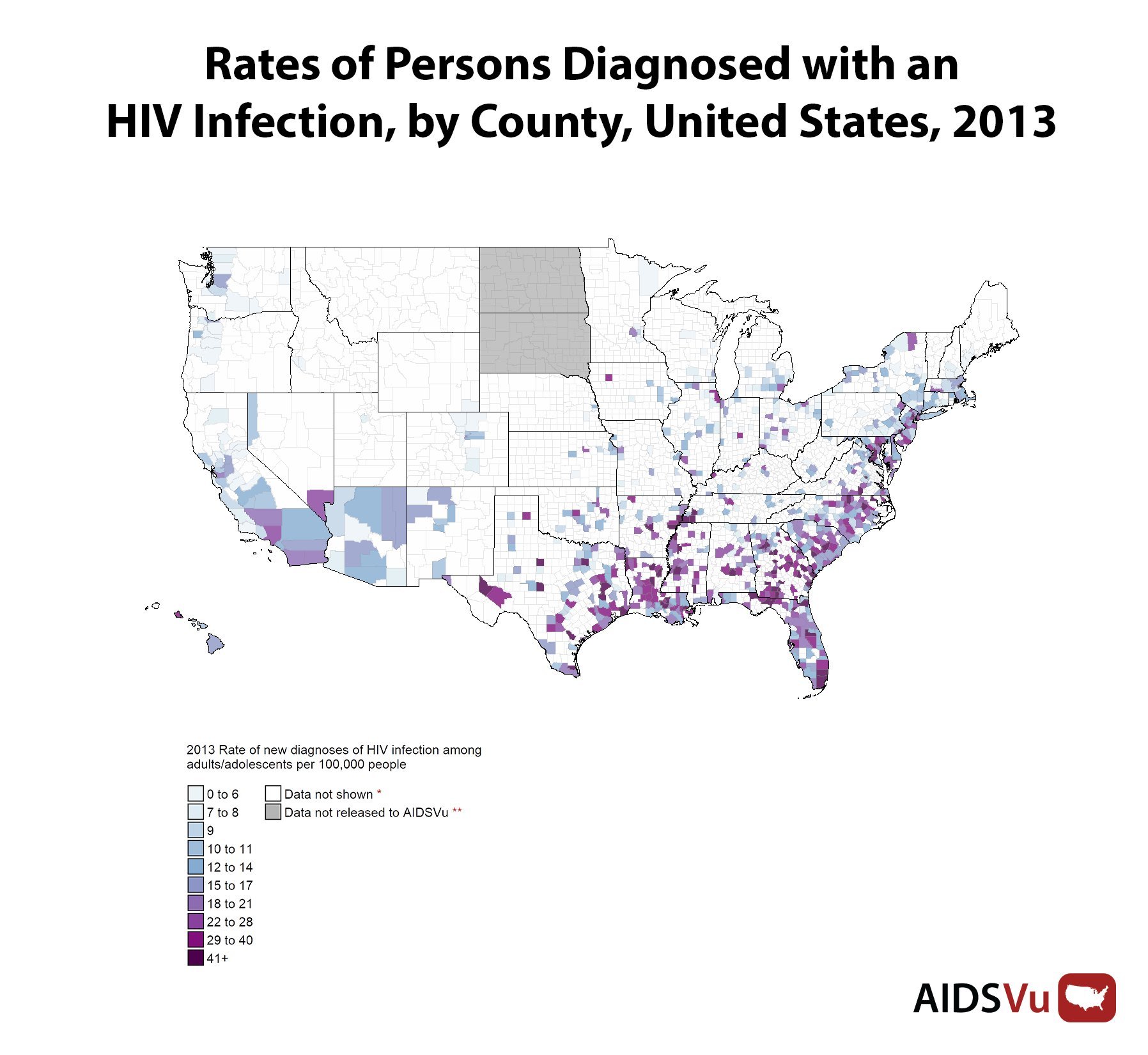 Because the disease spread is largely contained within poor communities, even medical professionals and grant-giving institutions can be unaware of the virus' prevalence, said Dr. Laurie Dill, medical director for Medical AIDS Outreach of Alabama, a nonprofit organization that services 26 rural and high-poverty counties in the state, some of which have a per capita HIV infection rate that's three to five times the national average.
Getting tested, in her view, isn't just an individual act. Because testing data informs a larger map of HIV rates that highlights areas of concern, people who get screened can help doctors properly allocate support and resources.
Dill's organization used Emory's data analysis, along with state health department data, to help determine communities in need and expand their access to care via eight telemedicine sites in general health clinics throughout the state (two more are opening this summer). These sites allow patients in remote areas to consult with doctors, social workers, pharmacists and mental health professionals via video chat. Putting telemedicine in general health clinics also means HIV patients can seek care without announcing their statuses by going to an HIV-specific clinic.
Similarly, a program set up by HIV researchers in some neighborhoods of Philadelphia used AIDSVu data to provide targeted outreach.
"Where you live and the color of your skin is going to influence whether you survive HIV."
Nationwide, rates of people living with HIV are largely clustered in the Northeast and the South, regions that also have the highest number of new diagnoses. (In 2012, there were 8,629 new diagnoses in the Northeast and 22,629 in the South.) The overall prevalence of HIV tends to track along the same lines as poverty trends.
"To quote Paul Farmer, there is a synergy of plagues," Dill said. "There's no public transportation in these counties, there are huge problems with access to even primary care. Hospitals are closing, there are high rates of uninsured people. These are some of the poorest counties in the country, literally. ... Basically, they are at risk for HIV by geography."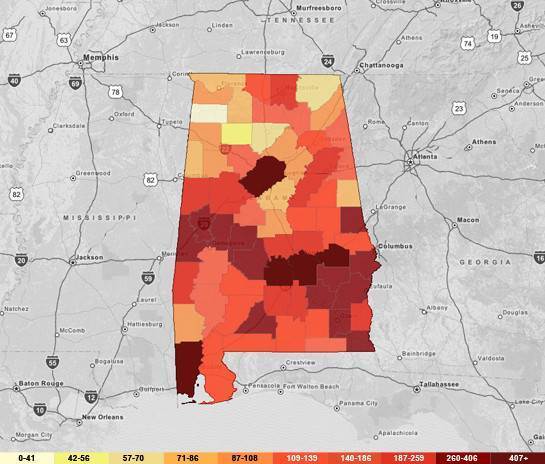 People living with an HIV or AIDS diagnosis in Alabama, 2012
It is not unheard of, Dill said, to have a teenager arrive at clinic with AIDS, the advanced disease state of HIV, indicating years or perhaps even a decade without testing and diagnosis.
This highlights one counterintuitive reality about HIV treatment, namely that it is prevention. People undergoing treatment are 96 percent less likely to spread the disease, according to Dill. A community with low testing rates also has low treatment rates, which means transmission increases.
Aside from geography, the major risk factors remain sexual behavior and race. And although there were big gains in reducing HIV transmissions and HIV- and AIDS-related mortality rates in the 1990s and early aughts, the racial gap hasn't shrunk in recent years. As of 2013, black men were eight times more likely to be diagnosed with HIV than white men. Black women, meanwhile, were approximately 19 times as likely to be diagnosed as white women, according to Patrick Sullivan, lead researcher on the AIDSVu project and a professor of epidemiology at Emory.
While 13 percent of the U.S. population is African-American, 46 percent of the new HIV diagnoses in 2013 were among African-Americans, AIDSVu reports.
"The HIV/AIDS epidemic today is a black disease," said Phill Wilson, president and CEO of the Black AIDS Institute. "Black Americans get diagnosed later than other racial ethnic groups and die sooner."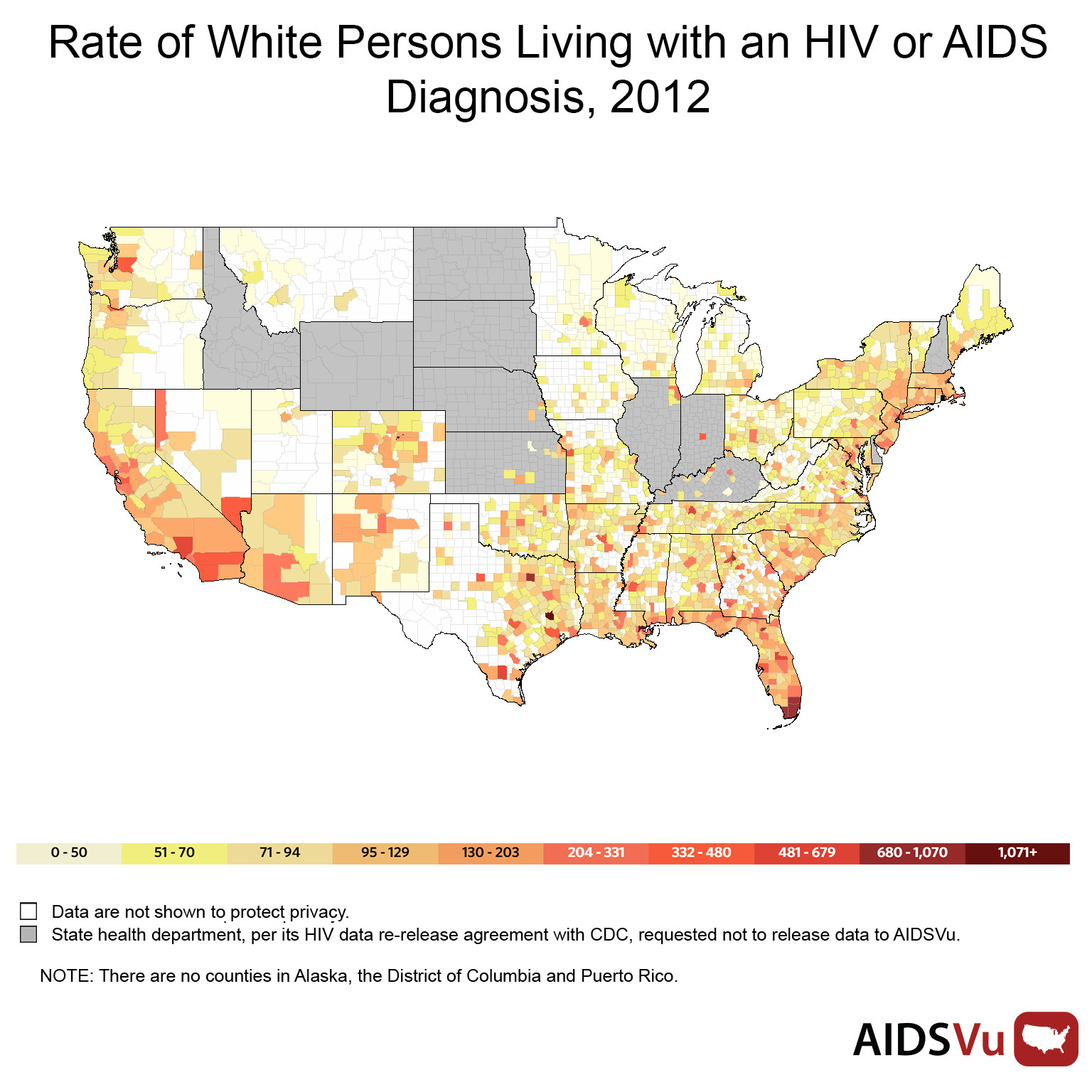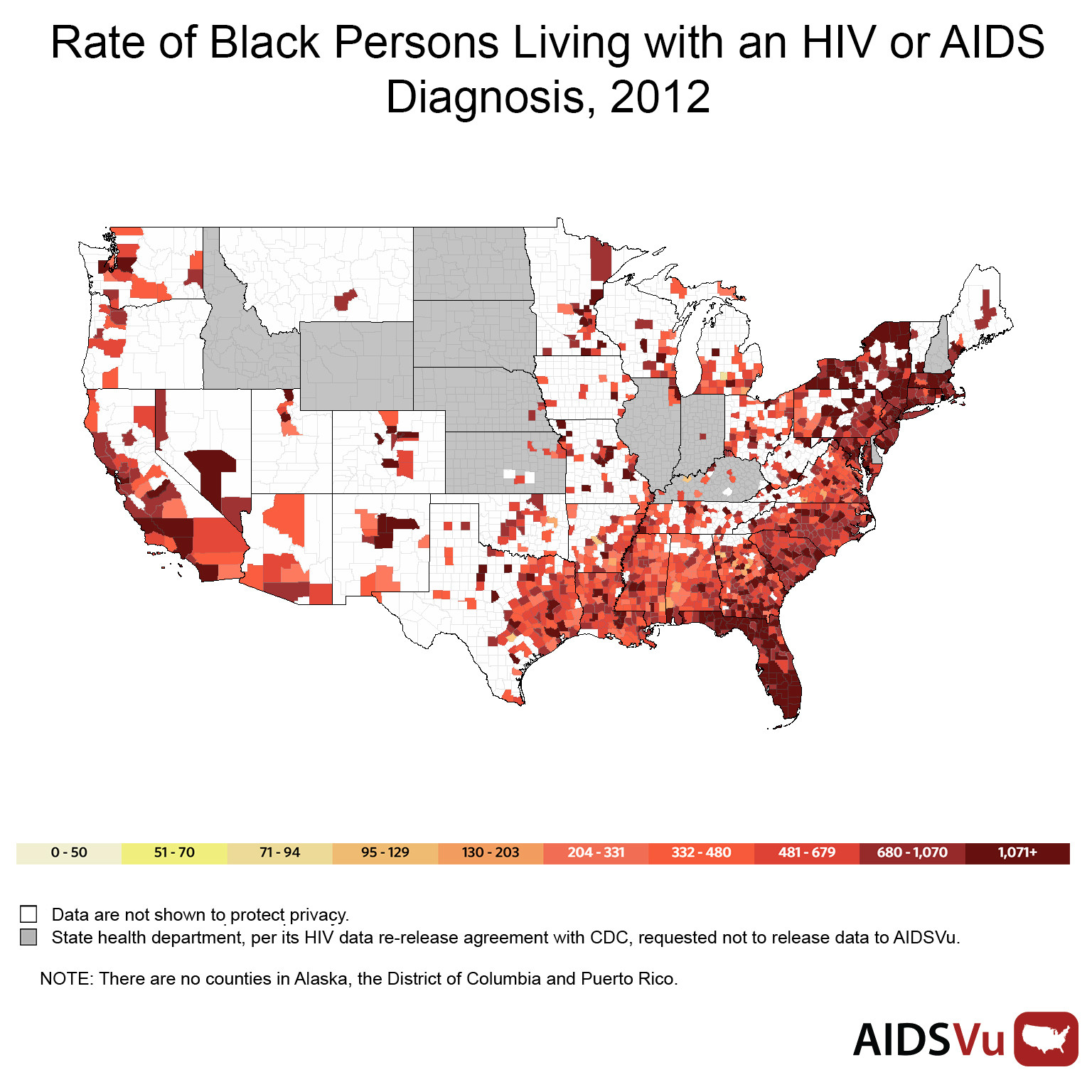 Amy Nunn, executive director of the Rhode Island Public Health Institute and an associate professor of behavioral and social sciences at the Brown University School of Public Health, studied HIV rate disparities in Philadelphia, finding that while affluent neighborhoods with large populations of gay men had elevated HIV rates, blacks in neighborhoods with high HIV rates were more likely to die from the infection.
Inner-city, black neighborhoods in Philadelphia had microepidemics of HIV, with testing and treatment centers few and far between. "In a nutshell, where you live and the color of your skin is going to influence whether you survive HIV," Nunn said.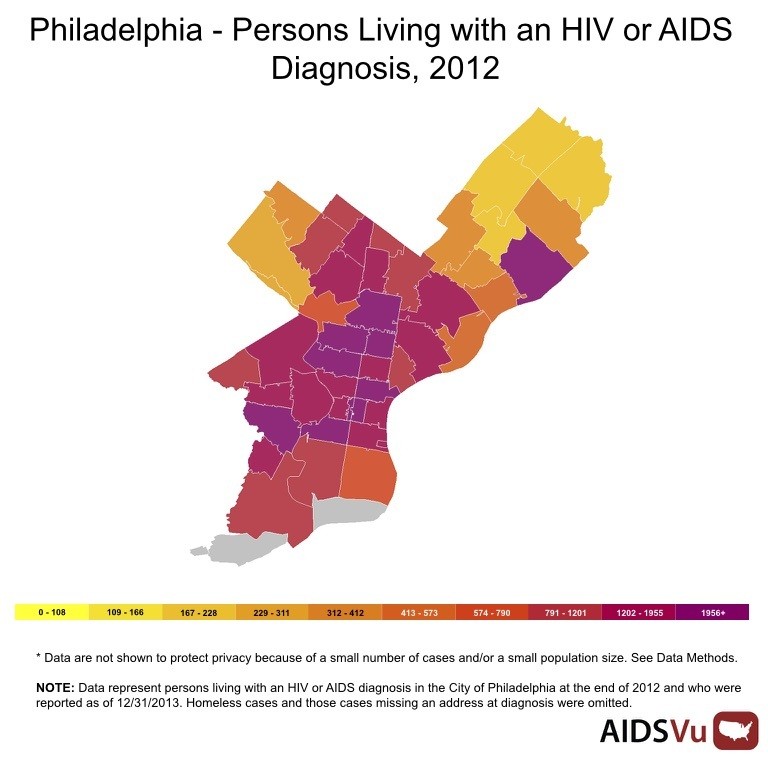 Nunn used AIDSVu data to zero in on neighborhoods with high HIV rates, then partnered with community leaders to launch Do One Thing, a door-to-door outreach program that offers free HIV and hepatitis C testing.
Most strikingly, this program was a success with men: The group, notoriously difficult to reach, has accounted for 60 percent of Do One Thing's on-the-street screenings. Since 2012, the program has screened approximately 6,500 people for HIV and tested about 2,500 people for hepatitis C.
But testing is only one part of the solution. "Where the rubber meets the road is linking people to care and keeping them in care and actually getting them on the life-saving medication that they need to be on," Wilson said.
Both Nunn and Dill run programs, dependent on grant funding, that address this next stage: helping patients navigate insurance issues, and providing transportation and other barriers to care.
"So many of our solutions have been focused on behavior change, and I think that's a real miss," Nunn said. "The drivers of the epidemic are social and structural in nature. Just asking people to change their behavior is not going to address the root cause of the problem."
June 27 is National HIV Testing Day. To find a testing location near you, visit AIDSVu.org.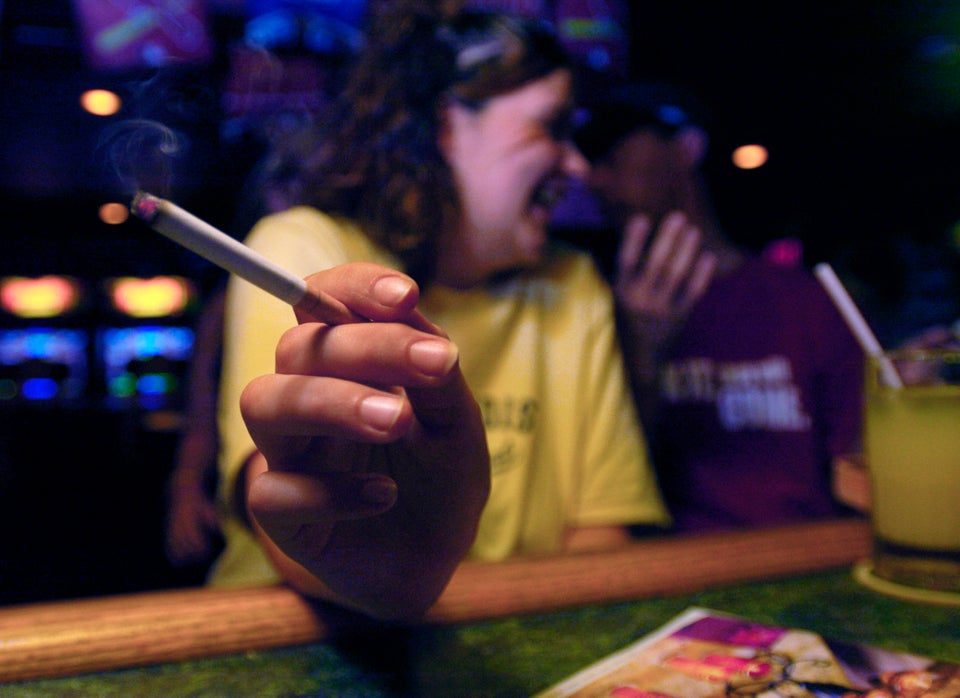 What Health Looked Like In 2005 And Today