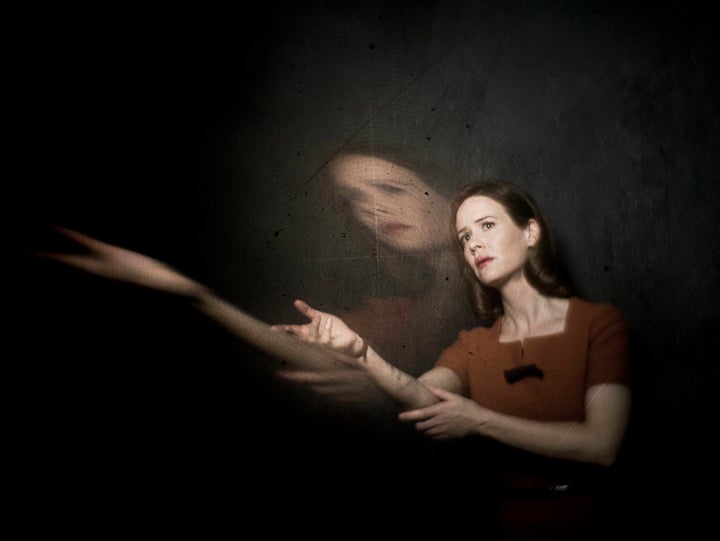 After an excruciatingly long break (nearly 10 months), "American Horror Story" has officially returned with a brand spankin' new season, aptly titled "Asylum." The change in location finds us at the Briarcliff Mental Institution for the criminally insane, run by Sister Jude (Jessica Lange) and Dr. Arthur Arden (James Cromwell), the latter of who appears to be the big bad this season besides Bloody Face. And trust me, "Bloody Face" is a kind name to describe that mug.
The episode opened in present day, following lovers Leo and Teresa (Adam Levine and Jenna Dewan, respectively) as they wonder into the now rundown and presumably abandoned Briarcliff. Teresa is an avid paranormal/hauntings enthusiast and Leo just goes along with her so that they can do it in every single haunted place they visit. I have a strong feeling that playing Leo was not that far of a stretch for Adam Levine, but he did OK nonetheless.
Once they get down to business in one of the examination rooms, they hear a bang, and of course Teresa wants to go check it out. They wind up at this locked door and the only way they can see in is through a slot in the door that was used for food. After being promised a blow job, Leo opens up a night vision app on Teresa's iPhone (does that actually exist? Is it expensive? Asking for a friend. He might really want it.) and peers into the opening. Some thing pops up and completely rips off Leo's arm. Teresa goes running to get Leo's phone from the car and encounters who I'm assuming is Bloody Face, and the episode ends. But let's backtrack a few years to 1964 ...
Kit Walker (Evan Peters) is a humble gas station attendant. He is also married to a black woman named Alma (Britne Oldford, MTV's "Skins"), which at the time is something that was seen as relatively taboo. His "friends" refer to her as a "maid," but his love for her trumps any crap he receives from others. He comes home, she cooks dinner, they have sex, and then aliens decide to show up. Wait, what? Yeah, I know, right? Aliens! They totally killed Alma (presumably) and probed Kit! Crazy, no? That's "AHS" for you.
They didn't show the aftermath of the alien visit, but what I can get from it is that they discovered Alma's body and the way she was found matches a notorious serial killer's method. Is that right, or did something just go completely over my head? Anyways, they ship Kit off to Briarcliff after being deemed the notorious serial killer "Bloody Face."
At Briarcliff, there are many faces to get familiar with. Shelly (Chloë Sevigny, "Big Love") is a nymphomaniac (or a wood nymph, according to Sister Jude) who just cannot help herself. Grace (French newcomer Lizzie Brocheré) was convicted of murdering her family, which she denies, and she comes to the side of Kit. Monsignor Timothy Howard (Joseph Fiennes) holds the hidden affection of Sister Jude. Sister Mary Eunice (Lily Rabe) is a sensitive nun who aids Dr. Arthur Arden in performing unauthorized experiments and keeping their mystery creature(s) a secret. Arden performs these experiments in order to "better understand" the evil present in the brain that allows people to commit such heinous acts. After he's done experiments, he feeds the remains to his creature/pet/thing.
Lana Winters (Sarah Paulson), an investigative journalist, finds herself as the newest patient at Briarcliff. After catching Lana snooping around the premises, Sister Jude deems it only necessary to have her committed in order for her to fully get a feel of the facility. And so that no one would come looking for her or call the authorities, she blackmails Lana's girlfriend, Wendy (Clea DuVall), into signing her into the care of Sis' Jude. See, in 1964, homosexuality was super not accepted and parents wouldn't want a lesbian teaching their children, so Jude uses this against Wendy, an elementary school teacher.
The premiere was mostly all set-up, having to introduce all these new characters to the audience. I'm not even fully sure where this season is going to go. There is a lot of territory to cover in terms of backstories and unearthing secrets. For someone who kind of loved the first season (anything with Connie Britton has my vote. P.S. I hoped you DVR'd "Nashville"), I have no trouble believing this one is going to be great. 
The opening credits are exponentially scarier than the first season's. Like, help me. Seriously.
Which do you prefer: Blonde Evan Peters or Brunette? I'm casting my vote for brown.
How hilariously sad was it to see poop thrown into Sister Mary's face and her bursting out in tears? Lily Rabe is a great crier. Not as good as queen crier Lea Michele, but still a commendable job.
Zachary Quinto: first billed, yet nowhere in sight. Boo.
So the alien thing definitely happened now that Arden found the probe in Kit's neck, right?
I kind of found the entire present-day scenario kind of pointless. Anyone else? 
Sister Jude's day dream of getting it on with Howard was kind of hot. I don't care that she's 63; Jessica Lange can obviously still get it wherever she goes.
The apparent ode to "Clockwork Orange" was much appreciated and enjoyed.
The editing, like the first season's, was really great and only aided in heightening the already creepy atmosphere.
Are you already betting on Jessica Lange's third Emmy win next year?

"American Horror Story: Asylum" airs Wednesdays, 10 p.m. ET on FX.
PHOTO GALLERY
"American Horror Story"
Calling all HuffPost superfans!
Sign up for membership to become a founding member and help shape HuffPost's next chapter