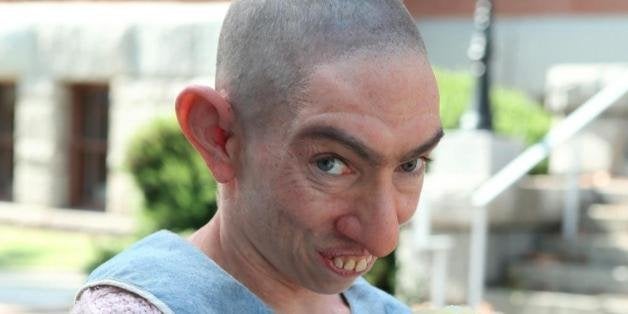 UPDATE: On Saturday, July 26, during the "American Horror Story" panel at San Diego Comic-Con, executive producer Tim Minear officially announced the casting of John Carroll Lynch for Season 4. Lynch's character name has yet to be revealed, but he will play one of the main villains in "Freak Show" and Minear said he will "scare the shit out of you." Character names for Jessica Lange, Kathy Bates and Evan Peters, as previous revealed in the unofficial leaked call sheet, were also announced at the panel. Emma Roberts will play Maggie, Angela Bassett's character will be Desiree Dupree and Michael Chiklis will play the strongman Wendell del Toredo. There still hasn't been confirmation or mention of Naomi Grossman's return as Pepper, but our hopes are high.
EARLIER: While we know a handful of details about Season 4 of "American Horror Story," there are still a lot of things left to speculation.
Remember Pepper, the microcephalic woman played by Naomi Grossman in "Asylum"? Apparently, she's back for "Freak Show," according to an Argentinian fan site's unofficial leaked call sheet for the fourth season's first episode. It would make a lot of sense for Pepper to return as one of the freaks since she was inspired by the 1932 cult film "Freaks" and real sideshow performer Schlitzie. Since Season 4 takes place before the 1964-set "Asylum," it seems possible that it may reveal Pepper's origin story and how she ended up a Briarcliff. Two other actors listed below Grossman on the call sheet, Christopher Neiman as Salty (Salty and Pepper sound like a circus act duo to us) and Ben Woolf as Meep, both look similar and like their characters may be other microcephalics or related to Pepper.
Other big reveals in the call sheet are that John Carroll Lynch from "The Americans" and "Body of Proof" will play Twisted Clown, and Grace Gummer, who had a small part in "Coven," will play Penny the Candy Striper. According to the call sheet, Lange's character will be Elsa Mars, Kathy Bates will play Ethel Darling, and Evan Peter's will apparently play her son, Jimmy Darling.
HuffPost has reached out to FX and the actors' reps for comment. We can only hope that this call sheet is real since it has us even more pumped for Season 4.
Support HuffPost
The Stakes Have Never Been Higher
Popular in the Community