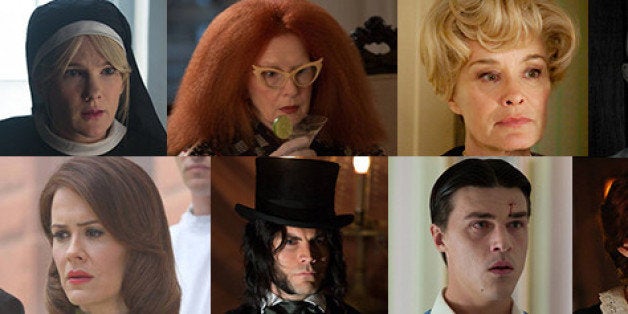 "American Horror Story" gives us the chance to watch a cast of actors reinvent themselves each season with some of the most terrifying, ass-kicking and cunning characters on television. But free of good and evil, or amount of screen time, who were the most well-written characters in the "AHS" universe? The ones who kept us on the edge of our seats, continually surprised us, and brought some of the most unnerving, charismatic and powerful storylines to life onscreen?
HuffPost Entertainment editors Erin Whitney and Ryan Kristobak ranked the top 25 characters, and no, not everyone is included, only the best of the best. (Obviously, spoilers lie ahead for the entire series.)
25. Queenie (Gabourey Sidibe) -- "Coven"
24. Derek (Eric Stonestreet) -- "Murder House"




23. Chester Creb (Neil Patrick Harris) -- "Freak Show"
22. Paul the Illustrated Seal (Mat Fraser) -- "Freak Show"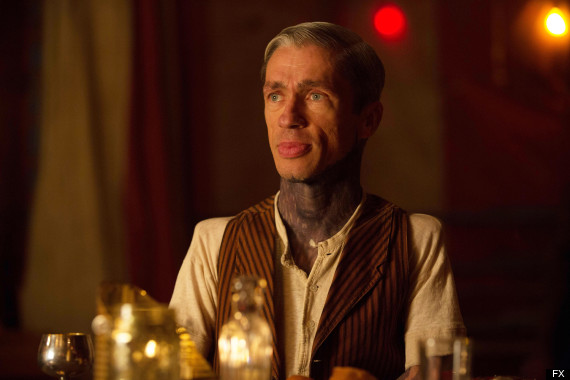 21. Nan (Jamie Brewer) -- "Coven"
20. Edward Mordrake (Wes Bentley) -- "Freak Show"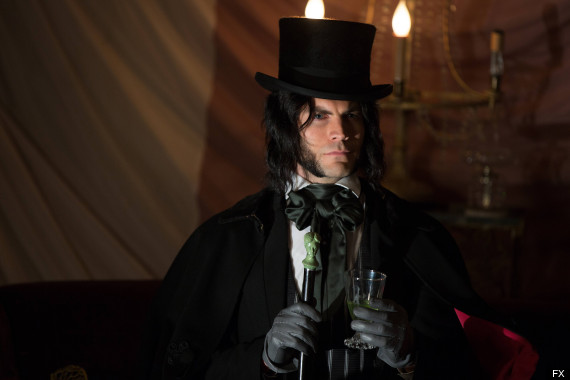 19. Marie Laveau (Angela Bassett) -- "Coven"
18. Fiona Goode (Jessica Lange) -- "Coven"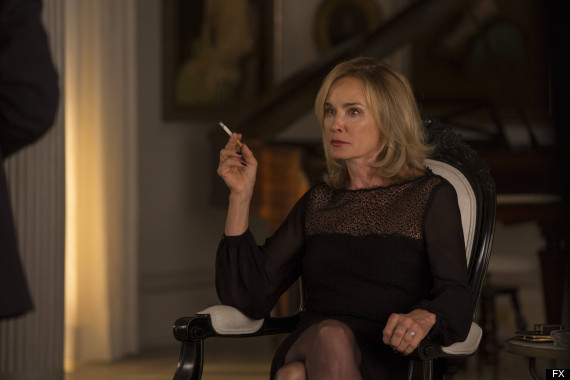 17. Johnny Morgan (Dylan McDermott) -- "Asylum"
16. Ma Petite (Jyoti Amge) -- "Freak Show"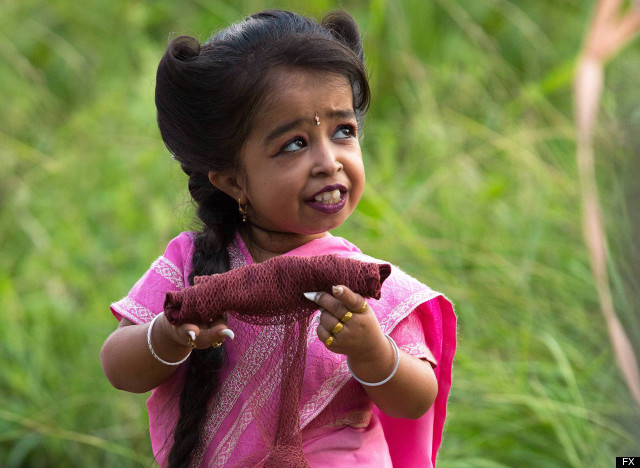 15. Stevie Nicks (Stevie Nicks) -- "Coven"

Shawls on shawls on shawls. --Ryan Kristobak
14. Sister Jude (Lange) -- "Asylum"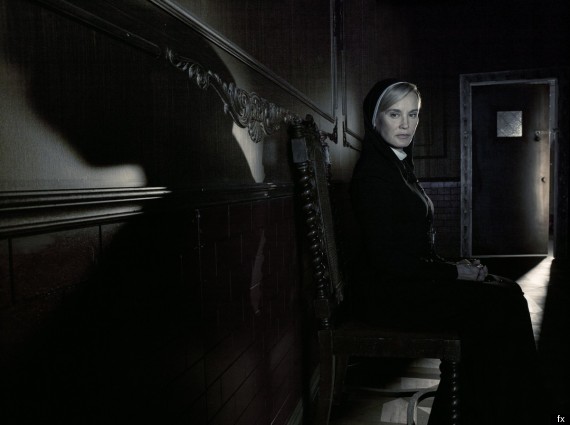 Jessica Lange's Sister Jude is the merciless foundation of Briarcliff Manor, the intolerable do-gooder who we find out is only torturing others to atone for her own past sins. While Lange's other "AHS" characters have an unwavering strength and confidence about them, Judy Martin is her most human, a woman who is cracked at her core only to be broken down entirely. While Lange's fierce, insult spewing is a trademark to her characters, it's the ultimate innocence of Sister Jude that makes her Lange's most lovable by the end of "Asylum." --Erin Whitney
13. Charlotte Brown/Anne Frank (Franka Potente) -- "Asylum"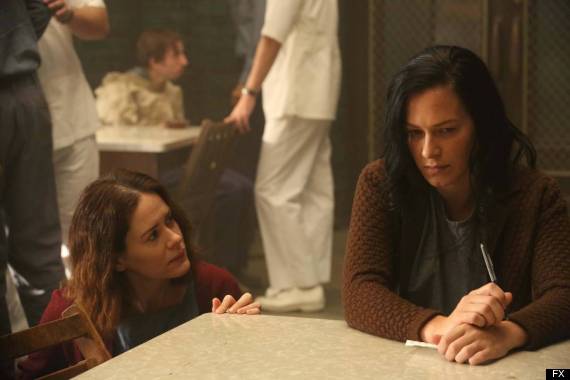 Charlotte Brown's time in "Asylum" was brief, but her fleeting presence was one the first jolts that let us know that this season was going to be exceptional. Through both of her episodes, the struggle to determine whether she really "is" Anne Frank is a tough tug-of-war, ending with a clue that propels the ultimate truth behind Dr. Arden. --RK
12. Moira O'Hara (Alexandra Breckenridge/Frances Conroy) -- "Murder House"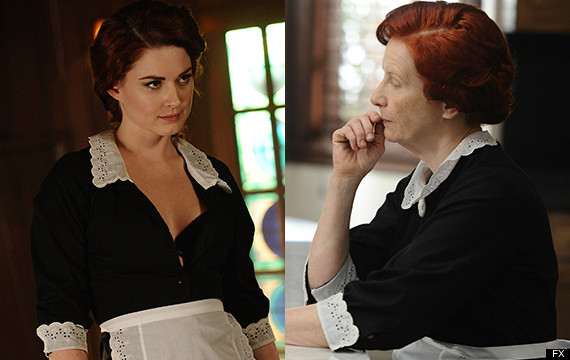 Existing in a dual-dual state -- she is young and old, she is with the living and with the deceased -- Moira is like the glue that holds the Murder House together. While she shows compassion to Vivien, she also bites off Joe Escandarian's penis, and that's just crazy. --RK
11. Dr. Arden/Hans Gruper (James Cromwell) -- "Asylum"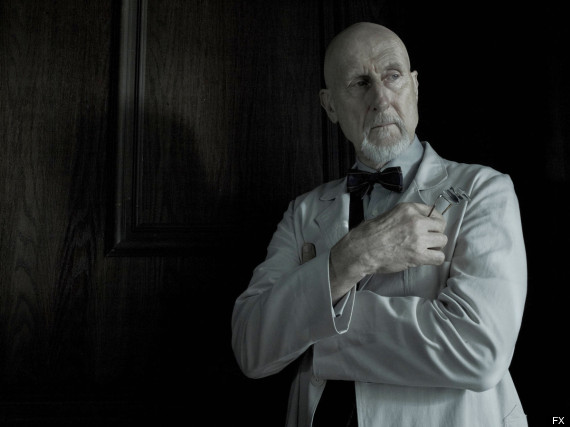 Dr. Arthur Arden, what a sicko. The former Nazi war criminal, formerly known as Hans Gruper, had a nasty past in Auschwitz (if you believe the Charlotte Brown story), but he became even more horrible when "Freak Show" revealed he was the one responsible for removing Elsa Mars' legs. --Erin Whitney
10. Delphine LaLaurie (Kathy Bates) -- "Coven"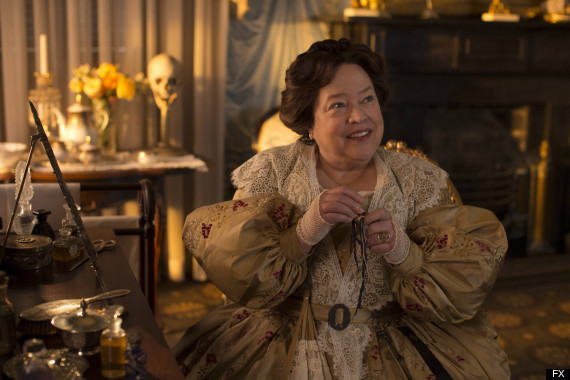 Delphine LaLaurie is almost inarguably the most sadistic, want-to-watch-you-die-so-bad character in all of "AHS." Yet, somehow, during her distantly affectionate moments with Queenie, or when her severed head is just sitting on that resting tray, you almost wish she could finally achieve death (albeit a most painful, deserving one). --RK
9. Myrtle Snow (Conroy) -- "Coven"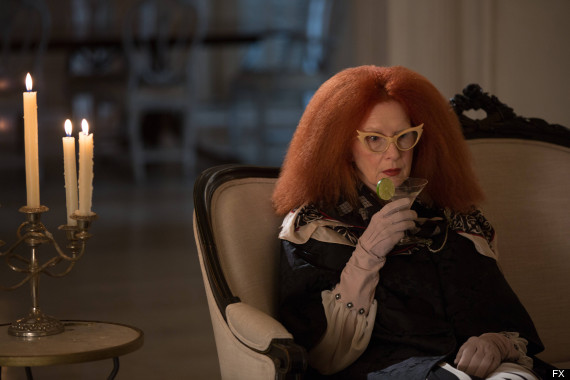 Myrtle Effing Snow, ladies and gentleman. "Coven" may have been overflowing with unfinished sub-plots and nonsensical side tours, but there was always the quick-witted, red-headed queen of fashion. Whose last words are a French fashion house and who can scoop out eye balls like it's their job? Don't be a hater, dear. --EW
8. Twisty (John Carroll Lynch) -- "Freak Show"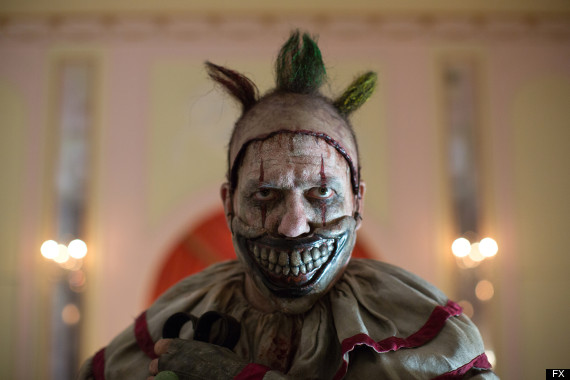 It takes a lot to go from "most terrifying clown of all time," to the character that deserves all of the audience's sympathy. Manic and absolutely unpredictable, Twisty's mere presence is enough to send shivers down the most rigid of spines; give him a knife, and it's probably best just to turn the TV off. --RK
7. Dandy Mott (Finn Wittrock) -- "Freak Show"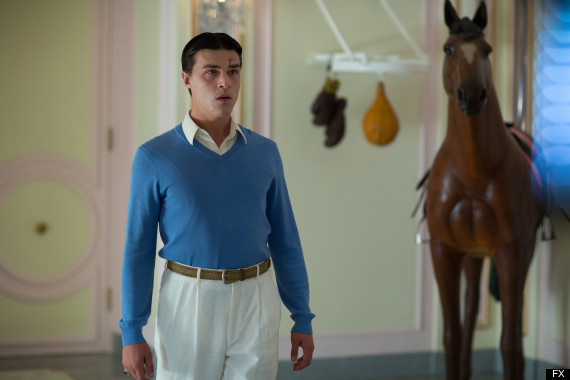 Whether you were a fan of "Freak Show" or got bored by the end, Dandy was still one of the most wickedly entertaining characters of the season. He brought a puerile essence to the psychopathic killer trope "AHS" has employed each season, and emanated it completely, from his curled bangs to his pigeon-toed walk. --EW
6. Tate Langdon (Evan Peters) -- "Murder House"

One of the strongest aspects of "American Horror Story" is its delicate balance of horror and humanity, its ability to showcase the ugliest, most depraved depths of characters whom we learn to love and accept for their flaws. This was Tate Langdon: everyone's favorite misunderstood rebel with a big heart. Sure, he was essentially a bad guy, but the fantastic writing behind his character was that by the time we discovered the truth, we felt like we could actually understand him. --EW
5. Pepper (Naomi Grossman) -- "Asylum" / "Freak Show"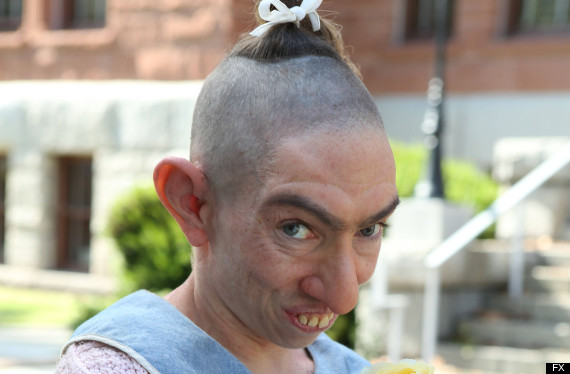 Seriously, what isn't there to love about Pepper? Wrongfully committed for a crime, Pepper is nothing but a silent knight of good intentions, and after she is abducted by aliens (awesome), she proves that she is capable of standing up against even the evil men that surround her. --RK
4. Constance Langdon (Lange) -- "Murder House"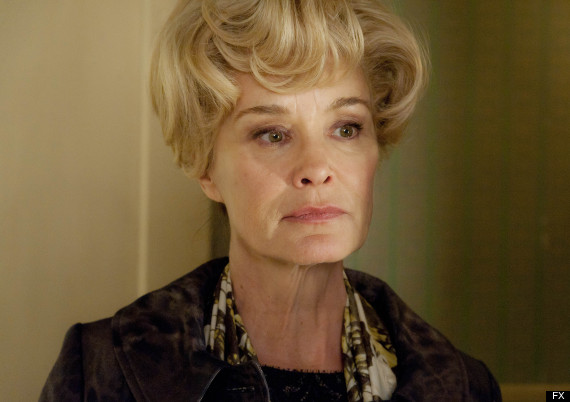 Like most of Jessica Lange's characters throughout "AHS," it is difficult to determine the true nature of Constance throughout the season. On one end, she is rude, duplicitous and has no problem killing. On the other, she loves her children very much, has suffered greatly and does help out the Harmon's here and there. However, what truly elevates Constance is her endless stream of insults that often fly over the heads of those they are directed at. --RK
3. Dr. Oliver Thredson (Zachary Quinto) -- "Asylum"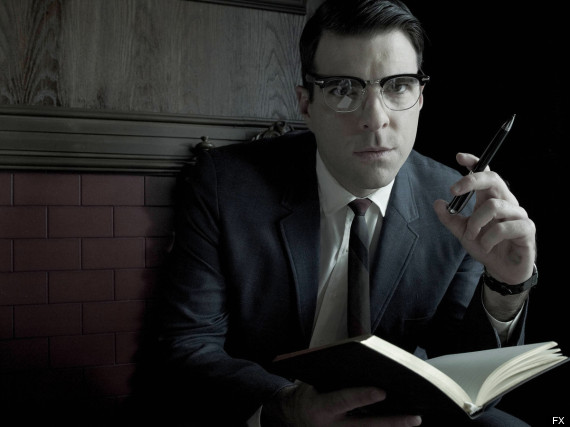 There's a surplus of psychotic murderers in "AHS," but none as sickeningly disturbed, sociopathic and efficiently pristine as Dr. Oliver Thredson, aka the original Bloody Face. With his mix of charm and good looks, it was impossible for any character or viewer not to fall for Thredson's facade, but even after his true identity was revealed he remained the most captivating presence on screen. If anything, it's also a testament to how badly Murphy needs to bring Zachary Quinto back. --EW
2. Sister Mary Eunice (Lily Rabe) -- "Asylum" / "Freak Show"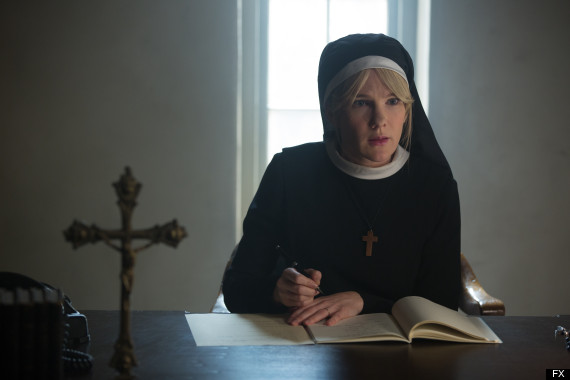 The transformation of Sister Mary Eunice is easily the most exciting of the series so far. From the timid, subservient, but kind-hearted bystander, to the sexual, impenetrable possessed murderer, she became one of the most intriguing characters in a season that seemed like it would be rather static for her. We'll never forget the moment she calmly let out, "I'm the devil." --RK
1. Lana Winters (Sarah Paulson) -- "Asylum"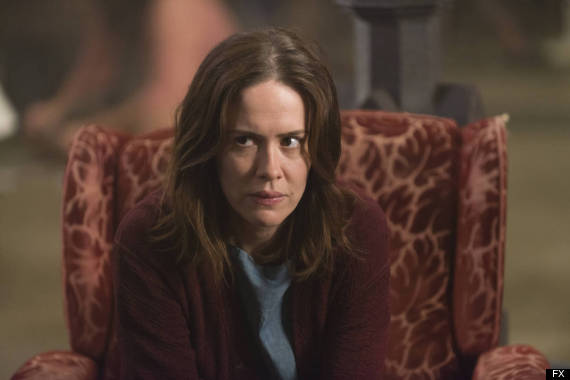 Selecting the number one, very best "American Horror Story" character ever is no easy task, and one we debated for quite some time. But when it really comes down to it, Lana Banana is the best hero, the most admirable survivor, and the most deeply human in Ryan Murphy's twisted universe. Lana went into Briarcliff with a mission and while every imaginable horror (some we honestly can't even rewatch) impeded her, she triumphed and lived to tell the tale. She's tough, but she's no cookie. --EW
BONUS: Infantata

Before You Go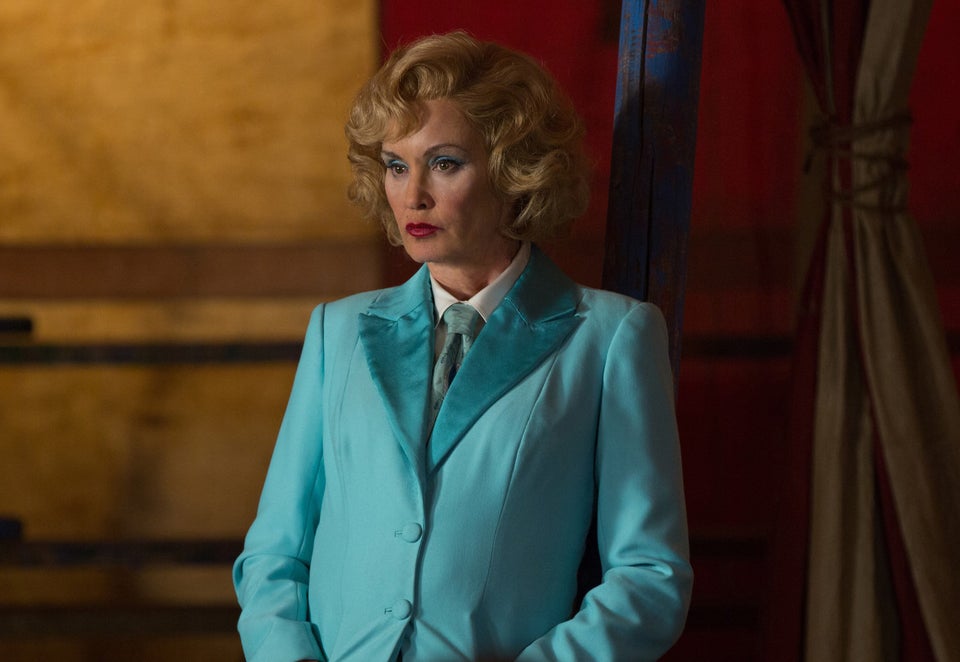 "American Horror Story"
Popular in the Community