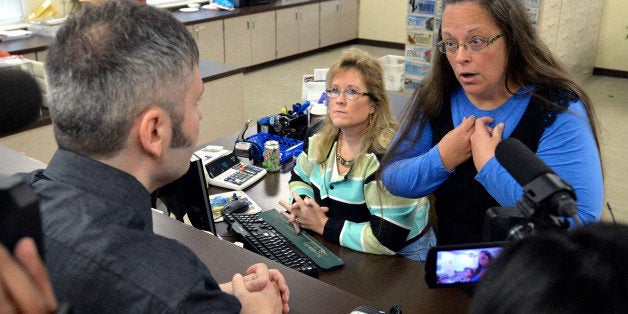 Ryan Murphy, creator and executive producer of American Horror Story, recently stated that he is considering two seasons of his anthology series in the coming year. The first, American Horror Story: Hotel, is coming soon. The second season has not been announced.
For each season in the show's history, Murphy has explored different genres of horror with such locales as an insane asylum and a circus freak show. A company of actors take on new challenges as they take on new roles.
As Murphy mulls over ideas for next year, I submit the following concept that is based on a real-life American horror story that is playing itself out in the news at this moment. Picture this:
AMERICAN HORROR STORY: CLERK
Locale: Rowan County, Kentucky
Kathy Bates stars as Kim Davis, a devoutly Christian Kentucky county clerk. Davis appears normal but she is secretly infected with a brain-eating disease which steals her logic and forces her to suck the dignity out of homosexuals. Her language is peppered with colorful phrases like "God's authority," "heaven and hell," and "no one can unring that bell." Bates has explored similarly maniacal characters in the past. Bates' most famous creation, Annie Wilkes in Misery, looks and acts like Davis. The two characters share identical wardrobes of drab jumpers and rompers.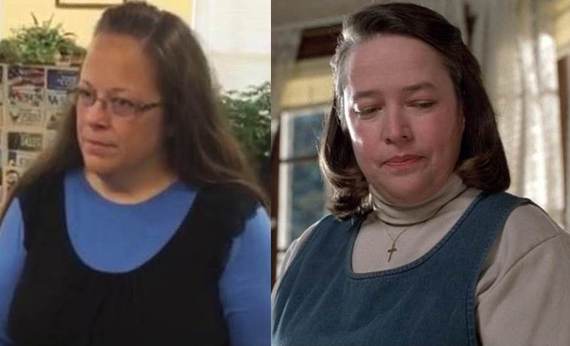 Bates is a lock for an Emmy.
Evan Peters and Matt Bomer are David and David, an unsuspecting gay couple who want to marry. The two men return to the county clerk's office again and again to obtain a marriage license but, in a horrific twist of fate, are rejected and humiliated each time. Like Sisyphus, they repeat their task day after day, never able to reach their goal. Outside the clerk's office, the couple is jeered by crowds of zombies who have also been affected by the brain-eating disease.
Frances Conroy is Miriam Mouse, one of Davis' deputies. The unassuming Mouse sits wide-eyed and silent as Davis wreaks her havoc on the gay and lesbian couples who appear in her office. It is unclear whether Mouse is affected by the brain-eating disease or is under the spell of Davis' sorcery. She is simultaneously frightened and defiant as she sits at Davis' side.
Sara Paulson plays sassy news reporter Lois DeLane. Paulson's character reports the story in an unbiased and fair way, not realizing that she has been sucked into Davis' diabolical plot to be portrayed as a Christian martyr. DeLane contributes to the ever-expanding news coverage, unknowingly ensuring Davis a lucrative book deal and lecture tour after she is fired from her job as county clerk. Angela Bassett plays Paulson's love interest, Lola Luscious, a woman who will do anything to get the hell out of Kentucky.
Dennis O'Hare is Kentucky governor Steve Beshear. Beshear's nightmare begins when he sticks his head in the sand and then cannot remove it. He remains powerless as the horrors swirl around him.
The Twisted Bible Ghosts, portrayed by Lily Rabe and Chloe Sevigny, are tormented souls who appear to Davis each night, whispering Bible quotes in her ears. Rabe's character urges Davis to hate gays because Jesus wants it that way. Sevigny's ghost reminds her that Christianity has something to do with loving thy neighbor.
Finn Wittrock is a two-headed character this season. The two heads, Bryan Fischer and Matt Barber, nod in agreement with everything Davis says and egg her on with encouragement:
Wes Bentley, James Cromwell and Dylan McDermott play Davis' three former husbands. Michael Chiklis is her current husband, Joe Davis, a self-proclaimed "old redneck hillbilly." The former husbands, appalled by Davis' hypocrisy, shake their heads in disbelief. Joe drinks himself blind and carries a rifle.
Zachary Quinto is Davis' gay hairdresser, Nifty LaRue. Davis will no longer make a hair appointment with Nifty because Jesus said, "The gays shalt not coif." Nifty is left frustrated as he watches Davis' unkempt hair on the news night after night.
Naomi Grossman returns for a third season as the popular character, Pepper. Pepper appears in the county clerk's office to renew her driver's license but Davis commits her to an insane asylum instead.
It is unclear whether Jessica Lange will return for this season.
Note: All characters appearing in this work are fictitious. Any resemblance to real persons, living or dead, is purely coincidental.
Also on The Huffington Post:
PHOTO GALLERY
13 Things The Bible Forbids (That You're Probably Guilty Of Doing)
Calling all HuffPost superfans!
Sign up for membership to become a founding member and help shape HuffPost's next chapter