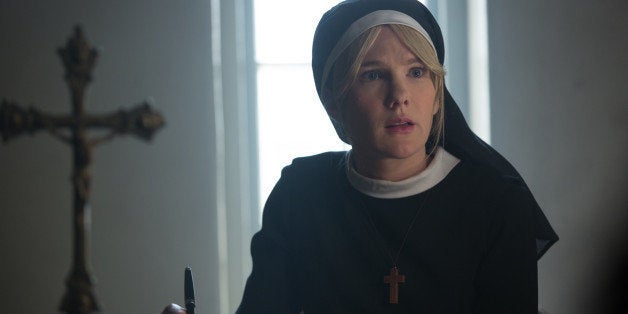 When it was announced that Lily Rabe's Sister Mary Eunice would appear on "Freak Show, it became clear that Season 4 would connect to Season 2's "Asylum." Wednesday night's mid-season finale finally connected the dots between Elsa Mars' freak show and Briarcliff Manor from "Asylum." The episode revealed Pepper's entire origin story, from when she first met Elsa to how she arrived at the asylum. In present day of "Freak Show," which is set in Jupiter, Florida, in 1952, Elsa finds Pepper's sister and asks her to take Pepper in so she can finally have a real family.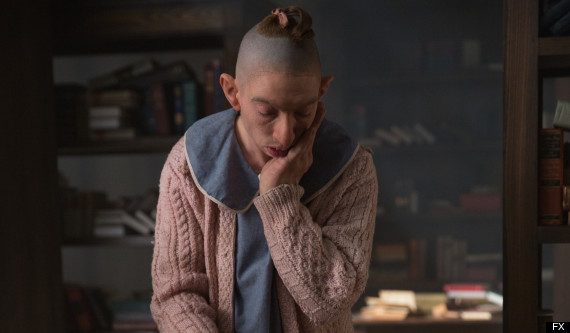 But then "Freak Show" jumped ahead 10 years to 1962 in Massachusetts -- let us remind you that Briarcliff was purchased by the Catholic church and converted into a Sanitarium that year, according to "Asylum." In the scene, Pepper's sister sits across from Sister Mary Eunice (she's back!) and tells her that Pepper murdered her son. In Season 2 of "AHS," Pepper had been accused of drowning her sister's son and cutting his ears off (but it was actually her sister's husband who committed the murder). The "Freak Show" mid-season finale included this twist: Pepper's sister and brother-in-law both conspired against her, killing their own son to have her locked away.
The episode ended with Pepper's arrival at Briarcliff where she meets Sister Mary for the first time and the God-loving nun (remember, this is before her demonic possession) welcomes her with kindness. Pepper looked down at an old Life magazine, dated July 6, 1958, to see Elsa Mars -- a TV star -- on the cover. No matter how Season 4 of "American Horror Story" ends, it appears that Elsa's dreams of stardom eventually come true.
"American Horror Story: Freak Show" returns Jan. 7 with a mid-season premiere. The episode features guest star Neil Patrick Harris and the return of "AHS" alum Jamie Brewer.
"American Horror Story: Freak Show" airs on Wednesday at 10:00 p.m. ET on FX.
Before You Go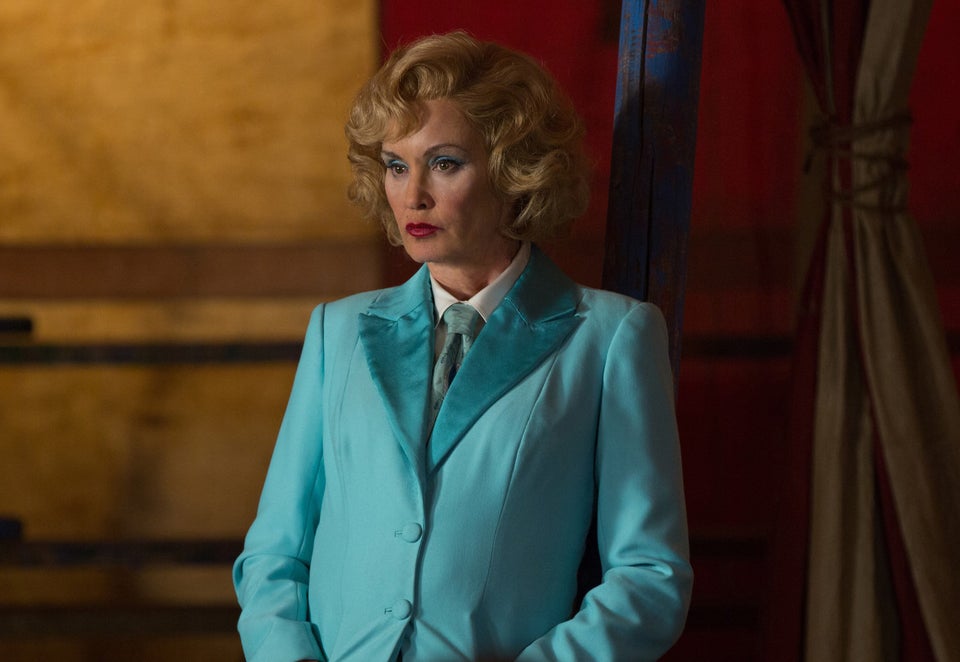 "American Horror Story"
Popular in the Community