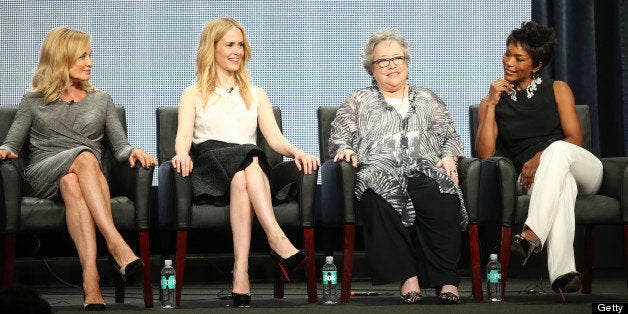 Four of the FX drama's leading ladies -- Sarah Paulson, Jessica Lange, Angela Bassett and Kathy Bates -- took the stage along with "American Horror Story: Coven" executive producer Tim Minear to reveal some Season 3 details, even though they're only two days into filming.
Paulson announced she'll be playing Cordelia, the daughter of Lange's character Fiona. "Isn't that a nugget? Chew on that for a while. That's tasty," Paulson joked. Later, Minear pointed out that Paulson's character is named after one of King Lear's daughters, not Charisma Carpenter's character on "Buffy: The Vampire Slayer."
Lange also revealed that the show moves "back and forth in time so it encompasses a lot of different stories," and that Fiona will be a witch. Minear noted that not all of the "American Horror Story: Coven" characters will be witches, despite the title.
"All these women are playing very iconic, very strong female characters," he added. "The cast is off-the-hook amazing. FX is often thought of as a boys' network, but if you look at this murderer's row of actresses, this is going to be the most friendly place for women on television this season, until we start doing that thing we do that's not friendly."
"It's been interesting being in New Orleans because there's such a regard and respect for who she was," Bassett noted of Marie Laveau. "She was a very influential person in the city. My character's based loosely on her … I read a novel by Robert Tallant called 'The Voodoo Queen' ... Very interesting. Yesterday, I was filming in the French Quarter, there's some Vodouns who showed me a few things, but I don't know if I need all that right now. I don't know exactly where it's going so I'm remaining open, just picking up little things ... talking to folk from [New Orleans] and getting a take on how they see her or what they feel about her, trying to sense who she was and her power in the 1800s as this black Creole woman."
Minear also revealed that it was Lange's idea to set Season 3 in New Orleans. "We talked about what we wanted to do this year, we talked about witches ... Jessica had talked about New Orleans, and it made sense to set this show there," he said. "We're taking this idea of Salem and those witches fleeing to the south at some point."
Minear added that unlike "American Horror Story's" psychologically disturbing "Asylum" season, the third season will be a bit more comedic. "The fun quotient is higher this year," he said. "Last year wasn't as fun, I would say. This year is a drama, but there is a lot of humor and we're embracing a kind of velocity and fun with the series ... I feel that it might be a little more welcoming to an audience."
However, "American Horror Story: Coven" will still be serious. "Some of the bigger themes this year are oppression of minorities of all kinds, and within that idea, minority groups going after each other and doing the work of the larger culture," Minear said. "While there is a strong feminist theme that runs throughout 'Coven,' there are themes of race and themes of oppression, and themes of family -- especially mothers and daughters."
Bates recounted how she talked to Lange after seeing Season 1 of "American Horror Story." "'You gotta get me on that show,'" she remembered telling Lange. "I thought it would be a couple episodes or whatever." When Murphy pitched "Coven" to her, Bates said she felt the little kid inside of her jumping up and down. "It's delightful to be among such a glorious group of actors ... I'm going to go on record and say we're going to knock your socks off."
"American Horror Story: Coven" premieres in October 2013 on FX.
PHOTO GALLERY
"American Horror Story"
Calling all HuffPost superfans!
Sign up for membership to become a founding member and help shape HuffPost's next chapter