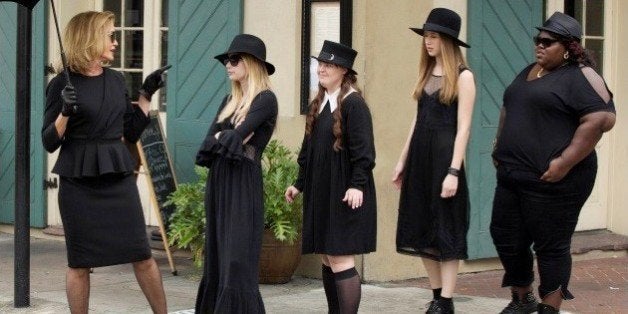 As expected, things finally got exceptionally ridiculous on "American Horror Story: Coven" in last month's mid-season finale. From decapitated heads to a shotgun massacre to eyeball swapping, "Coven" went there -- that ever familiar WTF territory fans have come to appreciate.
Thank the witch gods that it returns this week with episode 10, "The Magical Delights of Stevie Nicks," so our deranged appetites can finally be satiated. There are still a handful of loose ends that need explaining. Luckily Ryan Murphy has promised to resolve many of them. However, as we've come to learn, nothing is permanent or as it seems in the witchy world of "Coven." So what are the lingering queries that still remain?
Warning: Some images are very graphic.
Is Queenie dead? When Hank went on a rampage in Marie Laveau's salon, Queenie shot herself to kill Hank and save Laveau. The question remains, can human voodoo dolls die? Gabourey Sidibe told EW she didn't know her character's fate, but we have a feeling she isn't gone for good.
What will happen to Madame Lalaurie's head? ... Last episode, Lalaurie's bodiless head was left sobbing over civil rights footage as Hank's shotgun rang out downstairs. Will anyone come find her? Or is she condemned to view Queenie's racial history film festival for eternity?
... Speaking of, has Lalaurie's racism been cured? She did shed some tears after all. But we don't think "Roots" and Odetta's "Oh Freedom!" can cure centuries of hatred.
Can Fiona and Marie Laveau really get along under the same roof? At the end of "Head," Laveau, the only voodoo witch standing, gave in to Fiona's alliance proposal and moved into the house with the coven.
But do you even have to ask who's really in charge?
Will the coven be ticked that Queenie betrayed them? Let's not forget that Queenie totally switched teams last minute to join the voodoo crew. If she's still around, Madison and Zoe will definitely chew her out.
What other kitchen gadgets will Myrtle ruin for us? We'll never look at a melon-baller the same again..
Is Joan coming back? While we'd love to see Patti Lupone and Stevie Nicks in a sing-off -- entertainment during the Seven Wonders test? -- the religious zealot (and two-time murderer) probably won't return. But worst case, some of her methods could come in handy against witch hunters.
And most importantly, WHO IS THE NEW SUPREME?!
Whatever happens, we're sure Murphy will throw some curve balls at us.
"American Horror Story: Coven" returns to FX on Jan. 8 at 10 p.m. EST.
REAL LIFE. REAL NEWS. REAL VOICES.
Help us tell more of the stories that matter from voices that too often remain unheard.