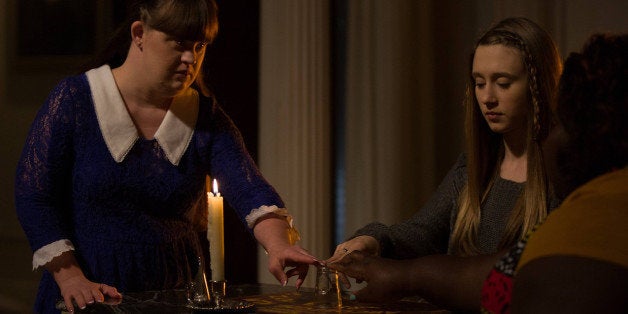 The last thing we need on "American Horror Story: Coven" is another character, but our non-wish (as is usually the case) is Ryan Murphy's command. We'd been hearing things about this Axeman, and how we was going to be one of the central villains of this season, but since we hadn't seen hide nor hair of him thus far, I thought he was going to be a passing fancy, maybe the focus of one episode. Unfortunately, Zoe is a terrible witch, and due to her LYING TO A MALEVOLENT SPIRIT ABOUT RELEASING HIM, he tortures poor Cordelia (because yes, this woman needs to be tortured more) and is released into the living, breathing world. But I'm getting ahead of myself.
The flashback to Robichaux Academy in 1919 that starts out the episode is probably the best one so far. Seeing the group of young witches band together and stab the life out of The Axeman was highly entertaining, and I personally enjoyed the amazing writing of The Axeman's little pre-death vignettes. (As an aside, I had no idea that the girls' ringleader was Meryl Streep's daughter, but holy doppelgänger! Even in my notes, I wrote "young Meryl Streep." Turns out acting skill can be hereditary.)
While I loved the introduction to this episode, there wasn't a lot to love about the rest of it. Three scenes in particular stand out, but the rest, as far as I'm concerned, could have gone in the dung heap. For a show about witches, these women certainly don't use their powers very often. Even Queenie's human voodoo magic is getting less and less fun. Abilities like reading minds and resurrection are cool, obviously, but there isn't much of a visual component to them. "Asylum" was a literal assault on the senses, and in "Coven," we get more action in the dialogue than we do from the actual magic. This needs to change -- and quickly -- if viewers are going to maintain interest. Luckily, as I stated before, there are those spellbinding scenes that you can't look away from interspersed with the other, more dreary interchanges.
One such boring scene is when Zoe, Queenie and Nan use the Ouija board. C'mon, seriously? They're supposed to be witches! Queenie and Nan wuss out, leaving Zoe to communicate with The Axeman alone. On her desperate hunt to find Madison, she promises The Axeman's release from the spirit world/The Academy in exchange for information on where she is. When the board spells A-T-T-I-C, Zoe rushes up to find Madison's decomposing body in the trunk. The girls manage to hold Spalding prisoner, and even attempt to torture him into "talking" via Nan. A burning spatula to the face? Boring. Surely, with human voodoo powers, Queenie could think of something better. And what of Zoe's powers? What are they? More importantly, where are they? She didn't even use ONE power in this episode, unless you count her looking confused as a power. Oh, no wait. Zoe uses her abilities to choose the correct book on the bookshelf. My mistake.
It's no coincidence that the best scenes are with the acting veterans. It looks like Fiona has finally caved and decided to receive chemotherapy; she claims she's getting it so she can be there for Cordelia, and I do believe her on some level, but I think her ultimate selfishness and inability to sacrifice power are what's motivating her. We learn that she's gaining powers she never had before -- in this case, mind-reading. She enters the minds of the people around her, and even comforts one of them. It's a sweet scene and a touching side of Fiona that we hadn't really seen before.
My favourite scene of the episode is when Cordelia arrives home from the hospital, bruised, blind, and straight-up pissed. Her new power has her on-edge, and Hank is literally scrambling to cover his tracks. Fiona is there, helping her daughter, and she too gets an earful: "No roses! I need chrysthanthemums!" Cordelia's botanical preferences made me laugh, but her no-nonsense attitude made me smile with glee. When she delivers a Grade-A vitriolic tell-off to Hank, and then hits him with her walking stick (I think in between his legs) and forces him to leave the room (opening and shutting the door with her mind, no less), I was practically cheering. Finally. Get that loser out of here! Cordelia is none-too-pleased when she discovers that "Auntie Myrtle" was burned alive, either. Fiona smartly leaves the room to let Cordelia mourn. I guarantee that is going to be quite the bone of contention between mother and daughter.
The last good scene is between Marie Laveau and Hank at her salon. We finally learn about their connection: he's a witchhunter out to kill all the witches at Robichaux. That's why he shot the redhead last week, though it's still unclear what's in it for him. I'll admit that I listened to Marie's dialogue twice over, simply because hearing her say things like "Do I look like The Taliban to you?" and "When I plant a fat-ass cracker bitch, I expect her to stay planted, not come back up like a damn ragweed!" makes up for the lacklustre vibe of the rest of the episode.
Seeing Misty in the bayou is fulfilling on some level, though, as she waters her plants and Myrtle's charred corpse. Is there anything that swamp mud can't do? FrankenKyle randomly shows up after disappearing on Halloween -- where has he been all this time? Who cares? -- and proceeds to wreck her cabin after having flashbacks of his mother's abuse. (Evan Peters got the short end of the stick this season. I had to hit the mute button because his yelling, screaming and Hulk smashes got so annoying.) He commits the ultimate sin by throwing Misty's radio to the ground and "breaking Stevie." Zoe miraculously shows up in the nick of time (hmm, maybe that's her power) and takes them both back to Robichaux, where she essentially forces Misty to resurrect Madison.
That happens (sigh), and Madison, like the other resurrected bodies, isn't quite right. Her first request is for a cigarette after hacking up swamp mud and blood, so at least her self-destructiveness is still on track. Misty's in a rush to leave (and fills her bag with anything that isn't nailed down) as she senses "something foul in this house." She also lets Zoe know that the girls aren't her tribe. Wonder who they'll be?
The "something foul" is The Axeman, who's now present in Cordelia's room. After chasing Cordelia around with an axe (I didn't get this -- is he corporeal? How is an invisible spirit grabbing Cordelia and breaking things with an axe? And why can't he break down the door and just leave the house?), Nan, Queenie and Zoe finally cast a spell to release him. He walks out into the streets of New Orleans, heads to a bar and sits next to none other than ... yep, Fiona. Evil, meet evil. Nice to meet you. Now let's see more powers, less sleepover activities, and witch this thing up!
Witch, Please: (every week I'm going to award the witchiest witch of them all) By process of elimination, it has to be Cordelia with her door slamming, angry diatribes and "sight." No one else really did anything. At all.
Other Random Thoughts:
Marie and Hank! It's like "Breaking Bad" all over again. We need new names for TV characters.
Did anyone else catch that magazine article about Madison Montgomery that Zoe pulls out of the box? The tagline is "I Do What I Want" -- classic.
I hate, hate, hate when people rip IVs from their arms on TV. I cringe and look away every time, even though I know it's fake.
Ryan Murphy has confirmed that Stevie Nicks will be making an appearance on the show. Absolutely cannot wait for that.
So who is the next Supreme? We're really left guessing here. Someone commented last week that Zoe has to be a red herring, and I think I agree with that. It's too obvious. My new frontrunners are Cordelia and even Fiona herself staying Supreme. No argument for any particular character is wholly convincing. What do you guys think?
Viewers have been quite vocal about the lack of man bum this season. There, you got it. Happy now?
You commenters are really great, and are giving me lots to think about post-recap. I see so many different angles because of you, so please, keep it clean and keep it coming!
Calling all HuffPost superfans!
Sign up for membership to become a founding member and help shape HuffPost's next chapter