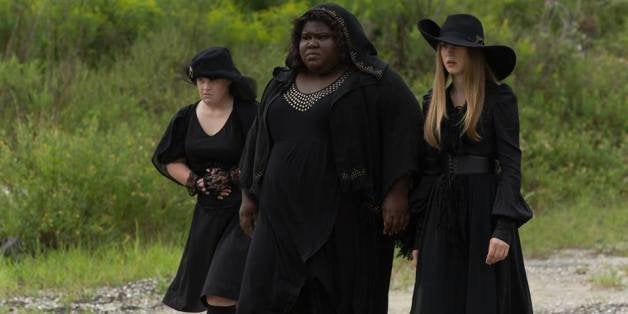 The Jan. 8 episode of "American Horror Story: Coven" saw the demise of a handful of characters and left us wondering who's gone for good and who's due to be summoned back -- especially since death means nothing in the world of witches.
Will Misty die? Last night saw Madison burying Misty alive. Murphy gave a teasing answer saying, "How does one get out of a tomb? Can she get out of it or is she buried alive? We'll revisit her torment as the clock is ticking." Hey, Beatrix Kiddo did it and she didn't even have powers! Plus, couldn't Misty just bring herself back to life anyway?
How about Nan? Sadly, our favorite mind reader is never to return. Murphy said, "Nan is sadly gone for good." At least she had her badass moment killing Joan.
Which brings us to Joan. She may not be a witch in the magical sense, but the term definitely applied to Patti Lupone's twisted murder. Will she be back? "That is the end of Patti LuPone's character this season," Murphy said. But he did seem to hint that she could be back next season, should the concert vocalist's schedule open up again.
Is this the last we'll hear (literally) of the White Witch? Stevie Nicks fans, rejoice! Murphy said the White Witch will return in the cold opening of the season finale. And when asked if she'll sing again Murphy said, "Oh yes! Yes! It's a Stevie Nicks music video extravagaaaaanza!"
What's up with Queenie, is she officially gone? Don't worry, Murphy's assured us that she'll get a proper goodbye. "Queenie is in the next episode. We find out what happens to her," Murphy said.
And Lalaurie? Head's up y'all (no pun intended), next week's episode is all about Lalaurie! Murphy told EW, "Next week is Kathy's heaviest episode that we've ever done with her on the show. It's a great episode for her. It's a great Kathy Bates gets her revenge moment." Apparently the episode will explore the origin story of Madame Lalaurie and give us a look at how Lalaurie became such a murderous monster.
"American Horror Story: Coven" airs Wednesdays on FX at 10:00 p.m. EST.
Calling all HuffPost superfans!
Sign up for membership to become a founding member and help shape HuffPost's next chapter