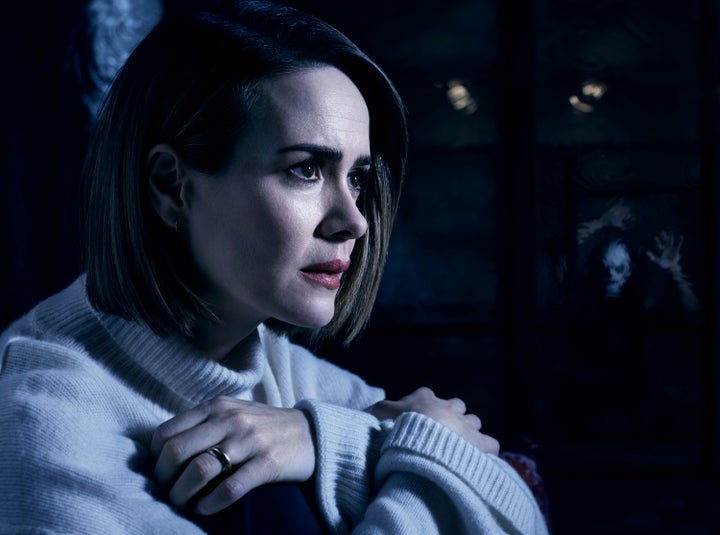 The seventh edition of "American Horror Story" opens with footage from Donald Trump and Hillary Clinton launching their presidential bids. A minute-long montage of incendiary campaign lowlights rolls by: talk of "draining the swamp" and building a wall, news broadcasts babbling about Clinton's emails, Trump proponents rallying in his name. If anyone still had time to feel election-season anxiety, the reel would require a trigger warning. Then, the screen goes black, and a title card announces that it is Nov. 8, 2016. The night everything came tumbling down.
"American Horror Story: Cult" could end there. It would be plenty terrifying. 
For better and worse, it does not. After the show's signature opening credits, we see the back of Kai Anderson (a blue-haired Evan Peters), hunched over his couch as Fox News calls the election in Trump's favor. "The revolution has begun," he says to no one, rising to hump the television with stony-eyed intensity.
Meanwhile, restauranteurs Ally Mayfair-Richards (Sarah Paulson) and Ivy Mayfair-Richards (Alison Pill) ― a married couple with a young son ― are hosting a party. The mood has turned sour. "Go to hell, Huffington Post," Ally yells in protest. "Fuck you, Nate Silver." 
Across the first three "Cult" episodes, Trump and Clinton appear again only in references, direct and veiled. But the lines are drawn, as they have been across a politically cloven America. The aforementioned characters will intersect, along with a handful of others ― Ally's therapist (Cheyenne Jackson), a bleach-blond detective (Colton Haynes), an accomplice of Kai who becomes Ally and Ivy's mischievous nanny (Billie Lourd) ― while the election's televised terrors bleed into everyday manifestations.
Chief among them: clowns.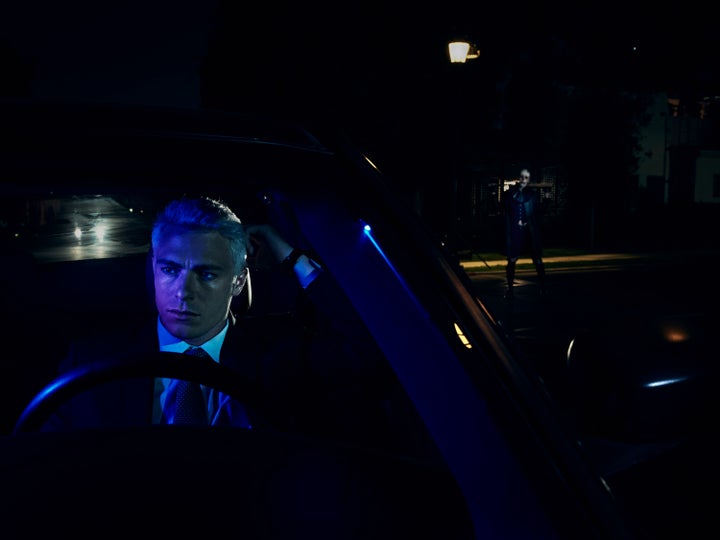 'Tis the season. Between "AHS: Cult," the upcoming "It" reboot and last year's reports of clowns lurking around the woods and residential streets of South Carolina, it seems frizzy-haired jesters are America's go-to devils du jour. Those, and Trump disciples like Kai, as showrunners Ryan Murphy and Brad Falchuk would have it.
Ally, who is prone to hysterics, has a deep-seated clown phobia that emerges when a menacing tribe of masked stalkers appear. At first, they may be hallucinations; she isn't taking her meds. Then they start killing people, marking their territory with scarlet happy faces. Here, "Cult" borrows notes from slasher-film textbooks. It is, at times, a slick blend of "The Strangers," "Scream" and "Clownhouse." Elsewhere, it's a discordant mess of Murphian proportions, with too many obvious characters and too many ambiguous plotlines begging for a midseason twist. 
Even in its messier moments, however, "Cult" has an allure ― it is consistently engaging. But that's how "American Horror Story" tends to go. Most seasons introduce strong ideas that deteriorate into cartoonish nonsense. What these first three episodes struggle to nail is the apt post-election satire they're striving for. When Ally goes to the supermarket late at night, a cashier becomes an instant villain by donning a red "Make America Great Again" hat. Snooze. After a later incident, Ally's celebrity-obsessed new neighbors ― a gay beekeeper (Billy Eichner) and his "fag hag" wife (Leslie Grossman), who agreed to marry each other if they weren't wed by 35 ― appear on her doorstop to scold Ally about not being a good liberal. They spout identity-politics buzzwords, citing racism and "white appropriation." As a caricature of pasty paragons lecturing one another about social justice, it's low-hanging satirical fruit, signifying little.
"Cult" works best when it's a simple story about the sinister forces lurking in suburbia. Kai, who is brewing some sort of following, has a neo-Nazi bent, though Peters should've lightened up on the threatening tone and inserted some charisma. "There is nothing in this world more dangerous than a humiliated man," Kai says, dismissed after sermonizing at a city council meeting. With someone like him on the prowl, who can be trusted? What's real, and what's fake? Everyone seems to be asking, "Are you for us or against us?" Sounds familiar.
One thing's certain: "Cult" has a killer hook. We don't know who's hiding behind those clown masks, and that's enough to sustain tension. Unfortunately, connecting audacious tissue has never been Murphy's speciality, and that's what this season will need going forward. There's still a parade of actors slated to appear (Frances Conroy, Emma Roberts, Mare Winningham, Lena Dunham), which still doesn't quite rectify the absence of older veterans like Jessica Lange, Kathy Bates, Angela Bassett and James Cromwell. But as the terrors on our televisions and internet screens multiply, "Cult" could work its way toward resonance.
In these paranoid times, there's more than enough material. 
"American Horror Story: Cult" premieres Sept. 5 on FX.
REAL LIFE. REAL NEWS. REAL VOICES.
Help us tell more of the stories that matter from voices that too often remain unheard.
BEFORE YOU GO