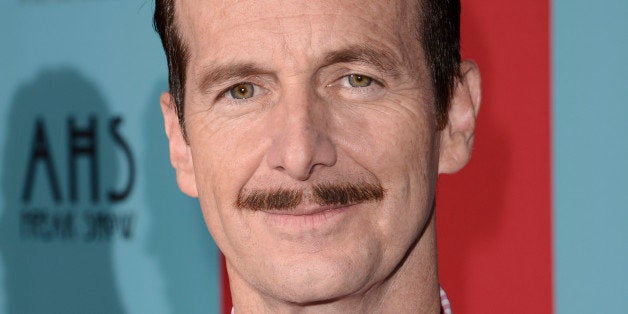 "American Horror Story: Freak Show" star Denis O'Hare says his role as a well-endowed con man with a penchant for male hustlers on the hit FX series has made him think about the challenges the gay community has faced throughout history.
"I think what's so great about [creators Ryan Murphy and Brad Falchuk] and the team of writers is that they're never content to simply write about one thing. They're always using the occasion to raise awareness or consciousness," he said. "And certainly this series this year seems to be about physical abnormalities and what we consider to be a freak, or normal."
He went on to contrast his character, Stanley, with that of closeted Dell the Strong Man (played Michael Chiklis) as two varying examples of gay life in the 1950s, when the "Freak Show" plot is set.
"...It's really interesting to see Dell as one expression of that, somebody who's so deeply closeted that he actually considers hanging himself in the last episode, to someone like Stanley, who just seems to roll with it," he said. "But he's hiring hustlers to basically fulfill himself, so that's certainly not healthy."
Read the full Examiner interview with O'Hare here.
In an earlier interview with Out magazine, O'Hare pointed to Stanley's "13-inch penis," which serves a metaphor for his character's sexuality.
"It's actually a burden to Stanley," he said at the time. "It marks Stanley as abnormal. Being a gay [man] in the 1950s is abnormal. It's an exploration of what is normal."
The fourth season of "American Horror Story" has certainly not been lacking in gay appeal. In addition to O'Hare and Chiklis's characters, out "White Collar" hunk Matt Bomer popped up as a doomed male hustler in one episode. Although his fate was grisly, Bomer thrilled fans by stripping to his underpants in a much-talked-about sequence.
Calling all HuffPost superfans!
Sign up for membership to become a founding member and help shape HuffPost's next chapter
BEFORE YOU GO
PHOTO GALLERY
"American Horror Story: Freak Show" Cast Photos