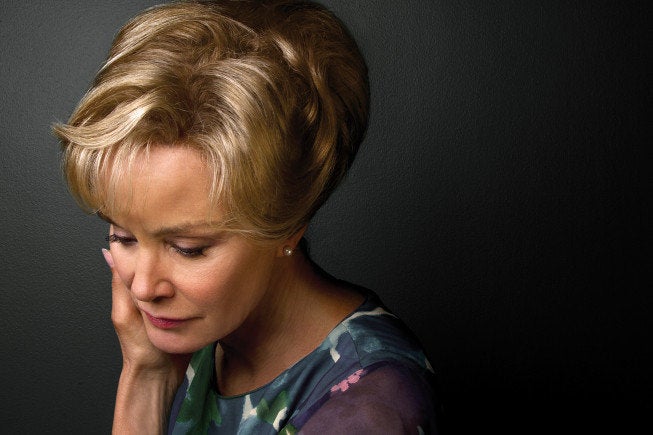 "She's not playing this kind of ersatz Tennessee Williams character this time," he said. "She's playing something that's a little more East Coast, a little more patrician."
Unlike Constance, the darkly-motivated antagonist of the show's first season, Lange's new persona is much more pure and innocent. "She's playing a nun," he said. "She's playing an administrator of a facility. It's different. In this instance, she's a bride of Christ."
But Lange isn't the only familiar face returning to "AHS." In May, showrunner Ryan Murphy revealed that Evan Peters, who played "ultimate badass bad boy" Tate Langdon, will be "the hero of the show" in the second season. "It's not like the actors are playing similar parts. They're going to look different, they're going to sound different, they're going to have different accents," Murphy explained to Vulture. "It's a different time period. The actors are so excited to do that and hopefully their enthusiasm will translate."
"I'm newly married, and I go with my wife on our honeymoon," Levine teased. "I don't want to tell you too much and it and actually I should shut my mouth because [Ryan Murphy] will freak out, but it's gory…it sounds like so much fun and that's why I wanted to do it. I was like, this doesn't even sound like acting; this sounds, like, hysterical, funny, dark and cool and right up my alley."
However, don't get too attached to these characters. As Minear reminded, when it comes to "American Horror Story," no one is safe. The writer revealed that when he was approached to write for the show, he had reservations about turning Murphy's idea into a television series.
"And Ryan immediately had the answer, and that was, 'Oh, the way we sustain it is by the end of the season, we have killed off every character,'" he told MTV. "And I'm like, 'I'm in!'"
Calling all HuffPost superfans!
Sign up for membership to become a founding member and help shape HuffPost's next chapter
BEFORE YOU GO