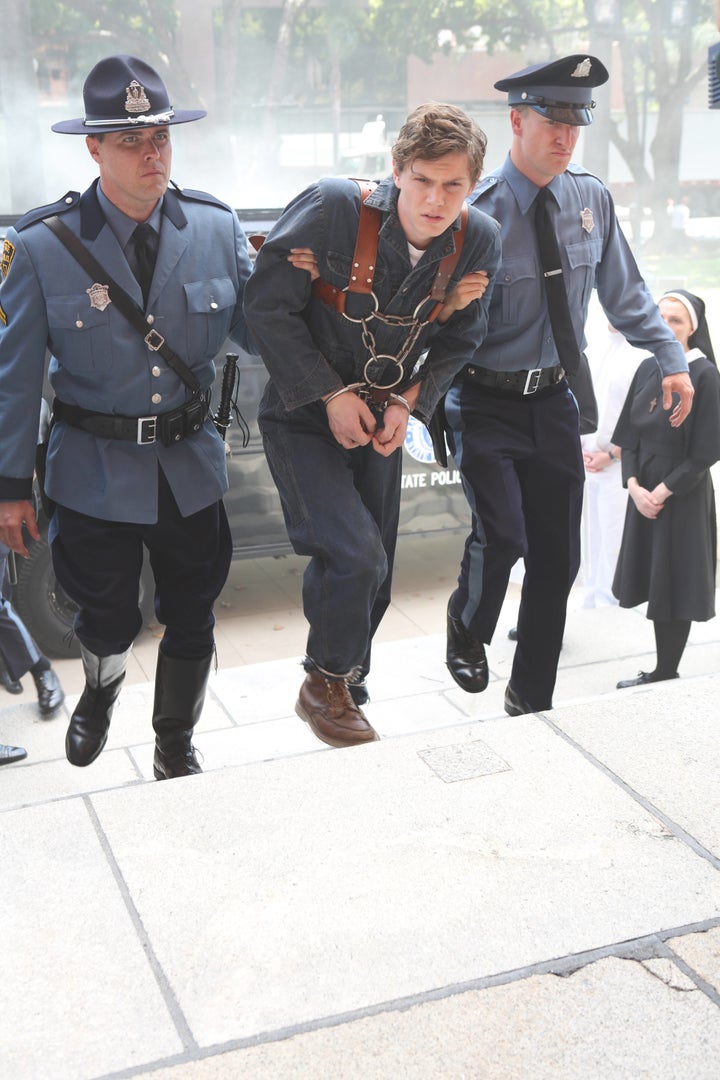 Ryan Murphy must be some kind of evil genius. Really, that's the only excuse we can come up with for why, after both hating "American Horror Story" in its first season, we're now so completely excited for Season 2, "American Horror Story: Asylum" (premieres Wed., Oct. 17 at 10 p.m. ET on FX).
Where Season 1 immediately turned us off with its bizarre premise -- a house so haunted that anyone who entered it could never truly leave -- and its creepy flashbacks, the elements for Season 2 give us hope enough to want to check out "Asylum."
But if it's still the same show, with some of the same cast and the same guy running things, what makes us think it'll be any different? We've been burned by Murphy's shiny promos before -- just look at "Glee," a show that keeps sucking us back at the start of each season, only to remind us in a few short episodes why we abandoned it the season before -- but there's something different about "Asylum," and judging by buzz for the show (and our colleague Maureen Ryan's surprisingly positive "Asylum" review), we know we're not alone
Whether you dug "American Horror Story" last season, hated it like we did or are just curious about the "Asylum" promos enough to give it a shot this season, here are 10 reasons why we think it'll be worth our (and your) while.
1. Setting The Scene
This isn't a house with a basement of death or a million murders seen by its now-haunted walls. Setting Season 2 at an insane asylum ensures a built-in creepiness factor that raises the stakes from the very first few scenes. Bonus: Now hallucinations and delusions are a given, and not just annoying character traits to explain away a total lack of logical reasoning!
2. Jessica Lange
The woman won an Emmy for her role on "AHS" this year for a reason -- she took that bizarre lemon of a Season 1 role and made lemonade with it. Now she's the star of this new season, according to Murphy, and the role of the asylum's Sister Jude is a complete 180 from next-door neighbor Constance. And she's not the only returning star to get a new role to play: Sarah Paulson, Zachary Quinto, Evan Peters, Frances Conroy and Lily Rabe are also checking in to Briarcliff.
3. A Cast Of Thousands
Beyond the stellar line-up of returning stars (see No. 2), the "Asylum" also welcomes some new faces into the mix, including: Joseph Fiennes, James Cromwell, Chloe Sevigny, Clea DuVall, Franka Potente, Mark Consuelos and Lizzie Brocheré, and Adam Levine and Jenna Dewan as the two present-day young newlyweds unlucky enough to be caught exploring the old asylum's haunted halls.
4. Music To Our Ears
The flashbacks were a highlight in Season 1 ... and not just because they gave us a break from the Harmon's dysfunctional family feuds. Murphy and Co. excel when they're focused on style, and period costuming, props and retro music are always a fabulous way to get an audience swept away to another time and place.
5. A Mini Commitment
In Season 1, we couldn't imagine wanting to spend more time with the Harmons, but now that we're all well aware of the new-story-every-season format of this show, it'll be a lot less frustrating if there's a character or two we're not exactly fond of.
6. You Don't Have To Play Catch Up
And on that note, this isn't like "Lost" or "Homeland" where you'd feel the need to speed watch any episodes you've missed from prior seasons. Because the second season of "American Horror Story" is its own entity, there's no need to watch 12 hours of TV before "Asylum" premieres.
7. No Latex Love Scenes
The sex scenes in "American Horror Story" Season 1 -- Rubber Man with Tami Taylor, masturbating and crying while leering at old ladies, etc. -- were just plain bizarre. But the erotic moments in "Asylum" are simultaneously raunchy and creepy. What honeymooners wouldn't want to strap each other to tables in an abandoned mental hospital?
8. Bloody Face Is Far Scarier Than Rubber Man
Someone who wears his victims' skins as a mask > someone who's into kinky sex.
9. There's A Reason For Everything ... Or At Least, Some Things
Unlike Season 1, there are real political and social motivations behind some of the horrible things audiences will see take place at Briarcliff, including the '60s-appropriate sins of interracial and same-sex relationships. And a side note: It's particularly refreshing to have a new lesbian couple on TV, especially with out actress Sarah Paulson playing one of the women.
10. No One Is Exactly What S/He Seems
Are the sinners purely sinners and the saints purely saints? Not in Season 2 of "American Horror Story," which has layered its characters in many more complexities. At Briarcliff, very few practice what they preach and Sister Jude is no exception -- her past will come to light in an unexpected, but fittingly terrifying, way.
PHOTO GALLERY
"American Horror Story"
"American Horror Story Asylum" premieres Wed., Oct. 17, 10 p.m. ET on FX.
Calling all HuffPost superfans!
Sign up for membership to become a founding member and help shape HuffPost's next chapter